Repêchage® Invests In Salons & Spas Success Provides FREE* Service Chair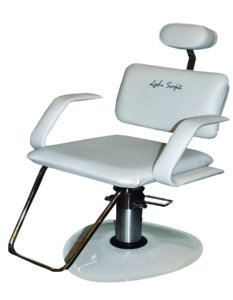 Repêchage® CEO and Founder, Lydia Sarfati is revolutionizing the way that the spas do their skin care treatments with her Facial Bar Concept and Facial Bar Chair. She believes so strongly that the Facial Bar Concept can breathe life into the spa business – that she has decided to purchase The Facial Bar Chair for them! Always a supporter of small business owners, Sarfati provides salon and spa owners not only with successful business solutions and results-oriented products, but she also provides them with the appropriate tools and business know-how. "For the Facial Bar to be successful, the express facial treatments need to be done out in the open to create a 'buzz' in your spa. The Facial Bar Chair allows you to do that – I believe in it so much I'm investing in it for you."
The Facial Bar Concept by Lydia Sarfati, allows salons and spas to offer shorter express treatments out in the open.  It allows spas and salons to up-sell their clients, increase the number of facial services they provide and increase their retail business. *After purchasing an opening Facial Bar order of $6,998.65, salon owners will receive the chair compliments of Sarfati in their order. Manufactured by Belvedere, the Facial Bar Chair, a $1,089.00 value, allows clients to receive facial treatments sitting comfortably upright in an express fashion.
Salon and spa owners who jump on board will also receive free instructional DVDs, promotional posters, custom menus and spa event flyers as well as Repêchage Concept Spa Member benefits – all courtesy of Repêchage. "If done correctly – I know that Facial Bar will make my clients more money. That is why I am helping them do it right from the get-go," said Sarfati.
So what are you waiting for? There has never been a better time to get the Facial Bar started in your business!
For more information about Repêchage, please visit www.repechage.com or call 1.800.248.SKIN (7546).
For more information about Belvedere, please visit www.belvedere.com or call 1.800.435.5491