Trends and Innovations to Grow Your Business From Around the World!
Wow! What a whirlwind it's been for me for the past few months!  Having just returned from trips to Mexico, NYC, Chicago and Italy earlier this spring, I am now preparing to launch our newest professional treatment at our 18th Annual International Conference in NYC. Although sometimes I tell myself I need to slow down, I know that an important part of the continued success of Repêchage and our wonderful partners is to get out and experience what is happening in other areas of the world to see first-hand how it can enhance our  beauty business.  Here, I report on the incredible, inspiring and business-growing initiatives I experienced on my recent trips.  I am sure you will find these provide fertile insights for growing your business.
Mexico – The Grand Opening of Mamma Mia Salon and Barber & Booze
(Left: With Repechage Mexico Distributor Mayola Amador and Owner of Mamma Mia Salon & Facial Bar Juan Carlos Sierra, Right: With children at the Grand Opening)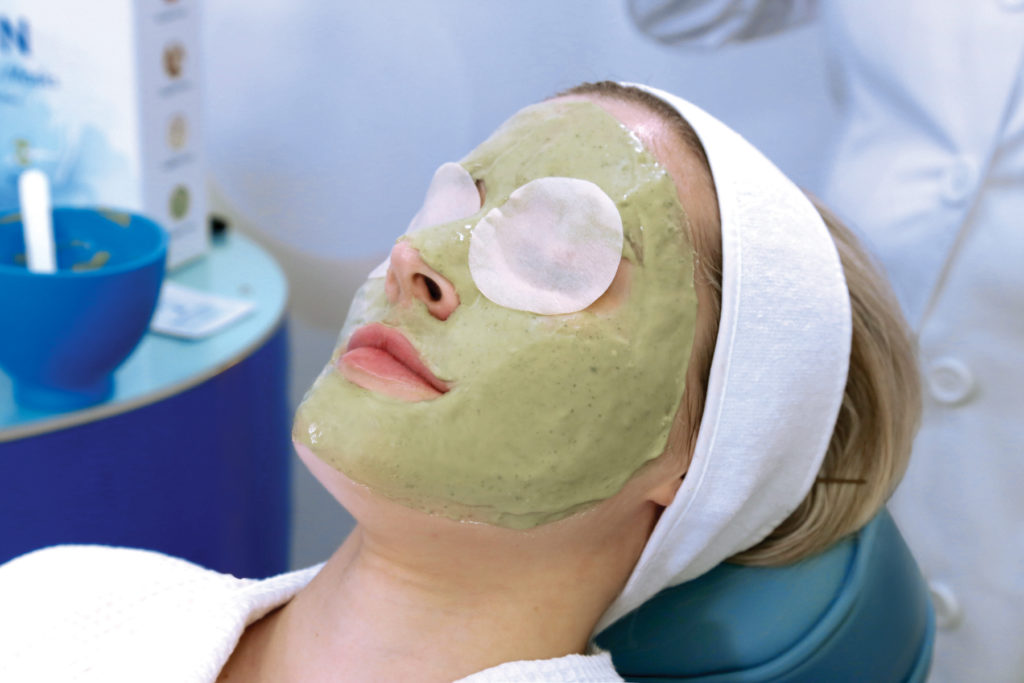 In Guadalajara,  I attended the grand opening of Mamma Mia Salon & Facial Bar. I have been collaborating with Yolanda Amador, the Repêchage distributor in Mexico,  for many years. I was pleased to see the concept of creating a spa where mothers and daughters can come together, relax and get great skincare come to fruition. It is so important for children to be able to enjoy these types of professional services. Not only does it help initiate good skin care habits at a young age, but it also introduces important stress reduction techniques to keep them healthy body and soul. It may seem hard to imagine, but with peer competition, cliques, or bullying, children are encountering stress and anxiety early— as young as 7 years old!  Just like adults, a facial and massage can be extremely therapeutic for children.
In Puerto Vallarta, a popular resort destination, I found another unique approach to  clients visiting the spa. Here, they recognized that visitors are not looking  for  a deep cleansing facial, or an intensive peel;   they are looking for a massage, soothing body treatment or a vacation facial.  Clients on vacation are going to the sea or sitting by the pool,  and are experiencing increased exposure to  free radical and UV damage.   Facials should reinforce protection and the skin barriers while not being aggressive in any way.  Our Seaweed Facials and Fusion Express Bar and Spa Masks are perfect for this setting, providing great anti-oxidant protection through vitamin & mineral therapy, while boosting collagen and elastin production through amino acids.
Yolanda has also opened WOW! Facial Bar. This Facial Bar Concept is inspired by the brow bars and blow bars of late. People can come in for an hour and get deep pore cleansing, blackhead removal, deep peeling, and they can come in and get deep anti-aging results too. It's fast, it's convenient, and you're able to deliver clinical results on the go.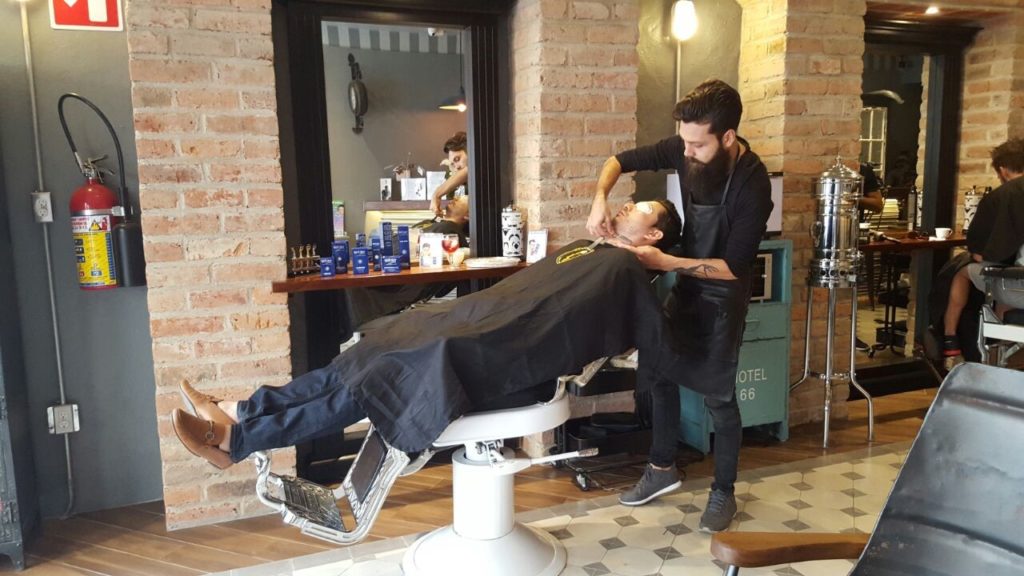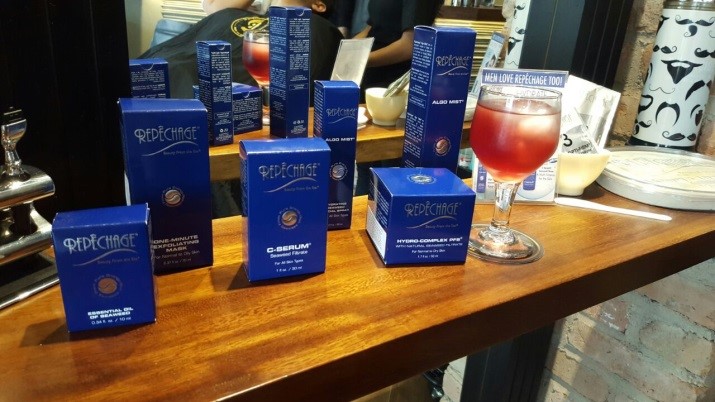 Finally in Mexico, I attended the opening of Barber & Booze,  a new spa  environment strictly for men, where they can feel relaxed and fully enjoy the service combined with a full bar, with exotic cocktails served by mixologists.   For this, we created several treatments out of the Repêchage service menu that can be very successful for men.  Here, male clients can come in for a beard treatment, shave, Opti-Firm Eye Contour Treatment, or Lamina Lift™ Mask and still feel like they are at the pub with friends.
New York City – The International Esthetics, Cosmetics & Spa Conference
As many of you know, I am the president of CIDESCO, USA.  For this year's  International Esthetics, Cosmetics & Spa Conference (IECSC) show in New York,  I created a very unique CIDESCO class by demonstrating first-hand how to successfully combine  traditional esthetics treatments and medical esthetics procedures.   For the first time, with the help of Dr. Joseph Michael Pober, MD, FACS,  attendees were able to actually witness  demonstrations of injectables such as Botox® and Restylane.  We then demonstrated how a Repêchage  Lamina Lift™ Mask, left in cold storage prior to the treatment can be applied immediately following.  This is an excellent way to curb bleeding and provide immediate anti-inflammatory agents to calm, soothe and cool the skin, helping to significantly reduce the swelling that can occur at injection sites.
Chicago – America's Beauty Show
In Chicago,  my class "Customizing Clinical Facial Treatments: Customizing Facials for Specific Skin Concerns" was completely full.  With a strong focus on proper extraction, this was a real indicator of the immense renewed interest in proper deep pore cleansing.  Our protocols focus on the proper method in dealing with impacted blackheads, comedones and milia in a tight, dry biological environment that may also be combined with compromised skin barriers due to harsh chemical exfoliation.  Improper technique can yield additional injury to the skin, which makes proper extraction and deep pore cleansing education a must for every esthetician!
Bologna, Italy – Dental Spas, Cryotherapy and Oncology Esthetics
While in Bologna for the Cosmoprof Show in March I visited Microdent Dental Spa run by Dr. Simone Stori. He is really taking a novel approach to the dental spa by installing a floatation tank for patients to use prior to having dental work. This reduces inflammation in the body, which as a result reduces pain, lowering discomfort significantly during dental procedures.   Last year, we began a collaboration with this practice which led to the creation of a  specific dental mask.  Early results from testing are showing great results.  Dr. Stori is also incorporating our Lamina Lift™ Mask during teeth whitening treatments.  Look for this trend to be incorporated into the US market as well in the near future!
What is also popular in European spas is cryotherapy.  This concept is sometimes misunderstood.  Heat is commonly used to counteract pain, but pain is often caused and exacerbated by inflammation. For example,  if you sciatica pain, it's apply heat to sciatica, it is going to feel worse. Research has also linked inflammation to various diseases.   With cryotherapy, or cold therapy, we reduce inflammation, which may help keep the body in a totally balanced state.
Medical esthetics was another widely discussed concept at the show.  In  the future, this is going to progress  even further into the medical field, even as far as working with oncology patients to provide treatments  while individuals are undergoing chemo and radiation.  For people undergoing these treatments there's nothing more important than correct touch and treatment.  Angela Noviello is doing an amazing job with that right now at Milano Estetica.
NEXT UP: NYC, Ghana, Milan, and back to NJ for Master Class in July!
Next week will be holding our Conference in NYC and shortly after that I will be heading to Ghana where Mrs. Dzigbordi Dosoo and I will be presenting the American Skin and Body Care Academy on May 16th. On May 23rd I will be launching our Fusion Express Bar and Spa Masks in Milan with the U.S. Commerce Department at the United States Consulate General.  After that I will be teaching my Master Class July 11-13 (Space is limited!)
In all my travels around the world this year, I noticed there was a common theme: the need to decompress, de-stress and relax.  The spa is a place you go to forget about the problems of the day and have some fun. This is why I want to encourage all of you to stay tuned for more information on our Fusion Express Bar and Spa Masks premiering next week at our Conference. This treatment is a new, unique concept that is guaranteed to bring a fun atmosphere to the spa – something very much needed throughout the world today!