The Importance of In-Salon Training
I recently visited Jack Panico and his staff at Panico Salon & Spa in Ridgewood, NJ to celebrate the introduction of Repêchage products and treatments into the salon. Upon my visit, and witnessing a staff of close to 35 members, it reminded me just how important it is to have in-salon training at your salon. I've always believed that a salon's most valuable asset is the staff of the salon. These are your sales people, your culture, and your service. It is important to equip them with the tools they need to make every aspect of your business a success.
As a manufacturer, I often send my team to visit our salons. Who better to train a team in Repêchage products than us? Estheticians often come to our headquarters for training, but the front desk and stylists need education too. The front desk staff give off the first impression when a client walks in the door. Thus, it is important they know how to greet clients, understand the treatments that are offered, and can suggest appropriate upgrade treatments when booking appointments. As for stylists, they can be trained to assist in booking spa services to regular hair clients. For example, knowing to offer express spa services while clients are waiting for their hair treatment at the shampoo bowl or waiting for their color to process.
In-salon training should be offered to staff throughout their entire career at your salon. Since service is the key element that will make or break a salon, employees must be properly trained on how to deliver the highest level of service possible. Routinely providing the staff with new classes, training, demonstrations, and allowing them to be hands-on during this process, will not only help the staff grow as professionals, but will help your salon grow as an industry leader. Incorporating these routines into your salon, will also allow the relationships amongst the staff to grow, ultimately increasing the morale and productivity of your salon.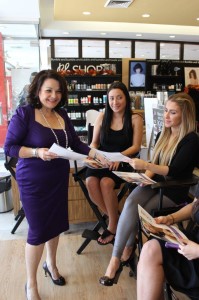 (Lydia with Christie & Co. Staff Members for an In-Salon Training)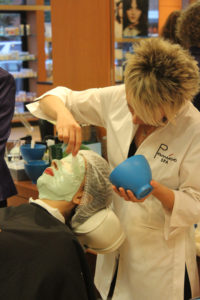 (Panico esthetician Magda Wicinski performing the Repêchage Seaweed Facial Mask Treatment)
At the end of the day everyone will reap the benefits. Clients will be happy, feeling like they've gotten exactly what they paid for, and more. Staff members will be instilled with confidence seeing that clients are pleased. And of course, you, the salon owner, will be thrilled to see more bookings and more revenue for your salon!
So remember, continue educating and offering in-salon training for your entire team. As I always say, "Consistency equals luxury." Having staff members who offer exceptional services each and every time will help build that luxurious image that your salon deserves.