Success Story: Stefanie Spirk of South Lincoln Esthetics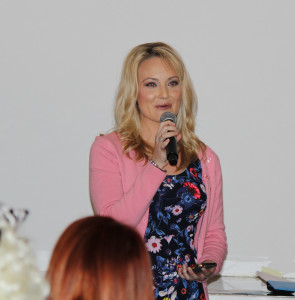 (Stefanie Spirk accepting the President's Award of Excellence –
Esthetician of the Year at the 16th Annual International Congress for Salon & Spa Professionals)
In 2014, Stefanie Spirk of South Lincoln Esthetics was selected for President's Award of Excellence – Esthetician of the Year at the 16th Annual International Congress for Salon & Spa Professionals.  Stefanie shares her story on why she decided to be enter the field of esthetics, and what she is currently doing to achieve success as a skin care professional.
LS: In May of 2014, you were awarded the Esthetician of the Year – What inspired you to enter the field of esthetics & where did you get your start?
"My interests in the beauty industry began when my mother was Mrs. Nebraska '94.  As a young girl I remember watching a seminar by Cheryl Prewitt-Salem Miss America 1980.  This is where I learned the importance of basic skin care and beauty – how to wash your face, wear makeup, tweeze your eyebrows, look fashionable, have good posture and how to speak in public.  Then after high school my cousin encouraged me to become an esthetician.  She was managing high end salons in Minneapolis, MN and saw the demand in the skin care industry.  She also introduced me to her lead esthetician who gave me excellent advice on how to become a successful esthetician."
LS: You received your esthetic license in 2003 and in 2011 opened your own skin care facility within a dermatology clinic – what are some of the key reasons you have been so successful and your clients have stayed loyal to your business?
"Working within a dermatology office has given me a basic understanding of dermatology and allowed me to expand my knowledge of a proper skin analysis.  My clients appreciate my opinion and recommendations. It's wonderful working closely with a doctor who I can refer my clients to and they also refer patients to me.  My clients are loyal because of the quality of my services. I stay educated on the most current and effective facial treatments."
LS: Why did you choose Repêchage skincare treatments and products to treat your clients, and how have they responded?
"I was first introduced to Repêchage at an industry trade show that I attended a few years before opening South Lincoln Esthetics. Lydia's lecture and demo was most impressive.  I chose Repêchage because I value natural ingredients, products made in the USA, and a brand that educates and is innovative. Additionally, my clients prefer a customized skin care regimen. Repêchage has a wide variety of products appropriate for all ages, skin types and seasonal changes. They see the results and love how healthy their skin has become."
LS: What is your favorite part of being an esthetician? What advice do you have for other estheticians out there?
"There are so many reasons why I enjoy esthetics. Its fun, you get to transform people's skin and help them look their best – everyone leaves happy! I love learning new techniques and tips to help my clients and myself. I recommend staying educated and to consistently provide quality service and treatments. Estheticians should also have a trusted dermatologist to refer to their clients."
 LS: What is your best skincare secret?
"Using Repêchage Biolight Brightening Skin Correct Serum! It keeps my skin glowing, refreshed and luminous."