Success Story: MassageLuXe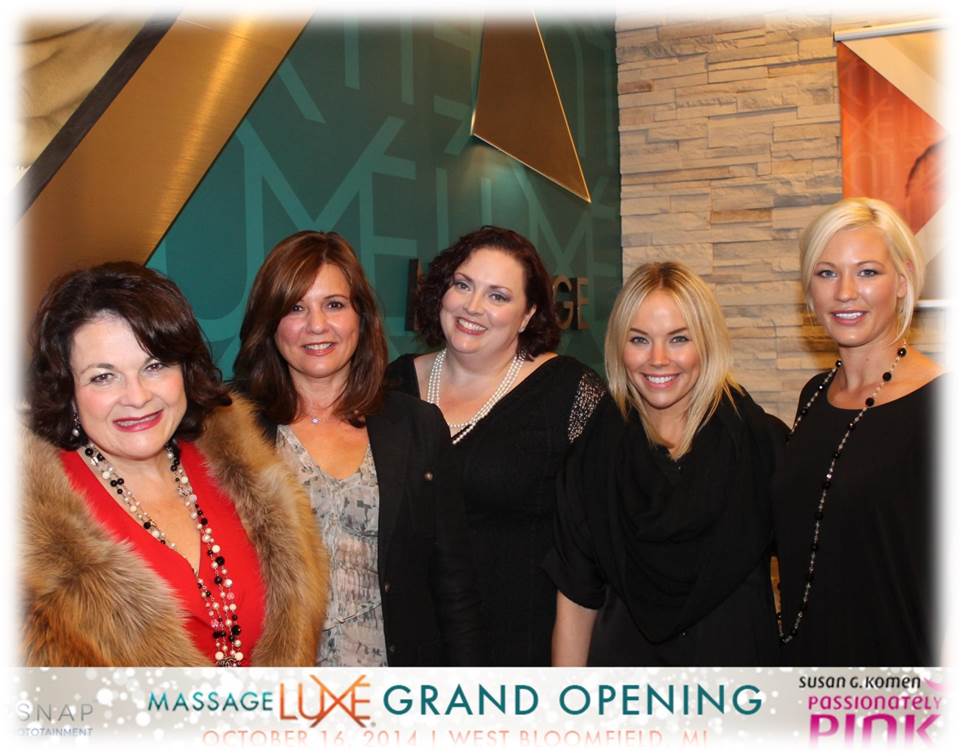 (From left to right: Lydia Sarfati, Repêchage CEO & Founder, Susan Vindics, Repêchage Vice President of National Business Development, Delanie West, Repêchage Midwest Regional Manager, Paige BeckMan, Director of Esthetics for MassageLuxe and Lauren Streeter, Repêchage Global Education Leader)
With 37 locations to date, the MassageLuXe franchise is on the rise! MassageLuXe's mission is to "deliver the highest quality massage, facial and waxing services in an environment that is both luxurious and relaxing to guests." I am very proud that MassageLuXe offers Repêchage treatments and products in their efforts to fulfill this mission and offer clients a spa getaway close to home. Paige Beckman, Direct of Esthetics for MassageLuXe, shares how MassageLuXe has been able to achieve success since being established in 2008.
LS: For those who are unaware, tell us about MassageLuXe & FaceLuXe?
MassageLuXe FaceLuXe was established in 2008 by CEO and founder Todd Beckman. We deliver the highest quality massage, facial and waxing services in an environment that is both luxurious and relaxing to all of our guests. MasageluXe FaceLuXe delivers the highest standards in the membership based business and is on pace to become the industry leader.
LS: MassageLuXe was established in 2008, opening its first location in Missouri. How in such a short time have you been establish 37 locations coast to coast?
Our company comes from a strong history in the franchising industry. Thus, when MassageLuXe was created, our executive team knew the franchise concept and how to grow the company at such an impressive rate. As we have expanded, MassageLuXe has earned Entrepreneur Magazine's Top 500 franchises and also awarded FranchiseGator.com's "Top 100 Franchises for 2015."
LS: When and why did MassageLuXe choose Repêchage skincare treatments and products to treat clients?
Since the first day we decided to open up the FaceLuXe side of MassageLuXe, we have carried Repêchage. We did an extensive amount of research with different brands. However, when we met with Repêchage there was no question left in our minds. You (Lydia) personally flew out to St. Louis and met with our executive board. We were thoroughly impressed and there began our long-lasting relationship with the Repêchage family.
LS: How have clients responded?
I stress that each and every esthetician educate their clients. It's not just selling a cleanser, it's selling the story behind the cleanser. Clients love that Repêchage means "second chance" at beautiful skin and that seaweed closely mimics our body's own mineral profile. Our members and guests see beautiful results from the Repêchage facials and home-care lines and keep coming back for more!
LS: As a franchise, consistency is a key element to establish. How does each MassageLuxe do so?
We definitely pride ourselves on the training we offer to our area developers, franchisees and their staff. Not only do they come to St. Louis to train in our corporate office, we also send out a team to train their staff in whichever city they are located. We have a whole corporate team that is dedicated to the success of our franchisees with consistency being one of our top priorities.
LS: You were awarded the Rising Star Award at our Conference on May 19. What have you been doing as the Director of Esthetics help MassageLuxe grow?
As we all know, the esthetics industry is a very lucrative industry! Thus, I wanted to help MassageLuXe grow the FaceLuXe side of the business. I have developed strategic training classes to make sure every esthetician, from coast to coast, are trained the exact same way. I work hand-in-hand with the Repêchage team to develop monthly promotions, events, webinars, product launches and much more to ensure our franchisees and our estheticians have all the information and help necessary to succeed!
LS: Lastly, tell us – what is your best skin care/beauty secret?!
Good question! I swear by double cleansing my face. The first cleanse to wipe away dirt, oil and makeup. The second, to actually cleanse my skin to create a clean canvas for my Repêchage toner, serum & moisturizer!
For more information on MassageLuxe or to find a location hear you, please visit www.massageluxe.com