Success Story: Brenda Le Grange, Spa e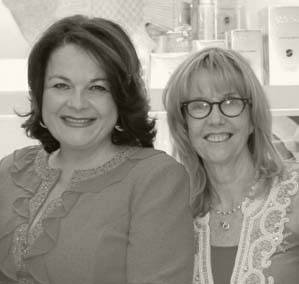 Brenda Le Grange is a seasoned spa owner and operator and my personal friend. She found her spa niche in South Beach, Miami when she opened Spa e at The Courtyard at Lincoln Center. Spa e is all about bringing the spa atmosphere out of the closet and making it a social, enjoyable experience – and after celebrating 10 years there, we wanted to know is the secret to her success? Read on to find out how this South African native conquered the South Beach clientele!
LS: Brenda, you just celebrated your 10th Anniversary at Spa e this October congrats!  How did you celebrate?
BLG:The event was great! We had a lot of fabulous people attend and on-time – which is practically unheard of here in South Beach! We were in good company with you of course Lydia, some of the Real Housewives of Miami, Oribe (a celebrity hair stylist who has a salon in the same courtyard as Spa e), Patrick Kennedy who designed Spa e, local press and lots of loyal clients. It was a big party with cases and cases of champagne and custom made champagne glasses with our logo on them. We had a wonderful turnout and it felt great to have such fantastic support after 10 years!
LS: How is Spa e different than the other spa ventures you have had in the past?
BLG: Spa e was the first time that I had ever tried the open forum concept. All of our facial services are done out in the open and it is just a much more social, much more South Beach feel than my other spas. It's just much more modern and fun.
LS: If you had to choose one reason, why do you think Spa e has been so successful?
BLG: Same as the above! The open forum concept provides a great environment for my clients to come in and get a service in a social environment whether it is by themselves or with their friends. It is really perfect for my market and I think it is what really makes Spa e such a success! People in Miami want to see and be seen. It is perfect for the Sobe clientele. We host a lot of parties including bachelorette parties. Our clients top in just to say "hi" and see what's going on!
LS: What about the Repêchage products makes them such a great fit for your style of spa?
BLG:With everything out in the open, that means that our treatments and products need to be ready to use as well as effective. We really like the uni-dose packaging, it makes it easy for us to do the treatments but also the client is able to see that our treatments are sanitary – no double dipping at Spa e! Plus, we don't want our clients leaving looking like they just had surgery! The Repêchage products don't leave our clients red or irritated, it makes them beautiful and glowing! Our clients don't have time for down time, and that's why Repêchage is so perfect for us.
LS: You used to live in Colorado…How would you describe the South Beach spa-goer, and how do you reach that audience?
BLG: The biggest difference? Miami clients are much faster to whip off their clothes! In Colorado, everyone was just getting off the slopes so they were looking for relaxing body treatments. In Miami, women are just getting off the beach, they need facials to keep up with all the sun damage!
LS: It was so much fun coming up with the spa menu names with you and Shiri.  Which is your favorite? 
BLG:I love Afternoon Delight. It's sexy and fun and it provides you with everything you need to turn your afternoon from boring to blissful.
LS: What do you do when you aren't at the spa?
BLG:I am very active. I get up every morning and swim in the ocean at 6am. I also enjoy biking, pilates and I am very outdoorsy!
LS: You were recently featured in Instyle Magazine. Tell us how that article helped your business.
BLG: Repêchage PR department is incredible…this was actually the second time they secured us a feature in Instyle – the publicity is huge for us. We had so many people come in talking about the article!
LS: What do you see at the next step for the spa e concept?
BLG: would love to eventually bring in more of the Repêchage Facial Bar Concept into Spa e. We are already doing the services out in the open, but I would like to start offering the clients multiple, simultaneous services in an affordable way without being too time confusing. I definitely think this will be the next evolution for us!
For more information on Spa e visit www.spaemiami.com