Same Great Results – Great New Look! Introducing the Repêchage Skin Relief Soothing Gel!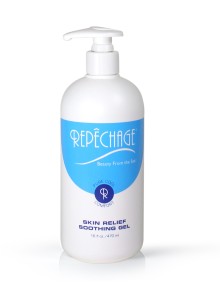 The Repêchage Skin Relief Soothing Gel, formerly the Hydra Soleil® Deep Relief Tea Gel, has been working hard to bring your skin cooling and rejuvenating relief! After all the soothing it has done, this must-have deserved a little pampering of its own with a fresh new name, with the same phenomenal results!
The Skin Relief Soothing Gel has a new name and look! This lightweight cooling gel helps instantly nourish and hydrate skin after sunburn, windburn and exposure to extreme weather and chemical procedures, laser hair removal or electrolysis. It includes a patented synergistic blend of green, white and black tea, as well as African Rooibos red tea that is known to help soothe skin and provide much needed anti-oxidant benefits.
What's unique about this product is that it not only calms your skin, but also helps repair it! Deep Sea Thermaphillus, is known to provide clinically proven enzymatic, DNA, and cell repair. This restorative sea element also helps protect skin from free radicals, radiation and solar energy for defense against the sun's harsh rays as you're leaving the spa post-treatment. Our exclusive formula also includes aloe and cucumber which are known to nourish, calm, help prevent peeling, and reduce redness, making it not only perfect for skin post-hair removal, but an ideal addition to skin-soothing spa treatments!
The Skin Relief Soothing Gel is available as a 16 oz. professional back bar item only.