Repêchage's Lydia Sarfati Sponsors & Attends the Lang Lang International Music Foundation's Inaugural Gala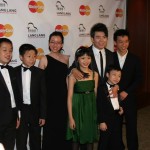 (Lang Lang International Music Foundation Founder, Lang Lang with children from the foundation)
June 3, 2013 – New York, NY – It was a special night for music as the Lang Lang International Music Foundation hosted their Inaugural Gala and Repêchage CEO and Founder, Lydia Sarfati was present to sponsor, show her support, and have a great time with some very talented individuals!
Lang Lang, world renowned pianist and creative genius behind the Lang Lang International Music Foundation, started the organization in 2008. He has always been passionate about doing his part to further music education, but developing the foundation has allowed his passion to blossom to the next level by creating sustainable, impactful, and unique charitable activities, as well as establish partnerships with dedicated organizations. The Foundation's Inaugural Gala, held at Carnegie Hall, was organized to raise funds for the charitable organization. Event attendees were treated to fantastic entertainment for a worthy cause, and walked away with the Repêchage Biolight™ Brightening Overnight Cream. This luxurious cream will help all the attendees look positively radiant for their next event or big night out! Attendees also enjoyed musical entertainment that included Lang Lang collaborating with violinist Joshua Bell, soprano singer Renée Fleming, vocalist and pianist John Legend, and Johnson Zhongxin Li, a 9-year-old pianist that is far beyond his years in his musical abilities. The event was a huge success, raising $1.25 million to go towards the foundation's initiatives.
Sarfati, who was an event sponsor, enjoyed the evening's performance and getting to meet the wonderful people involved with the Foundation. "It was a fabulous event that allowed so many passionate and creative people to come together in one room and support not only their love of music, but their dedication to preserving the future of music for the youth of today. I was so proud to be a sponsor for this event, as the Lang Lang International Music Foundation is a truly positive organization that is impacting the lives of so many talent young people in a fantastic way," said Sarfati.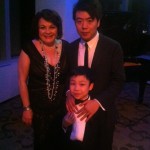 (Repêchage CEO and Founder, Lydia Sarfati with Lang Lang International Music Foundation Founder, Lang Lang and young pianist, Johnson Zhongxin Li)