Repêchage Opti-Firm® Eye Contour Treatment Now With Argireline® Hexapeptide, Has Even Better Results!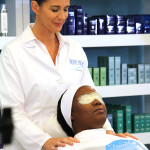 (Repêchage Opti-Firm® Eye Contour Treatment in action)
June 1, 2013 – The already impressive Opti-Firm® Eye Contour Treatment Mask now has the added benefit of Argireline® Hexapeptide* allowing for even better and faster results!
The Repêchage® Opti-Firm® Eye Contour Treatment is based on the latest advances in skincare and combines clinically proven ingredients that are known to help reduce signs of sleep deprivation, aging, and environmental damage. This luxurious service can help to increase skin firmness and lessen the appearance of lines, wrinkles, dark circles and puffiness around the delicate eye area while adding hydration back to the skin.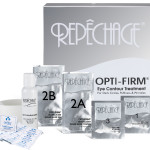 (Repêchage Opti-Firm® Eye Contour Professional Treatment)
Argireline® Hexapeptide is a unique peptide that is known to help to reduce wrinkles and prevent the formation of new ones as well. This power-packed peptide is now included amongst the combination of Gingko Biloba, Gotu Kola, and firming Seaweed with targeted Dipeptides and Tetra peptides which are known to help create a more youthful appearance around the client's eye area.
"Argireline® Hexapeptide is known to help the appearance of the depth of wrinkles and we have used this ingredient in other products such as the Vita Cura® Opti Lift Serum and Hydra Dew® Express Lift Facial with absolutely great results! I loved what it did for our other formulations and the noticeable difference we achieved with the facial and I felt like we needed to offer the same fabulous results for clients that only want the eye treatment, especially men who seem to always have more pronounced wrinkles around their eyes," said Lydia Sarfati, Repêchage CEO and Founder.
When receiving this treatment, the new and improved mask will be freshly mixed and applied over the client's eyes, providing a cooling and lifting effect. The mask is followed by a lifting serum that utilizes a three-dimensional biopolymer from Pure Almond Protein with polyphenols and antioxidants that are known to help build and repair the skin barrier leaving the eye area refreshed and rejuvenated!
To locate a spa that provides the Opti-Firm® Eye Contour Treatment, please visit http://www.repechage.com/locatespaform.asp
For more information about Repêchage, please visit www.repechage.com
For high resolution images, please contact Catherine@repechage.com
* Argireline® Hexapeptide is a registered trademark of Lipotec SA.