Repêchage and JB Skincare Host Repêchage Global Success Story and Trends Conference in Mumbai, India for Beauty Professionals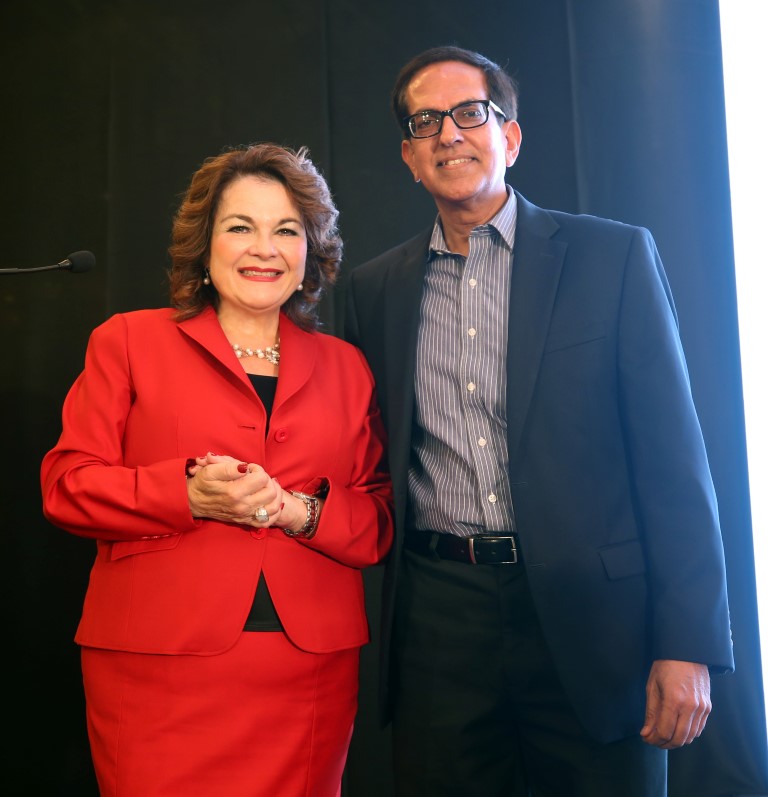 (Sarfati with Bikram Sapra, Owner of JB Skincare, exclusive distributor of Repêchage in India)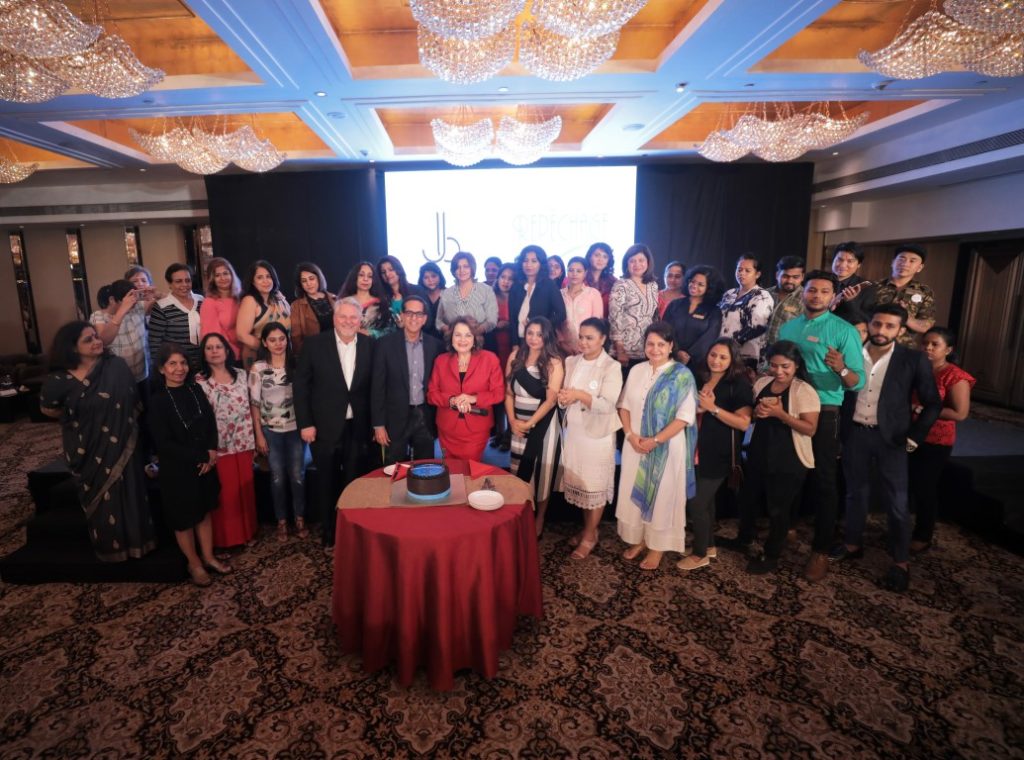 (Sarfati with attendees of the Repêchage Global Success Story and Trends Conference in Mumbai, India)
September, 2017 – Mumbai, India – Repêchage CEO and Founder Lydia Sarfati and JB Skincare, exclusive distributor of Repêchage in India, hosted a conference at the St. Regis Hotel for over 100 beauty professionals on Sept 12, 2017 entitled Repêchage Global Success Story and Trends. This conference was held to celebrate the Repêchage India partnership and to introduce the latest professional treatments, including the new Repêchage Biolight™ Luminex Mask, a hybrid express peel for skin brightening, and Repêchage Triple Action Peptide Mask, a peptide and seaweed-based sheet mask to hydrate, firm and brighten.
Special guest Gregory Taevs Principal Commercial Officer at the American Consulate in Mumbai, provided the keynote address for the conference, thanking Sarfati and Bikram Sapra, owner of JB Skincare, for their efforts to create a successful partnership between the U.S. and India.
"These are exciting times for U.S.–India relations," said Taevs. "Whether we are talking about the relationship between our peoples, our governments, or our businesses, there is a great enthusiasm and optimism.  And today, it is my pleasure to witness the successful journey of this American brand in India."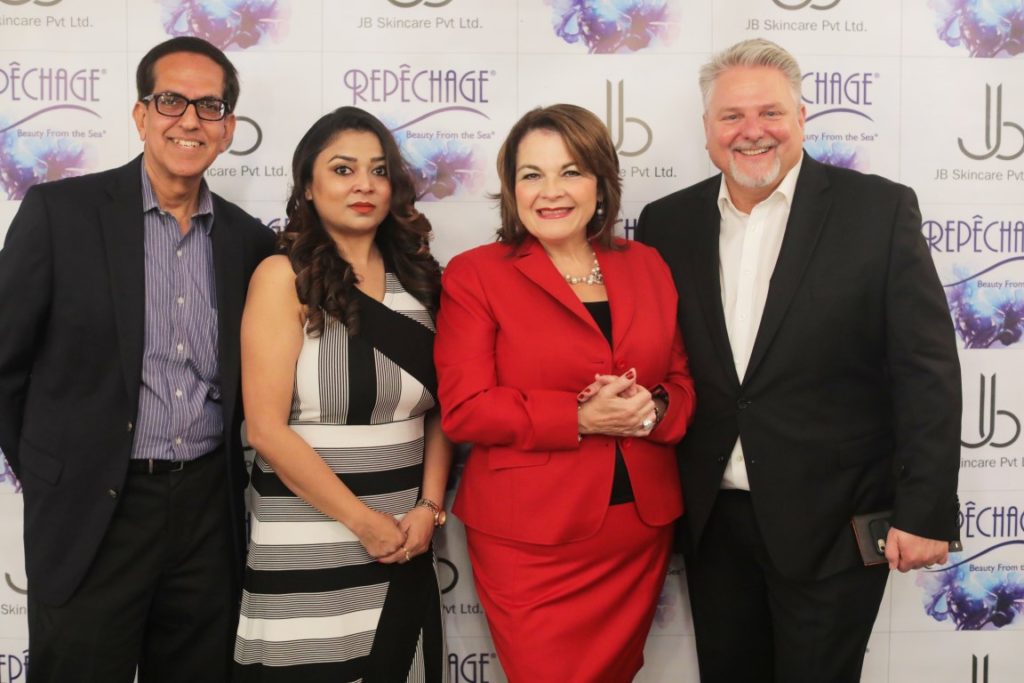 (Left to right: Bikram Sapra, Owner of JB Skincare, Arpita Das, Director of Marketing and Education for JB Skincare, Lydia Sarfati, Repêchage CEO and Founder, and Paul Dykstra, CEO of Cosmetologists Chicago)
Sarfati followed Taevs to share the history and unique skin care concepts that have helped Repêchage become an international skin care company that currently serves 45 countries.
One reason Repêchage has been successful in the professional skin care industry, said Sarfati, is the company's ability to conceptualize, design, and develop new and unique concepts that can be easily implemented by beauty professionals.
Such is the concept behind the new Repêchage Peel and Glow Facial, demonstrated for attendees. Designed to provide deep exfoliation and brighten the appearance of skin, this treatment features the new Repêchage Biolight™ Luminex Mask and Triple Action Peptide Mask. As Sarfati explained, while glycolic peels were typically used in the past to help treat hyperpigmentation and uneven skin tone, they can be irritating to sensitive skin types. The new Repêchage Biolight™ Luminex Mask is a clay-cream based mask that combines AHA's with deep cleansing Kaolin Clay to get a peeling effect without potential irritation. The new Repêchage Triple Action Peptide Mask follows, and is a power-packed sheet mask that combines multiple peptides and pure seaweed extract to help hydrate, firm, and brighten the skin's appearance.
(Sarfati with Samir Srivastav, CEO of Jean-Claude Biguine, India)
Sarfati's spa business-building book, Success at Your Fingertips: How to Succeed in the Skin Care Business, was also introduced for the first time to professionals in India. This comprehensive guide details Sarfati's personal success story and tips on how to make it in spa and salon industry.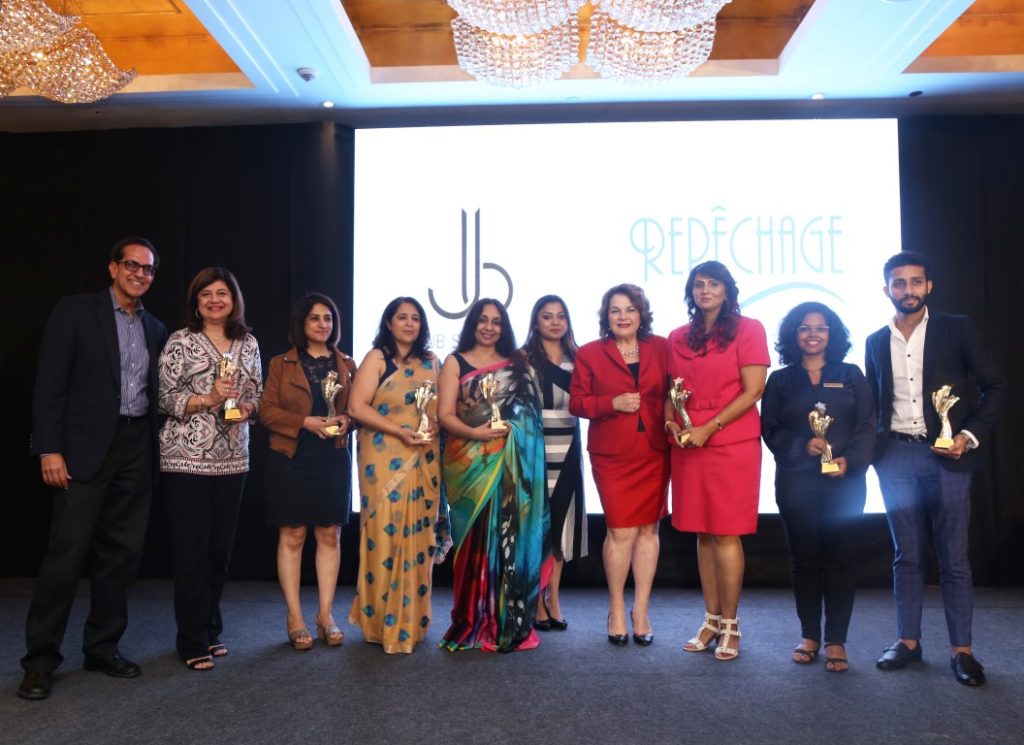 (Sarfati with award winners at the Repêchage Global Success Story and Trends Conference in Mumbai, India)
To recognize the hard work and accomplishments of Repêchage clients in India, several awards were distributed, including:
Excellence in Best Retail Sales
NIAH WELLNESS – Rachna
Excellence in Best Spa Facial
HEAVENLY SPA – Jagpreet Kaur
The Westin Hotel, Gurgaon
Excellence in Best Aesthetics Treatments
Head To Toes, Pune – Poonam Sharma
Excellence in Best Clinical Treatments
KAYA LTD. – Dr Sangeeta
Excellence in Best Signature Treatments
SAWASDEE  SPA – Shumaz
Excellence in Body Spa Treatments
LAKME LEVER LTD. – Pushkaraj Shenai
Excellence in Building Brand Loyalty
SARENA'S SALON, MUMBAI – Marisa Goel
Excellence in Superior Customer Loyalty
RITU KOLENTINE 'S BEAUTY & ACADEMY – Ritu Kolentine
This trip was Sarfati's first to India, and it did not disappoint.
"Traveling and meeting with other professionals who are so passionate about beauty is always rewarding," says Sarfati. "I am very excited for Repêchage's future as a professional skin care brand in India and our continual growth on an international level."
For more about Repêchage, please visit www.repechage.com
For a high resolution image, please contact Josie@repechage.com
About Repêchage: Since 1980, Repêchage has created a full range of seaweed-based skincare products featured at top spas and salons globally. Forerunners in sea plant technologies and pioneers in seaweed treatments and cosmetics in the US, Repêchage researchers seek out specific seaweeds beneficial for a range of skin care concerns. Our seaweed is harvested from the Brittany Coast of France and Maine, and then processed with our proprietary method at the Repêchage headquarters in Secaucus, NJ to deliver all the benefits from the sea to the skin.