Repêchage CEO and Founder Lydia Sarfati Speaks to FIT Graduate Program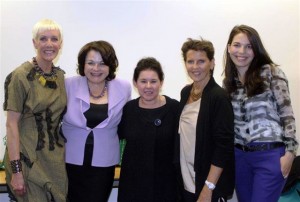 (From Left to Right: Jan Nordstrom-Arnold, Co-Founder of Creative Nail Design, Lydia Sarfati, Repêchage CEO & Founder, Dr. Brooke Carlson, Professor at FIT, Jean Hoehn Zimmerman, President JHZ Creative Management)
Thursday, April 19th, Fashion Institute of Technology – Repêchage CEO and Founder Lydia Sarfati and Repêchage Executive Vice President Shiri Sarfati presented for Dr. Brooke Carlson's Graduate Seminar in Advanced Topics in Leadership class which is a part of the Cosmetics and Fragrance Marketing & Management Master's Program at FIT.
Lydia Sarfati started from the beginning of Repêchage, from her roots as an Esthetician to her discovery of seaweed to her translating seaweed skin care into an international business. Lydia Sarfati is not only a skin care professional, but also a tenacious business woman, "You have to go with your gut instinct," said Lydia Sarfati, "no matter what it takes, you have to stick with your original dream. If you stray or compromise you will never succeed."
A graduate of the Cosmetics and Fragrance Marketing & Management Master's Program at FIT, Shiri Sarfati was excited to be returning to her Alma Matter to share her successes and struggles as a beauty executive. "If you can believe it, I was not welcomed with open arms when I started at Repêchage" said Shiri Sarfati, "As the 'daughter' I was faced with a lot of resistance and felt I had to work twice as hard to prove myself. It meant so much to me when I was able to establish myself as an asset to the company not only to my mother, but to my co-workers."
Both Sarfati's provided a unique outlook on the beauty industry. From Lydia's "American Dream" story of building from the ground up to Shiri's overcoming the task of creating her own name, the graduate class was enamored with the mother-daughter-duo.