Rejevunate for Summer with a Classic, The Repêchage Four Layer Facial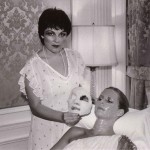 Today marks the beginning of summer, one of my favorite seasons and a fresh new start! When the weather is changing I've always recommended that my clients indulge their skin with extra pampering, especially as they prepare for fabulous seasonal events! As they are all feeling rejuvenated by the warm weather, the perfect way to help your clients start this wonderful season is to rejuvenate their complexion as well with the classic, timeless, and luxurious treatment, The Repêchage Four Layer Facial! During my years working in the spa this would always be my recommendation for clients looking to bring vibrancy and vitality back to their skin for the summer, and it is still the best recommendation for your clients today!
When I officially launched this legendary seaweed-based treatment in 1980 it forever changed the skincare and beauty industry, and with good reason! I wanted to create a treatment that would guarantee phenomenal and instant results every time for every client. This revolutionary uni-dose packaged treatment was exactly what clients were looking for then and is still what they want now! Clients want to look amazing when they walk out of your salon or spa for their summer events and if you offer them this facial, you can be confident that they will!
The change of seasons is an ideal time to bring the revitalizing benefits of the Four Layer Facial to your clients. You can promote this treatment by detailing how it has truly stood the test of time by consistently achieving results for over 30 years and has been named, "The Best Facial of the Century," by Cosmopolitan UK, it honestly doesn't get better than that! Explaining the amazing benefits they will receive will also grab their attention for not only the summer season, but potentially for life with this treatment being named a "Cult Facial" by DaySpa Magazine.
Explain all the beautiful benefits that your clients will enjoy from the Four Layer Facial. As the climate outdoors is transitioning, this facial will help rebalance and add moisture back into their skin. It will aid in improved circulation and skin elasticity to match their tightened and toned bikini bodies. They will experience enhanced clarity and skin tone, giving their skin an overall younger appearance. These layers upon layers of fresh European seaweed will help rejuvenate, tone and firm their skin dramatically, creating a healthy glowing complexion to kick off their summer! This is also the perfect treatment to market to clients who might not be able to get to beach this summer – you are bringing the benefits of the sea right to your spa!
The results are second to none and will have clients leaving your treatment room feeling confident that they look their best for whatever the summer may bring. Help your clients have their most beautiful summer yet with The Repêchage Four Layer Facial!
Master the Four Layer Facial at one of my Skincare Academy courses!