News in Anti-Aging from Repêchage® at IECSC Fort Lauderdale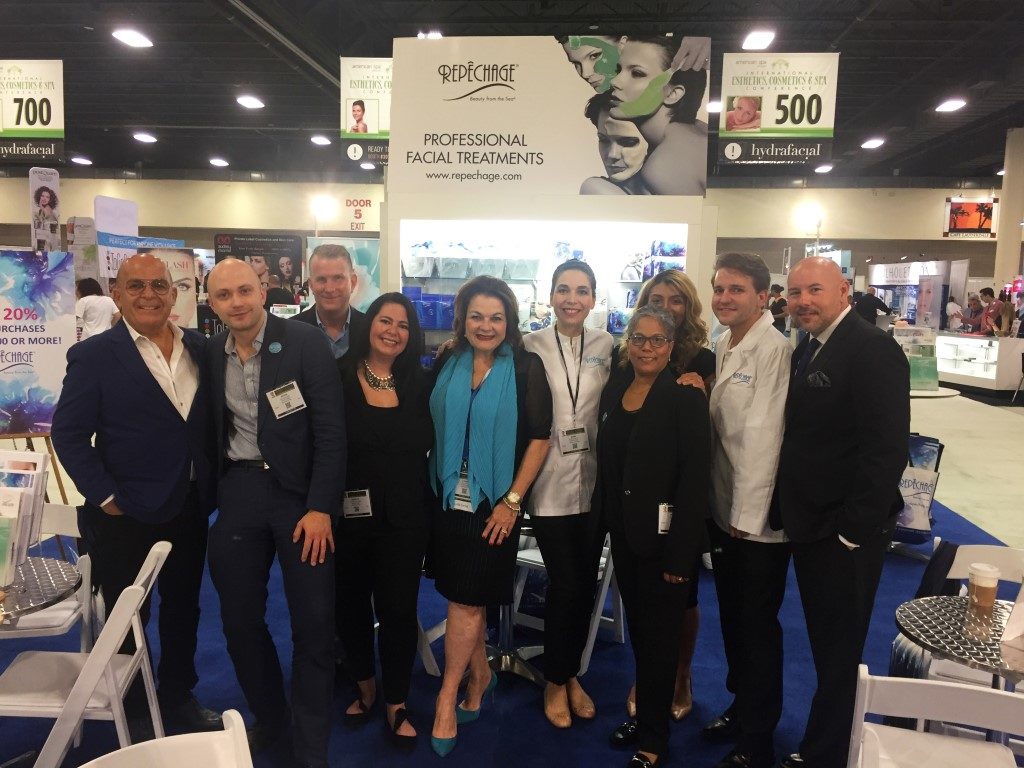 (The Repêchage team at IECSC Fort Lauderdale 2017) 
September 24-25, 2017 – Fort Lauderdale, Florida – Repêchage Professional Skin Care, and CEO/Founder Lydia Sarfati, introduced the latest in anti-aging skin care products and treatments including the new professional Repêchage Biolight™ Luminex Mask and the at-home Triple Action Peptide Mask, as well as took part in education at this year's IECSC Fort Lauderdale Show.   "With the anti-aging skin care market set to increase—with a projected growth of 35% over the next five years*—addressing skin care concerns such as sallow skin, hyperpigmentation and fine lines and wrinkles should be a top priority for spa and salon professionals," said Sarfati.
Skin care professionals visited the Repêchage booth to learn about the Repêchage Biolight™ Luminex Mask – an express facial peel in a clay-based mask form to gently help reduce the appearance of hyperpigmentation. Glycolic peels were typically used in the past for this, and can be irritating to sensitive skin types.  The newest way to get a peeling effect without the potential irritation is to use a professional clay-cream based mask using Kaolin Clay and moisturizing Laminaria Digitata and Ascophyllum Nodosum (seaweed) with natural brightening ingredients such as Glycolic Acid, Licorice Root extract, Willow Bark extract, and Pelvetia Canaliculata (seaweed) extract. This treatment can be used alone or as an added-on to existing facial services for clients who are seeking to reduce the appearance of hyperpigmentation and get a more even-toned complexion.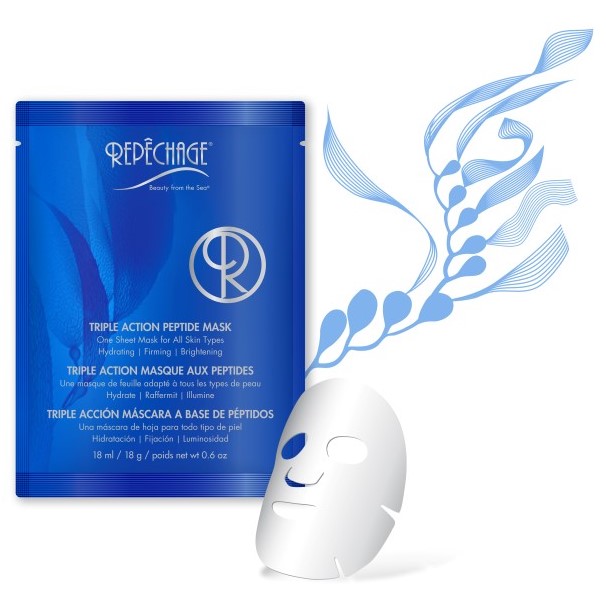 (Repêchage Triple Action Peptide Mask demoed at IECSC Fort Lauderdale 2017)
Showgoers were also formally introduced the new Repêchage Triple Action Peptide Mask – an at-home sheet mask infused with pure seaweed filtrate and anti-aging peptides, including Palmitoyl Tripeptide-1, Palmitoyl Tripeptide-5, Palmitoyl Tetrapeptide-7, and Acetyl Hexapeptide-8. Designed for all skin types, this new mask from Repêchage can be applied for 10 to 15 minutes to help hydrate, firm, and brighten the appearance of the skin.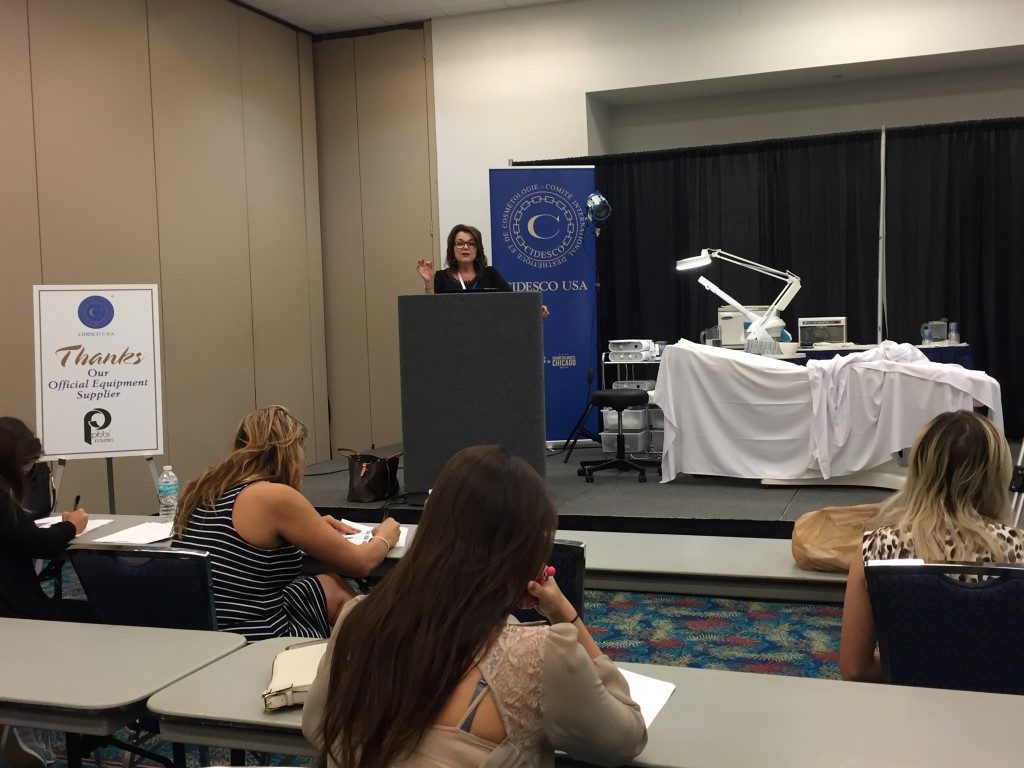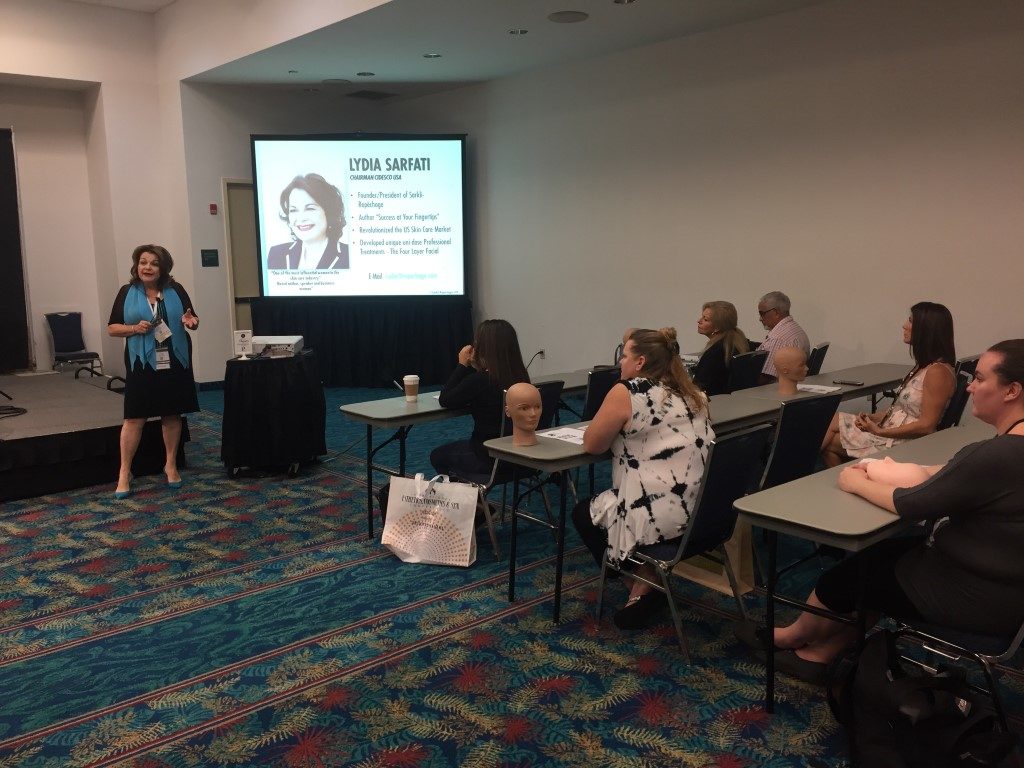 (Chairman of CIDESCO USA, Lydia Sarfati, lecturing at IECSC Fort Lauderdale 2017)
As Chairman of CIDESCO USA, Sarfati also took part in educational classes at this year's show. Sarfati discussed the most current research on the anti-aging skin care market and the latest developments in anti-aging skin care ingredients and technology during her presentation, "Younger Looking, Beautiful Skin." Sarfati cited that key markers for the rise in anti-aging skin concerns, including hyperpigmentation and wrinkles, are exacerbated by factors such as environmental exposure, genetics, hormones, lack of sleep, and sun damage, which takes the greatest toll on the skin.  In "The Art of European Facial Massage" Sarfati demonstrated classic facial massage movements including Effleurage , Petrissage, Tapotement, Friction, Vibration and Eastern movements, such as Shiatsu. Sarfati also lectured on the function of the muscles, lymph and circulatory systems, underlining how important it is to understand these elements of the body in order to provide clients with the best possible facial massage experience.   * Zion Market Research, 2016 To see where Lydia Sarfati and her Repêchage team will be next, visit www.repechage.com or call 1-800-248-SKIN!
For more information on IECSC, please visit www.iecsc.com
For high resolution images, please contact Josie@repechage.com