New York Fashion Week 2010: A Behind the Scenes Look at Spring Trends
Shiri Sarfati of Repechage went behind the scene's at New York's Fashion week to share with you the hottest looks for Spring 2011 – First stop: Lorick Spring 2011 Presentation: Linear Dawn.
We spoke with Abigail Lorick, model turned fashion designer, on her inspiration for the collection. We also chatted with Deanna, Makeup Director on her color inspiration and Phillip Pelusi, Hair Art and Owner of Tela Design Studios where the show was held.
Lorick's use of color in this collection is a clear departure from past collections. I felt as though I stumbled onto the Isadora Duncan stage – with pastels of sea-foam greens, blues, pinks and gray.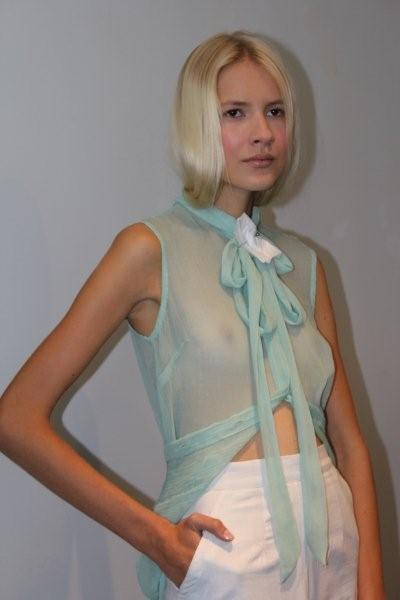 The makeup complimented the collection with rosy, flirty cheeks and nude lips – the look was natural, beautiful and etheral. Makeup Director, Deanna, remarked that my own makeup was spot-on for Spring – glad to know I was on trend!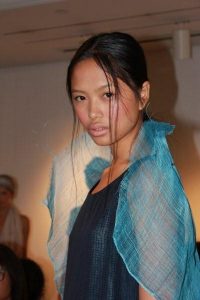 The hair also had a loose organic feel with messy knots and free flowing waves. Phillip explained that all the hair was styled with his fingertips – the hair should be easy and natural, according to Phillip and there is no place for razor cuts that damage the hair. He gave me a few Tela Organic Beauty products to try out on my own hair – even though it was the volumizing collection and god knows I have enough volume!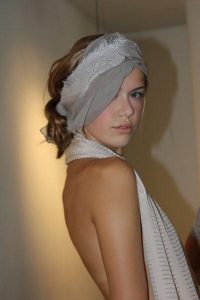 The use of hats or head scarves were a more sophisticated translation of hippie chic.  Fabrics were gauzy and unstructured.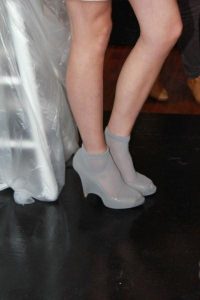 Shoes were optional at this presentation and while some of the models wore gray shoes with gray hose pulled around the heels other models went barefoot.  I found it amusing when the ladies of Nine West entered trying to see the shoes they supplied for the show and didn't see many of the models in them – gasp!
So all in all the spring woman will be effortlessly confident yet feminine with a relaxed yet structured feeling. She seems one part urban dweller one part hippie chic. Makeup is naturally flush with "just bitten" lips – so be sure your skin is flawless to pull off this look. And hair is organic and free-flowing.
All attendees of the Lorick presentation received a gift bag stocked with goodies including Repechage Lip Rescue Kit – well if your lips are going to be nude, they best look plump. And if you are not blessed with fabulously pout lips like many of the models at the show- then this kit will come handy! Phew – gotta luv those peptides!