My New Year's Resolutions for 2017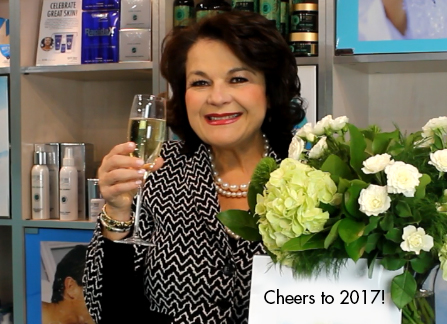 I can't believe 2016 has come and gone! It's been a great year for me both personally and professionally – we launched our new FUSION™ Express Bar and Spa Masks and at-home FUSION™ Face Masks, just recently had a wonderful Power Lunch, were re-certified for ISO 9001, and I had the chance to travel to Ghana, the Cayman Islands, Milan and around the U.S. to spend time with my children and grandchildren. Now that 2017 is almost here, I took some time to reflect on 2016 to think about what I would like to accomplish for the New Year. If you haven't already – I encourage you to do the same.
1. Take better care of myself.
I am always on-the-go, traveling around the world to partake in trade-shows, visit clients, and meet with beauty professionals in the industry. While I love what I do, I am going to vow to really put myself first in 2017 and take better care of myself. This means creating more balance in my life, eating better, sleeping more, being healthier overall, and getting a little more "me time" in 2017
2. Evaluate all that I did in 2016 and see how I can improve in 2017.
And this refers to all aspects of my life my relationships with my friends and family, and my business. Did I spend enough time with my friends and family in 2016? Did I make the best decisions for my business? To have a better 2017, I believe it's important to honestly reflect on 2016, and see where there are areas for improvement.
3. Create a strong CIDESCO Section USA to help create a coalition for manufacturers.
CIDESCO is an international beauty therapy association representing the highest standards of esthetics in more than 30 countries. I proudly serve as the Chairman for CIDESCO Section U.S.A, and in 2017, I will continue to commit to fight for its recognition in the U.S. I will work closely with Cosmetologists Chicago/ American Association for Esthetics to develop opportunities for spa professionals, salons and spas, as well as manufacturers and distributors in support of esthetics excellence in the USA. We will assist manufacturers to both understand and to embrace the CIDESCO worldwide benchmark and if they are aligned with FDA regulations, they will be eligible to apply as CIDESCO associate members.
4. Provide a better understanding for FDA regulatory compliance about functional cosmetics. Currently, there is confusion when it comes to FDA regulatory compliance in professional skin care. There are cosmetics and drugs, but there is no guideline for cosmetology cosmetics. I am wholeheartedly committed to the professional skin care industry, and in 2017 I will work with other leaders in our industry to develop guidelines that will help create a more standardized, safe, and compliant professional skin care industry.
I wish you all great success, health, and happiness for the New Year. Cheers to 2017!