Memorial Day Beach Bag Essentials: Start Your Summer Right with These Must-Haves for the whole Season!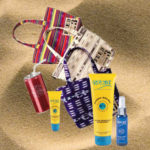 Being prepared before getting to the beach is a must! In the excitement of finally taking a long weekend, don't forget to pack these essentials before heading out for fun in the sun!
Make a statement with an eco friendly beach bag! While enjoying the beauty of the great outdoors, remember how important it is to extend your efforts to preserve it. This summer, you can spot us toting one of these FEED bags! Check out the FEED Guatemala bright beachy print bags which will house all our summer necessities. Multi-task with this bag- when you're not on the beach, empty it out and use it in lieu of a plastic shopping bag.
Now what to fill it with! The number one item in every beach bag needs to be sunscreen. With researchers finding so much information on links between sun exposure and skin cancer, there is nothing more important than protecting your skin from harmful UV rays. Anti-oxidant rich Repêchage Hydra Soleil SPF 30 protects your skin from the damaging rays and long term damage. Apply at home before getting dress in beach attire to be sure you cover everywhere! Sunscreen takes about 30 minutes after application to absorb into skin and begin working. If you think your lips are burn proof, think again! Finish off your UV protection regimen by applying Repêchage Hydra Soleil SPF 15 Lipshield before leaving the house to avoid a painful burn.
Enjoy your relaxation time on the beach with Francis Ford Coppola's Sofia Mini Blanc de Blancs champagne! In the perfect beach friendly packaging, a recyclable 6.3 oz. mini can (straw included!), life's a beach with this chic addition.
Keeping cool and hydrated is the core of any beach day. Summer heat can especially dry out skin—combat the sun with Repêchage secret weapon, Algo Mist! Spritz on as often as needed. In a convenient 2 oz. travel size spray bottle, there's no excuse to let your skin become dehydrated in the heat.
Style is a very important component of beach necessities! This summer, you will not see anyone from Repêchage without a wide brimmed hat and UV protecting sunglasses. As we are suckers for stylish giant sunglasses which provide shade for the whole sensitive eye area while you're reading Glamour Magazine on the beach, we suggest following our trend with Marc by Marc Jacobs eyewear for a classic look all summer long.
As your summer days go along, you will buy new sunglasses, sunscreen and new eco friendly totes as they experience wear, but your skin is with you forever, so remember to take great care of your skin with Repêchage while you live it up on the beach!