Lydia Sarfati Represents the U.S at CIDESCO World Congress 2012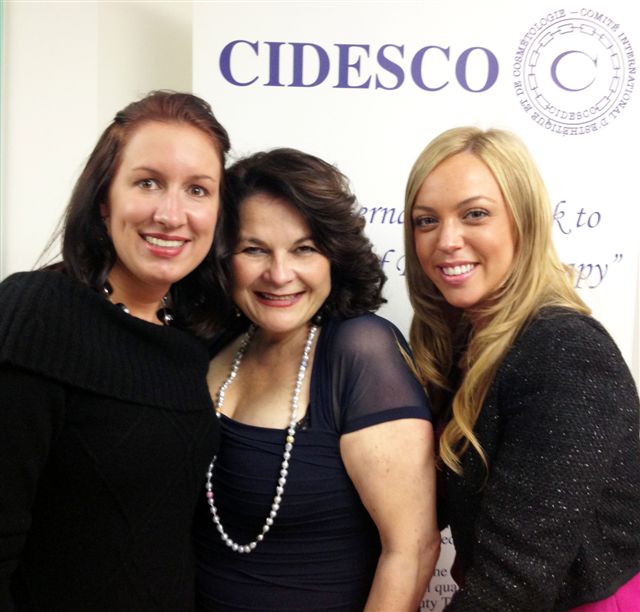 (From Left to Right: Jessi Marshall, Director, Education & Industry Programs | Professional Beauty Association (PBA), Lydia Sarfati, Repêchage CEO and Founder and Erin Quigley, Repêchage Account Sales Associate) 
October 13th– 14th, 2012 – Zurich, Switzerland – Honorary chairman of EstheticsAmerica/CIDESCO USA, Lydia Sarfati was invited as the official US representative along with Jessi Marshall, Director of Education & Industry Programs Professional Beauty Association (PBA), at the CIDESCO World Congress 2012. This year the conference was held in Zurich – headquarters of CIDESCO International – where Sarfati and Marshall were in good company with hundreds of practitioners and researchers from all over the world.
"It was a pleasure to be in such wonderful company with esthetic world leaders. Together we are able to share, expand and bring credibility to skincare worldwide," Sarfati said of the conference. "What's hot right now in esthetics is 'flash' cosmetics. Client's all over the world want their beauty products to work instantly – no waiting, no downtime," Sarfati highlighted as the buzz word from the conference.
Sarfati also hosted a Repêchage table where attendees could learn more about the brand's superlative professional treatments and at-home care ranges.
This is annual conference is held around the globe bringing the best of skincare, science, theory and practice.
For more information about CIDESCO please visit www.cidesco.com
For more information about Repêchage, please visit www.repechage.com