Lydia Sarfati Inspires at the Academy of Cosmetics and Health Care (Wyższa Szkoła Zawodowa Kosmetyki i Pielęgnacji Zdrowia) in Warsaw, Poland

(Lydia Sarfati, Repêchage CEO and Founder, lecturing to students at the Academy of Cosmetics and Health Care (Wyższa Szkoła Zawodowa Kosmetyki i Pielęgnacji Zdrowia) in Warsaw, Poland)
 Warsaw, Poland – October, 2014 – Repêchage CEO and Founder, Lydia Sarfati, traveled back to her native country of Poland to deliver a special presentation to the students of the Academy of Cosmetics and Health Care (Wyższa Szkoła Zawodowa Kosmetyki i Pielęgnacji Zdrowia).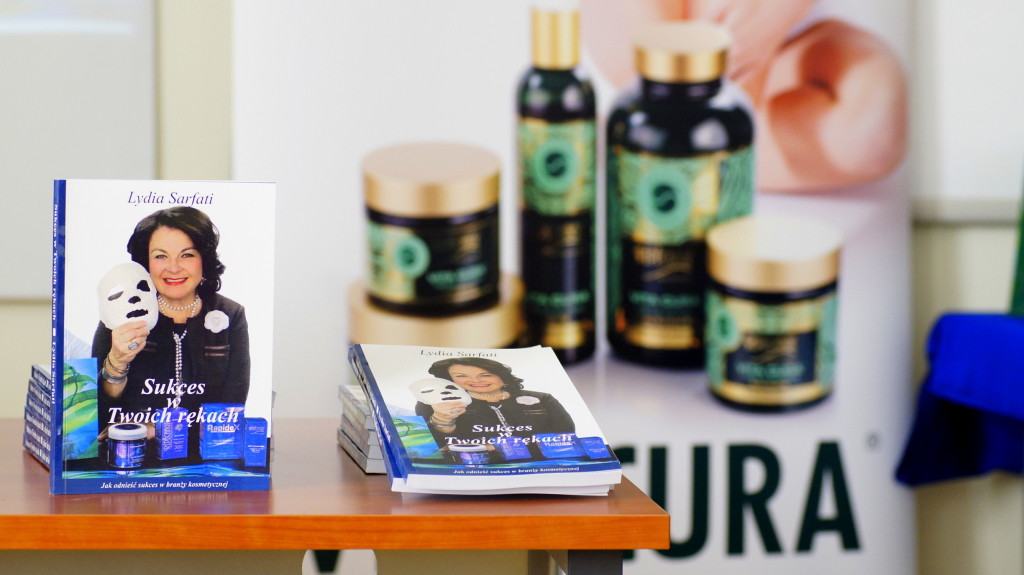 (Sarfati's book "Success at Your Fingertips: How to Succeed in the Skin Care Business" is now available in Polish)
Sarfati understands the power of education, and is always thrilled to speak with students who want to pursue a career in cosmetology. Sarfati stated, "It is a pleasure for me to share my life experiences with students. The beauty industry has brought me so much happiness, and I hope that my story will help others to succeed."
The Academy of Cosmetics and Health Care is a private university that offers both Bachelor's and Master's Degree programs in cosmetology, with areas of specialization being esthetic cosmetology, SPA & wellness, podology, massage and physiotherapy, and beauty salon management. This interdisciplinary program covers a wide range of issues, including the basics of dermatology and skin biology, chemistry and physical chemistry of cosmetic products, evaluation methods, and toxicology of commercial products, as well as esthetic cosmetology, focusing on manual and machine treatments.
Serving over a thousand students are members of the academic staff that are experts in medicine, cosmetology, cosmetic chemistry, technology, quality assurance systems and the marketing of consumer goods, primarily cosmetics and pharmaceuticals.  As an industry leader in the skin care market, and having been in business for over 40 years, the Academy selected Lydia Sarfati to speak to students this month. During her time at the university, Sarfati spoke about her experience in the industry, the creation and development of international professional skin brand, Repêchage, as well as salon and spa business tips that students can take with them throughout their professional careers.
For more about Repêchage, please visit www.repechage.com
For more information on the Academy of Cosmetics and Health Care, please visit http://www.cosmeticscience.edu.pl/
For more information on Repêchage Polska, please visit www.repechagepolska.pl
For a high resolution image, please contact Josie@repechage.com