International Skin Care Expert Takes On Italy from Prato to Milano to Cosmoprof Bologna!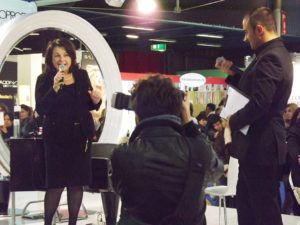 March 3rd  – 10th, 2013 –Italy –  Lydia Sarfati, Repêchage CEO and Founder, teamed up again with Italian distributor Euracom to introduce an extension of the Repêchage line to the Italian market. Already doting four of the Repêchage skincare collections, Euracom has taken on the Sea Spa Body Care Collection and professional body treatments as well as the New! Repêchage® Hydra-Amino18® Hair Spa Collection.
Monday, March 4th, 2013, Golf Club Le Pavoniere, Milano – First stop on her Italian tour, Sarfati presented the Repêchage to press and salon and spa owners including the new launches and a live demonstration of the iconic Repêchage Four Layer Facial. From company history, to Repêchage's seaweed processing, to marketing support to our unique treatments and services, attendees learned the ins and outs of being a Repêchage concept spa.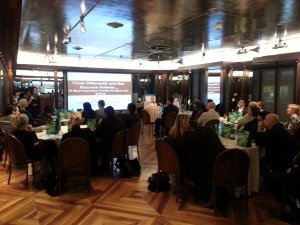 Tuesday, March 5th, 2013, Park Hyatt Hotel, Prato- Sarfati presented "Think Differently and See Success Forever -10 Most Important Trends for Spas and Salons" to over 30 salon and spa professionals. She discussed, what's in, what's out, and what trends salon and spa owners need to be tapping into to unlock their success in 2013. The presentation was incredibly well received, "At Repêchage we don't just give you the products to succeed, we also provide you with the tools, the education, the business concepts – Repêchage is the full package" said Sarfati.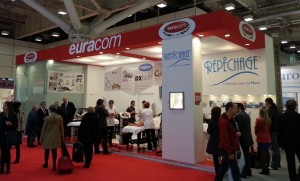 (Repêchage & Euracom stand at Cosmprof Bolonga)
March 8th– 10th, 2013 – Cosmoprof Bologna – Spa and Salon professionals were able to see the Repêchage Signature Facial treatments in action.  "It was very important for me to personally attend Cosmoprof for the launch of the body and hair treatments. Body treatments are huge in Europe and I felt it was important for me to present our points of difference and our incredible results. As far as Hair Spa goes, there is no one out there with a comparable product or concept. I am confident that this range is going to really take the Italian market by storm."
Sarfati was also invited by CIDESCO Italy President Dr.Andrea Bovero to present at the launch of his upcoming book, "Spa Management, Scegliere, gestire, lavorare nelle SPA" to which Sarfati wrote the preface. To celebrate the launch of his book Sarfati presented "10 Most Important Trends for Spas and Salons" sharing trends and business advice from the U.S. "I much appreciated Lydia participating in the launch of my book. Her speech was fantastic, very interesting for the public and it was a pleasure to have her join me in this momentous event" beamed Dr. Andrea.
Repêchage and Sarfati also caught the eye of the Italian press including Marie Claire, Les Nouvelles Esthetique and Tecniche Nuove.
Repêchage® will be distributed in Italy exclusively through Euracom. For more information about Euracom, please visit www.euracom.it or call 02 502970 to contact Claudio d'Emilio.