Doing Good Never Looked So Good!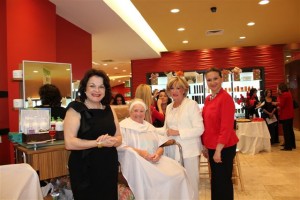 From Left to Right: Lydia Sarfati, CEO / Founder Repêchage, Christie & Co Lucky Skincare client makeover recipient, Lois Christie, owner Christie & Co Salon Spa, and Diana Delie, esthetician at Christie & Co Salon Spa
Wednesday, April 27th Lydia Sarfati, CEO / Founder of Repêchage, teamed up with Lois Christie, owner of Christie & Co Salon in Bayside, NY to honor Go Red for Women – the American Heart Association.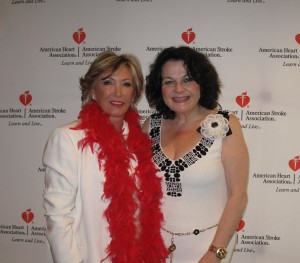 Repêchage is the exclusive skin care brand at Christie & Co Salon Spa, "Repechage helps people feel as good as they look" said Lois Christie of the products. Lydia Sarfati gave healthy skin care tips and shared the fantastic benefits of seaweed – the basis of all Repêchage products. She also did a skincare makeover to a very lucky Christie & Co Salon Spa Client! Excited to have Lydia Sarfati at the event Lois Christie beamed, "We always have champagne when we have Lydia".
Lois Christie gave hair color makeovers and Dr. Diane Sixsmith, Chairman of the Department of Emergency Medicine, New York Hospital Queens as well as President, American Heart Association, New York City Affiliate, 1997-1999, President Elect, 1995-1997 spoke about Go Red for Women and healthy heart tips.
In addition, Lydia Sarfati returned to Christie and Co Salon Spa (23-64 Bell Blvd, Bayside, NY) on Saturday, April 30 and gave clients skin care makeovers all day!
Repêchage® is offered at top spas and resorts around the world. To locate a spa nearest you, log onto www.repechage.com or call 1800-248-SKIN.
For more information about Go Red for Women
For more information on Christie & Co Salon Spa