The Best Express Facials for the Holidays | Spa Marketing Tips
Holiday season is one of the busiest times of year for salons. With family gatherings and holiday parties clients are coming in for blowouts, colors, manicures, pedicures and waxes… but are they purchasing skin care services? If you can successfully cross promote hair services with skin care services I guarantee you'll be encouraged to commit to this strategy after seeing the impact it has on your bottom line. One of the easiest ways start is by offering express facials that can be done at the same time as other services. Read below as I share the best express facials to offer during the holidays that will have your client's skin, and your register, glowing!
"Bright Eyes" Express Facial
Even the most gorgeous hair and nails won't conceal tired, baggy eyes! For clients who complain of looking exhausted, their peepers need a pick-me-up. For this,  express facials for the eyes, like Repêchage Opti-Firm® Eye Contour Treatment. This professional treatment  is based on the latest advances in skincare and ingredients that help to combat the visible appearance of dark circles, puffiness and wrinkles. Every step of the facial is a uni-dose preparation only opened and used at the time of the application.
Protocol: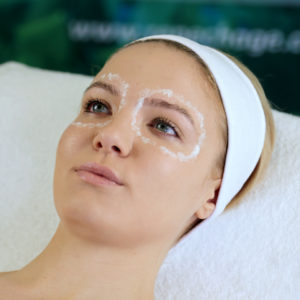 After cleansing the skin, cut open sachet 1 Opti-Firm® Eye Contour Cream and remove a small amount of the contents. Apply in circular motion towards the nose area, and follow with finger pressure (shiatsu) around the orbicularis oculi muscle. Follow with a tapotement movement for three minutes, then effleurage movements in a figure 8 using alternating hands. Conclude with pressure point movements. Massage should last 5 – 7 minutes, and can also incorporate the Repêchage Silver Ball Massager.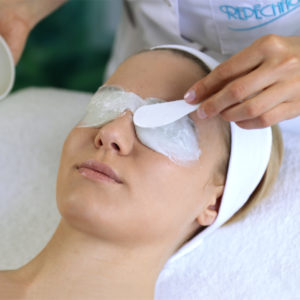 Cut open sachet 2A Opti-Firm® Translucent Sugar Mask Powder and empty contents into the enclosed medical grade rubber bowl. Add sachet 2B Opti-Firm® Translucent Sugar Mask Gel and mix until smooth. Apply mask to the eye contour area using enclosed spatula, covering eyes. Allow the client to rest for 10-12 minutes. During this time you may provide a scalp massage with Repêchage Purifying and Calming Essential Oils.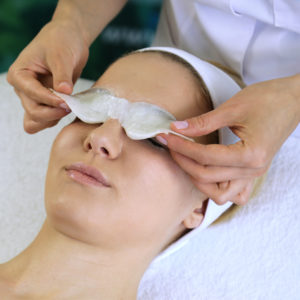 Remove the eye mask by rolling it inward toward the nose and downward. Gently remove any remaining residue with wet cotton. Pat the eye area dry with a tissue – do not rub!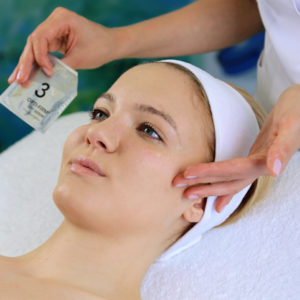 Cut open sachet 3 Opti-Firm® Lift Serum and remove a small amount, gently apply around the eye contour area. Do not tap or massage. Allow to dry undisturbed. You may use a small hand-held fan to speed up the drying process.
"Peel and Sparkle" Express Facial
For client's looking for that holiday sparkle, express facials that are a peel in a clay-cream form, like the Repêchage Biolight™ Luminex Mask. Glycolic peels were typically used in the past for this, and can be irritating to sensitive skin types.  This peel-mask hybrid is the newest way to get a peeling effect without possible irritation, and combines Kaolin Clay, moisturizing Laminaria Digitata and Ascophyllum Nodosum (seaweed) and natural brightening ingredients including Glycolic Acid, Licorice Root extract, Willow Bark extract, and Pelvetia Canaliculata (seaweed) extract.
Protocol: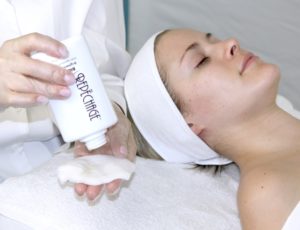 Cleanse the skin with the skin. Apply BIOLIGHT™ Brightening Cleanser.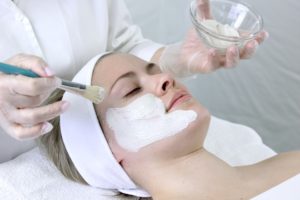 Apply mask with spatula or brush to entire face, avoiding eye area. Leave on for 15 minutes.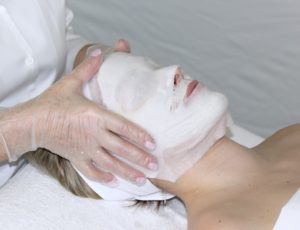 After 15 minutes, apply moistened, unfolded cotton squares to the face to help dissolve and remove the mask easily. Wipe mask off from side to side.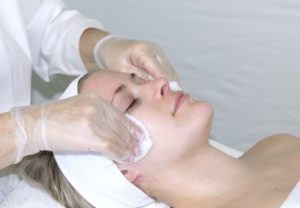 Remove remaining mask using cotton or facial sponges dampened with warm water.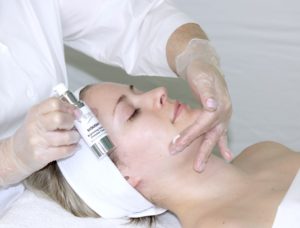 Follow with BIOLIGHT™ Brightening Toner to balance BIOLIGHT™ Skin Correct Serum, and finish with BIOLIGHT™ Brightening Daytime Protection Cream.
"Triple Action – Glow on the Go" Express Facial
For clients who need the triple effect – hydration, firming, and brightening – an express sheet mask for all skin types can be just what they need. The Repêchage Triple Action Peptide Mask combines pure seaweed filtrate and four anti-aging peptides, to help reveal triple benefits in just 10 to 15 minutes.
Protocol: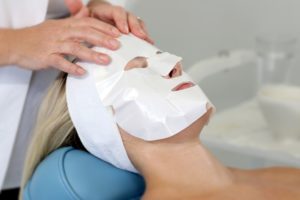 Apply the Repêchage Triple Action Peptide Mask to a clean face.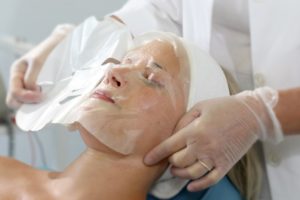 Once mask is in place, peel off paper backing at the notch and discard. Adjust mask to fit tightly to the contours of the face and leave on for 10 – 15 minutes. (Optional: Use Galvanic Iontophoresis Current for 7 minutes. Leave mask on for additional 5 minutes.)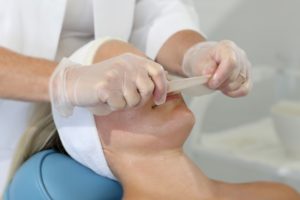 Remove Repêchage Triple Action Peptide Mask and proceed to perform a 7- 10 minute massage, working the rest of the Peptides, Seaweed, and botanicals from the mask into the skin. Incorporate Effleurage, Petrissage, and Tapotement.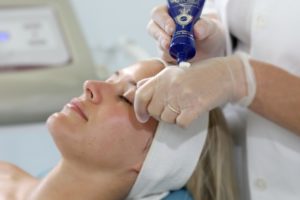 To finish, apply the Repêchage Mineral Face Shield® to the face for complete protection.
"Smoothie for Your Face" Express Facials
For clients who want a skin boost, they can indulge in express facials with organic ingredients and delicious flavors such as MATCHA, CHOCOLATE, VANILLA and MIXED BERRY, found in our FUSION™ Express Bar and Spa Masks. Combined with the potent benefits of the exclusive, world-renown Repêchage Laminaria digitata seaweed complex, this relaxing facial treatment provides multiple skin benefits while calming the senses with wonderful aromas. Adding a soothing, 10 minute facial massage with an organic coconut, creamy formula will relax and restore even the youngest of clients.
Protocol: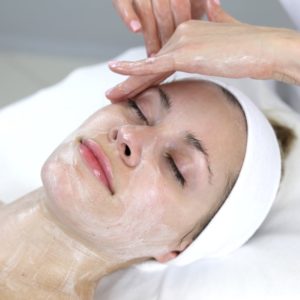 Secure client's hair and dispense contents of FUSION™ Cleansing Cream packette (1) into your palm. Warm between both hands and apply to client's face and neck using circular motions.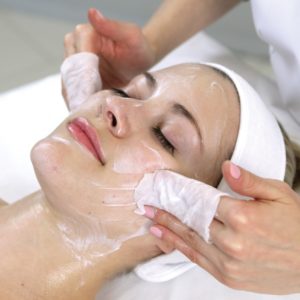 Thoroughly remove cleanser with cotton saturated in lukewarm water and pat dry with tissues.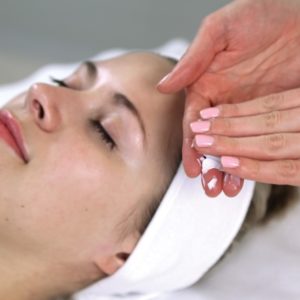 Empty contents of FUSION™ Soothing Massage Cream packette (2) into your palm and warm between both hands. Massage client's face for ten minutes (see instructions.)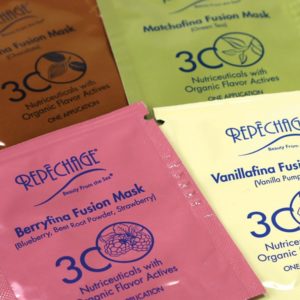 Empy the contents of the FUSION™ Seaweed Aloe Powder packette (3a) and the selected FUSION™ Flavor Actives packette (3c) into a Repêchage® Rubber Mixing Bowl and mix together thoroughly. Add the contents of the FUSION™ Laminaria Complex Gel packette (3b), a blend of Laminaria Digitata seaweed, Aloe Vera, and Teas, and continue to blend until a smooth paste is formed. Apply the mask to the entire face.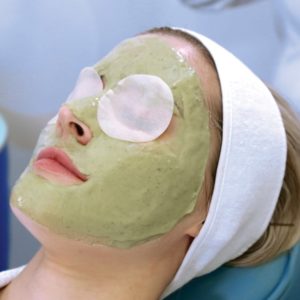 Apply Repêchage® Eye Rescue Pads to the eye area. Let mask set for 10 minutes while the client relaxes (optional) At this time, provide a hand massage using Sea Spa Hand Cream or Vita Cura® Nutri Oil.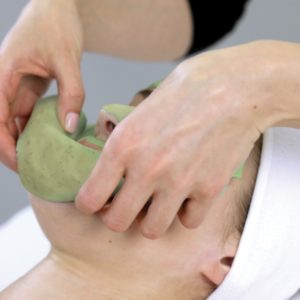 Remove mask by gently lifting off the face, first loosening around the edges, then carefully rolling the mask upwards from the chin line.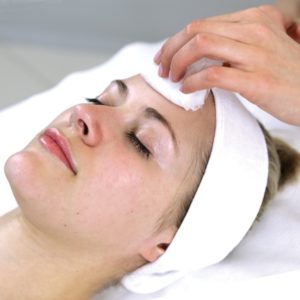 Clean face of any mask residue with moistened cotton.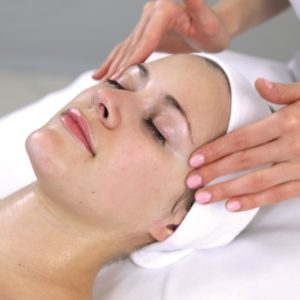 Empty contents of FUSION™ Face Moisturizer packette (4) into the palm of your hands and apply to the client's face, performing light effleurage movements until cream is absorbed. Finish at temples, gently holding for a few moments then releasing.
And remember: Always recommend an at-home skin care program so clients can continue the benefits of their professional treatments!