"C" WHO GOT A FACE-LIFT!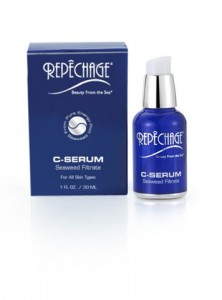 Same great results, fab new outfit. Introducing, Repêchage C-Serum Seaweed Filtrate in brand new (and blue) packaging. Part of the Repêchage original Cell Renewal line-up and Step #1 in the signature Repêchage 4 Layer Facial, Repêchage C-Serum Seaweed Filtrate is a staple for many Repêchage devotees so we decided to give this fan favorite a little pampering!
Now packaged in a convenient pump-bottle, this super facial serum can be applied with ease all over the face, neck & décolletage. Although the outside received a make-over, the recipe is the same. Made of the same great stuff, C-Serum, short for cytoserum, is a highly concentrated Laminaria Digitata & Ascophyllum Nodosum Seaweed extracts rich in vitamins, minerals amino acids and trace elements. Helps to prevent dehydration, fine lines and to return moisture to restore overall skin vitality.
Since 1980, Repêchage, meaning "to rescue" or "second change," has created a full range of nutrient-rich seaweed based skincare products featured at top spas globally. Forerunners in sea plant technologies and pioneers in seaweed treatments and cosmetics in the US, Repêchage researchers seek out specific seaweeds, beneficial for a range of skin conditions and therapeutic needs. The rich blend of vitamins, minerals, trace elements, amino acids and anti-oxidants in seaweed makes it an ideal main ingredient for detoxifying, oxygenating, re-balancing, hydrating, anti-aging and renewing benefits. Our seaweed is harvested from the Brittany Coast of France and processed right in the Repêchage headquarters in Secaucus, NJ. Our proprietary method of processing the seaweed delivers all the nutritive benefits from the sea to the skin.
This Repêchage favorite got a little lift, why not treat your face to a hydrating make-over with the Repêchage C-Serum Seaweed Filtrate in new packaging?!