Bring High Tech to High Touch – Beauty Pros Better Their Businesses for 2013 at the Repechage Annual Network Power Lunch – Champagne Brunch!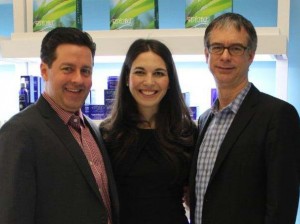 (From Left to Right:  Repêchage Executive Vice President Shiri Sarfati, Passion Squared Co-founder Gordon Miller and President of Vito Mazza Salon & Spa Vito Mazza)
December 3th, 2012, Secaucus, NJ — Better business was in the air at the Repêchage headquarters this December. Shiri Sarfati, Repêchage Executive Vice President, hosted the Repêchage Network Power Lunch – Champagne Brunch for beauty industry professionals including salon and spa business owners and skincare educators, to help better their spa business for 2013.
Guests were welcomed with Prosecco, a brunch spread and a trade show-like holiday shopping area including event only specials before speakers Gordon Miller, Co-founder of Passion Squared, Vito Mazza Jr. President of Vito Mazza Salon & Spa and Shiri Sarfati, Repêchage Executive Vice President took the podium.
The 2012 speakers put focused on salon & spa marketing business tips. Kicking off the presentations, Gordon Miller, Co-Founder of Passion Squared presented "Building Your Professional Brand on Facebook". He provided tips from creating facebook content, to managing facebook analytics  to social media role models. Miller expressed the importance of building a relationship with your facebook fans beyond just telling them about your weekly spa specials, ""Facebook is more of a branding tool – not a sales tool. That branding, however, will eventually lead to sales."  Salon and spa clients are becoming more and more active on social platforms like facebook, and business owners need to make sure that they are always on the consumers mind.
After a short shopping break, attendees regrouped for Vito Mazza Jr.'s presentation on the "Top 5 Holiday Marketing Ideas". His tips were perfect for the December holiday rush but they also transcended the holiday season. His top 5 marketing tips included: partying with a purpose, "New Year New You" makeover packages, have a skilled team to get clients to re-book and tell their friends, create incentive programs for your clients and rechargeable gift cards, and last but not least, market from the heart. "AWG – attitude with gratitude salon environment. The more you give back the more you'll continue to grow" said Mazza of teaming up with local charities to not only get word out about the salon, but to also be an active member of your community.
Sarfati took the stage to round-out the day of marketing tips with "Planning a Successful Spa Event". "Salon and spa events boost sales, bring in new clients and shows your current clients that you care and when done correctly, these events are going to increase your bottom line," noted Sarfati.  Sarfati went on to show attendees how to make events a splash by teaming up with local celebrities, charities and industry experts and by planning your events calendar to optimize optimum marketing and attendance.
Repêchage will continue to provide skincare and business support throughout 2013 at the Lydia Sarfati Post-Graduate Skin Care Academy in Secaucus, NJ as well as trade shows internationally. So join Repêchage in creating stronger spa businesses at one of our education classes!
For information about Gordon Miller or Passion Squared, please visit www.passionsquared.net
For information about Vito Mazza Jr. or Vitomazza Salon and Spa, please visit www.vitomazza.com 
For more information on the 2012 Repêchage education calendar, please visit https://www.repechage.com/lydia-sarfati-academy-calendar.asp or contact Brady@repechage.com for a brochure.
For more information on Repêchage® and future Repêchage® events, log onto www.repechage.com or call 1-800-248-SKIN(7546).