Benefits of Vitamin Hair Blow-Outs
Blow-outs have become a top-selling salon service that women love treating themselves to. I know I love getting my weekly blow-out! The popularity of this treatment has even lead to free-standing blow-out bars across the country, many of which have been very successful. So how can you make the most of this already popular treatment? Upsell your clients with a Vitamin Hair Blow-Out.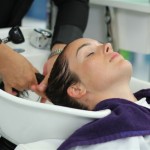 Why a Vitamin Blow-Out? Well, if a client is seeking deep nourishment and overall improved health of their hair then what could be better than putting nutrient rich vitamins directly into their treatment? I recommend using the Repêchage Hydra-Amino18® Hair Spa Thermal Seaweed Mask and Hydra-Amino18® Hair Spa Serum for this treatment. These two products contain seaweeds that are rich in12 vitamins:  Beta Carotene, Biotin, Folic Acid, Vitamins B1, B2, B3, B5, B6, B12, Vitamin C, Vitamin E, and Vitamin K. These treatments are known to help decrease hair breakage, promote healthier hair growth, lock in moisture, and add shine, softness and volume. By supplying these nutrients to the hair, your client's hair will be more lively and vibrant than ever.
Time: The treatment is broken down into 9 steps, but your hair stylists will only have to tack on about an extra 20 minutes to the time it takes them to do a regular blow-out. The first step in the treatment is to shampoo and towel dry the client's hair. Next the stylist will freshly mix together the self-heating seaweed mask and apply it all over the hair from root to tip. Once the hair is saturated with the mask, the hair will be covered with a mylar sheet while the mask sits on for 15 minutes. The self-heating action of the mask, will help to penetrate every strand with vitamins and minerals for dramatically smoother, more youthful looking hair. After the client's hair has gained the benefits of the nutrients in the seaweed mask, the stylist will rinse it out and apply a few drops of the Hair Spa Serum. The serum is important because you just nourished the client's hair so you need to apply a product that will maintain the integrity of their tresses while styling it. This serum contains ingredients that have been clinically proven to protect hair from weather, pollution and UV damage while locking in hair's essential moisture leaving hair lustrous, smooth and protected. Finally, you will lead your client to the styling station and provide a fantastic blow-out that will leave your client's hair soft, shiny, healthy, and rejuvenated!
Marketing/Public Relations: The target market for this particular service would be baby boomers that are starting to see their hair thinning and becoming more brittle, individuals with over-processed hair, and health conscience consumers. This service can be marketed as a wellness treatment for the overall health and integrity of your clients' hair that will restore life and luster to their while providing rich nourishment. By receiving this age-defying treatment clients will be helping to naturally strengthening their hair while also controlling frizz and protecting their hair from the stress of styling. Their hair will become instantly more hydrated, glossy, and smooth. This treatment is also a fabulous add-on item for someone to receive if they are already coming in for a hair-cut or regular blow-out. To gain initial presence, you can hold a fabulous VIP event to launch this treatment to your top clients. Also, host an editor salon event and have them try the treatment as they may be inclined to feature this service in their publication. To continue promoting this service you can post flyers at locations where your target market is likely to go, like local yoga studios and all-natural food markets. Be sure to add signage in your salon promoting the newly added service, such as posters and window displays.
For pricing and adding the vitamin blow-out to your service menu you will need to first factor in what you are charging for a regular blow-out and add the additional fee for the vitamin treatment. The treatment alone should be priced between $35-$45 which you can then add to the price your salon charges for a blow-out, bringing the total charge for the service between $75-$99. For an additional 20 minutes of service your spa will be bringing in more profit with minimal extra time needed.
You will be amazed at the difference in the overall look and feel of your client's hair with a Vitamin Hair Blow-Out! Your clients will love the extra pampering during their blow-outs and your business will love the heightened service tickets this spa treatment for the hair will deliver!