A Healthy Thanksgiving Recipe!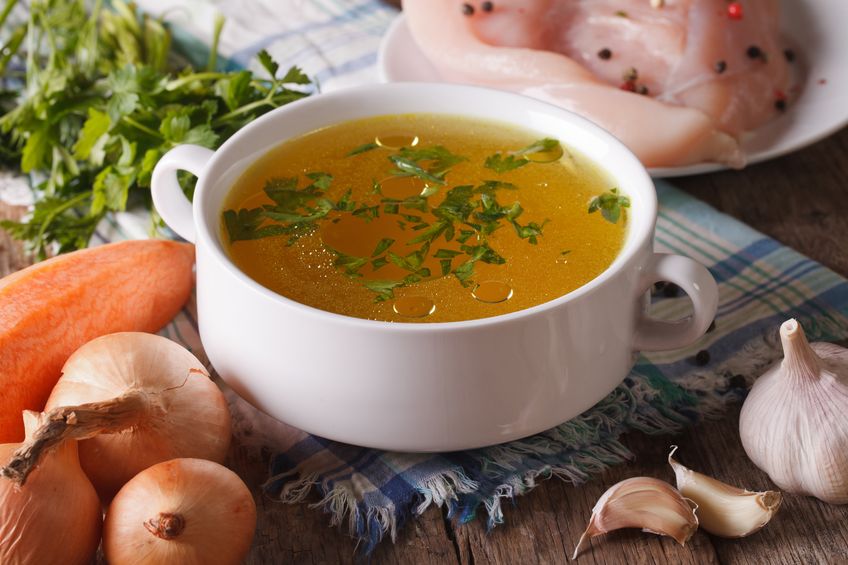 Thanksgiving is almost here!  This year I'll be hosting dinner, and am so excited to be serving one of my favorite recipes to my guests – my organic bone broth recipe. Not only is this bone broth delicious, but it's incredibly healthy and a treat that your guests will love!
Organic Bone Broth
*Ingredients should be 100% organic*
Ingredients:
Chicken feet (2 lbs)
Turkey necks (1 lb)
Chicken necks (1 lb)
Beef bones (1.5 lb)
Carrots (3 large)
Onions (2 large)
Garlic cloves (3)
Jalapeno (1, cut in half)
Lemon (1, cut in half)
Sea Salt (1 TBSP)
Black pepper corn (1 TBSP)
Parsnips (3 large)
Leeks (2 large)
Celery (2 stalks)
Kohlrabi (2)
Parsley (1 half bunch)
Dill (1/4 of a bunch)
Directions:
PREP – Wash all ingredients and cut all vegetables into large pieces.
Gather a large pot that will hold all ingredients and fill with water.
Salt all bones with Kosher salt, and then rinse off in cold water.
Place rinsed bones in the pot so that the bones are covered in water.  Enough water should be added so there is room for the vegetables that will later follow.
Bring the water to a boil.
Drain the broth and rinse the bones.
Return to boiling the broth with sea salt, bones and add all the vegetables.
Bring it all to a boil.
Reduce the flame and heat and remove any scum that will arise at the top. (Continue removing the scum during cooking.) Let it slow cook for 2.5 hours.
Let the broth cool down.
Drain pot mixture, leaving only the broth.
Return clear broth to the pot, and add chopped carrots – let it cook for 20 minutes.
Optional – Before serving add finely chopped dill to sprinkle on the top.
ENJOY!