You've Been Upgraded – The All New Repêchage Lamina Lift™ Mask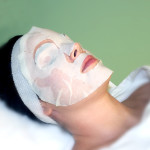 The latest from the mask experts at Repêchage…the Repêchage Lamina Lift™ Mask! Due to hit salons and spas worldwide in January of 2014, this is the latest in express treatments with express results.
Made with finest ingredients, such as an organic blend of Eco Cert Seaweeds, Orange Water, Aloe Vera and natural botanicals, the Lamina Lift™ Mask provides instant soothing, cooling, and moisturizing effects. Rich in 12 vitamins and minerals, 18 amino acids, 42 trace elements, and antioxidants, our wonderful Laminara Digitata Seaweed helps to lock in moisture and promote skin hydration, while helping to restore a youthful glow. Organic Aloe sooths the skin while Rooibos, Green Tea, Licorice Root, and Horse Chestnut provide calming and pore refining benefits. Orange water brightens the appearance of the skin, promoting even tone and clarity.
The word "Lamina" refers to a thin layer, which is exactly what the Repêchage Lamina Lift™ Mask is! The Lamina Lift™ Mask is a thin layer mask that provides a fuss-free approach to skin care! It is the perfect compliment to salon and spa services, as it serves as a great upgrade for all salon and spa treatments. It is also a beautiful accompaniment to clinical services, such as post-chemical peels, microdermabrasion, laser, and waxing. Perfect for client's who are waiting at the shampoo bowl, just apply the mask and leave on for 5-20 minutes for instant rejuvenation!
Give clients, and your business, a little lift with the new Repêchage Lamina Lift™ Mask!
To pre-order, call toll free 1-800-248-SKIN
For a high resolution image, please contact josie@repechage.com