Your New Environmental Protection Plan – Repêchage Mineral Face Shield!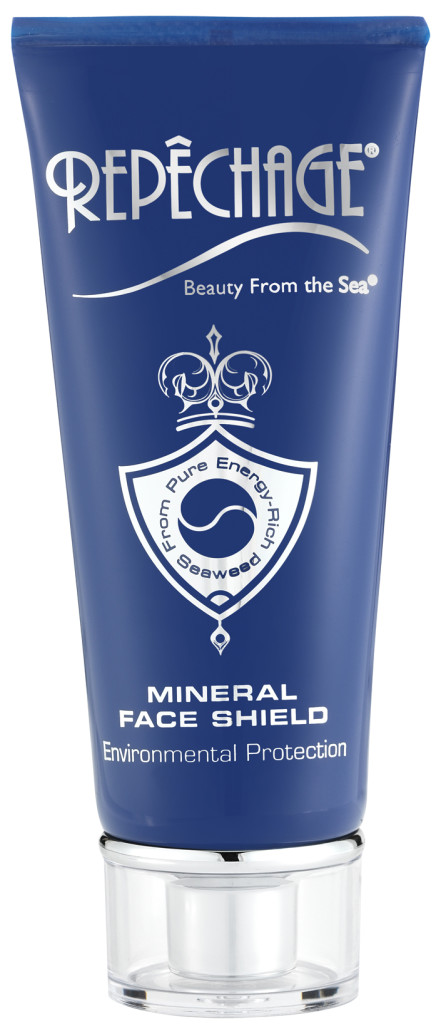 March, 2015 – Now, protecting your skin everyday has never been so easy! We all know we have to shield ourselves from UV light, changes in climate and pollution, but it may not have looked or felt pretty, pilling up, leaving pores clogged or migrating into the eyes from the sweltering heat or during a workout.  Not anymore.  Repêchage Mineral Face Shield Environmental Protection fights against environmental aggressors with an oil-free, light-weight, dermatologist tested formula that is non-comedogenic and imparts a matte finish.  It is serious protection and serious skin care that provides instant gratification, sealing the deal for a perfect, well-protected face.
Your Personal Defense Team:
There are some real heavy hitters in this feel-good formula.                                                                                                                                                                                                                                                                                                                                                      Zinc Oxide
Micronized, it forms a physical barrier on the skin, protecting from UV light, while it works to both soothe and absorb excess oils.
Laminaria Digitata
Our proprietary blend of these EcoCert seaweeds provides hydrating, nourishing, and anti-oxidant properties. Natural sources of 12 vitamins including B12, C, E, K and Beta Carotene, 18 amino acids, and 42 trace elements. Essential fatty acids help maintain the skin barrier while Alginic Acid – a polysaccharide – helps to lock moisture into the skin.
Nylon-12
This is like a silk stocking for the skin, scattering light to diminish the look of fine lines on the skin, while letting enough light through so the look of the skin is natural.
Live, love and laugh and let Repêchage's new Mineral Face Shield Environmental Protection be your skin's personal body guard.  It deserves celebrity treatment!
Available May, 2015 at www.repechage.comor by calling 1-800-248-SKIN (7546)
For a high resolution image, please contact Josie@repechage.com
About Repêchage: Since 1980, Repêchage has created a full range of nutrient-rich seaweed-based skincare products featured at top spas and salons globally. Forerunners in sea plant technologies and pioneers in seaweed treatments and cosmetics in the US, Repêchage researchers seek out specific seaweeds, beneficial for a range of skin conditions and therapeutic needs. The rich blend of vitamins, minerals, trace elements, amino acids and anti-oxidants in seaweed makes it an ideal main ingredient for re-balancing, hydrating, anti-aging and renewing benefits. Our seaweed is harvested from the Brittany Coast of France and processed right in the Repêchage headquarters in Secaucus, NJ. Our proprietary method of processing the seaweed delivers all the nutritive benefits from the sea to the skin.