Work – Life Balance – And time to swim with Dolphins!
Between time spent in the office, traveling to attend trade shows, teaching at our headquarters and across the country, attending spa events and more… I work well over two full time jobs! For the first time in a good amount of time, I decided to make my free time work for me (finally) and took a two day breather with a great friend of mine and owner of Spa E in Miami, Brenda Le Grange.  Our "Thelma and Louise" adventure, as Brenda and I fondly named our trip, sent us on a road trip to Key West.
I flew out to Miami just before The International Congress of Esthetics and Spa Miami and Brenda and I took a drive over to The Banyan Resort, Key West and just like that, some much needed me-time was in full effect.
In just a few short days, we hit the town, went swimming with dolphins and went snorkeling—it took a slight nudge on Brenda's part to finally get me into the turbulent waters…but in addition to seeing all the glorious sea life below, I even encountered a 5 foot shark up close, which was a real adrenaline rush!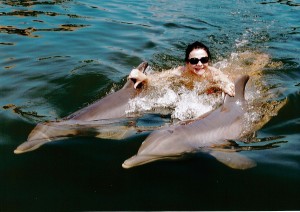 Kick back, relax and take a dip with dolphins!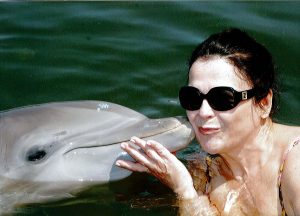 Up Close & Personal with a beautiful dolphin!
It was exactly what I needed to recharge my batteries after an extremely busy show season. It's very easy to forget to take time for yourself even when you are lucky enough to work your dream job. Afterwards, it was off to an amazing show with Les Nouvelles Esthetiques!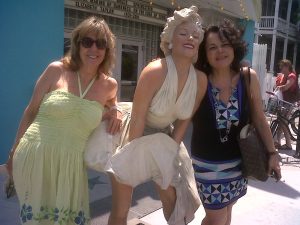 Brenda (left) and me (right) with classic beauty Marilyn Monroe!
Our display at this show was revamped to invite clients into our space, making our products more accessible to all! We were very glad to be able to offer such a hands-on interactive shopping experience to show goers. We also offered signature services at the Repêchage Facial Bar.  While I spent a portion of the day on Sunday giving a presentation on Thalassotherapy to a great audience of industry professionals, the Repêchage team was hard at work introducing many new people to the amazing benefits of our EcoCert seaweed based products! The balanced mix of relaxation and hard work made for a truly wonderful Florida trip!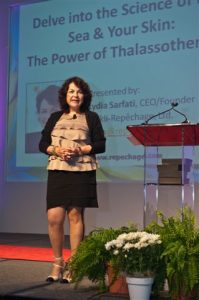 On stage for my presentation "Delve into the Science of the Sea & Your Skin: The Power of Thalassotherapy" at The International Congress of Esthetics & Spa
So don't forget to carve out some R&R this spring – even if just for a day or two.  And I hope to see you all in NYC in July for our newest skincare launch event at Tribeca Rooftop!
Cheers!