What's the Difference Between Salt and Sugar Scrubs?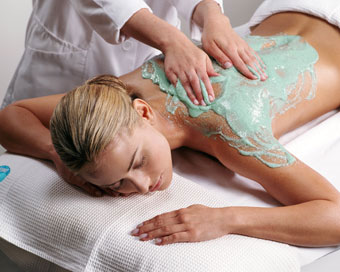 Through exfoliation, fresher, younger looking skin is exposed creating the look of a glowing and radiant complexion.  Exfoliation is a great way to deep pore cleanse and it is extremely beneficial for conditions that are worsened by bacterial decomposition of keratin.  Furthermore, exfoliation increases circulation in the skin creating wonderful anti-aging benefits!
How do the crystals of salt/sugar break down dead skin?
Both perform physical exfoliation, like an eraser.
What kinds of carrier lotions or oils are needed for each, and why?
The carrier has to be compatible with high solids and with high Sodium Chloride in the case of salt. A good carrier is olive oil.
How do salt and sugar scrubs differ from some other exfoliating products that do not use those ingredients?
Both salt and sugar dissolve completely whereas others, such as walnut shells or apricot shells remain a solid particle that needs to be removed.  During the dissolution, the edges become rounder and the particles gradually decrease in size, so the scrub turns into a finer  "polish".
Are salt/sugar products generally acceptable for use on all types and areas of skin?
Both Repechage Sea Spa Glow Body and Foot Exfoliator and Repechage Pomegranate Cran Apple All Over Body Scrub are for body use, not for the face.  They are especially beneficial for tired skin where increased circulation is preferred. We recommend to keep the scrubs away from very thin or delicate skin and the face.  For the face we recommend exfoliators that are a bit more gentle such as Repechage Honey and Almond Scrub or the Repechage Hydra Refine One Minute Mask.
Featured Body Scrubs:
Salt Scrub: Repechage Sea Spa Glow Body and Foot Exfoliator is based on marine salts infused with hydrating and moisture binding seaweed and olive oil. This formula helps rid the skin of dead cells accumulated as a result of travel, sun exposure and aging. Featured ingredients: Sea Salts, Laminaria Digitata seaweed, St John's Wort,  Willowbark extract and a refreshing Peppermint Oil.
Sugar Scrub: Repechage Pomegarnate Cran Apple All Over Body Scrub combines pure cane sugar with organic pomegranate, cranberry and apple with pure cane sugar for a natural exfoliant that leaves your skin deliciously smooth and delectably radiant.  This treatment contains potent anti-oxidants that will leave your body feeling super soft and moist.
How much product should be used per application? How long does it stay on the skin?
There is no set-up time, the product can be gently massaged around immediately.  The product should be rinsed off and followed by a mild moisturizer to care for the fresh new skin exposed.
Ways to recommend exfoliation treatments to your clients:
A great way to introduce salt/sugar exfoliating services is to "upgrade" your client to a deluxe manicure or pedicure service incorporating a salt/sugar scrub. Discuss the benefits of the treatment to your client. They will notice immediate results and smoother softer skin. Your clients will be instantly hooked. To maintain these wonderful benefits in between spa appointments, recommend your client to buy a salt/sugar scrub for at home and use daily. "Show Tell and you will Sell!"
Don't Forget: Use a scoop or spatula and stir up the product before each use!