What's Your New Year's Resolution?
More than 30 years since I first began my career as an esthetician in a Manhattan studio, looking back on the dreams I started with, I have two reflections: First, the road has not been paved in facials; there have been very rewarding times and there have been very tough times as well. Secondly, I have accomplished the dreams I set out with, and now each year, each day for that matter, my dreams evolve. The ability to confront and overcome adversity, the determination to go hard or go home and my fear of failure has allowed me to build a global skincare company, from what began as one facial!
So, let's flashback to 1977:
Average US income $13,572
World population was just over 4 billion
I was the Dancing Queen at Studio 54
Farrah Fawcett was kicking butt prime time in Charlie's Angels
I opened my first Day Spa in Manhattan!
It's a different world for those starting businesses now, socially, economically and in the beauty industry! Since then, we have seen the world population reach approximately 8 billion, average US incomes are close to triple and you can find a facial on any block in Manhattan. The Day Spa industry has certainly evolved! People now spend billions of dollars annually on beauty services and products and in light of keeping my hopes and dreams high, I will continue to strive for greatness in 2011! There is a lot to come personally and professionally this year! I am excited to say that Repêchage will continue to innovate and lead the industry, providing new products based on cutting edge skincare technology and advancements.
Here is a great kickoff for those of you starting a skincare business in 2011: Encouraging facts courtesy of About.com's Exploration of  'Beauty My Way' users this year!
Over 80% are spending more or the same this year on skin, hair, male grooming, teeth whitening and cosmetic products.
47% say price is not a factor if the beauty products meet their needs or solve a problem
55% consider recommendations from experts very important
72% of consumers prefer well established skin care brands over generic
44% are willing to pay more for a recognized beauty brand or product recommended by experts and users
And those are some figures you can take to the bank!
Throughout 2011, check for tips regularly as I will take this year to guide those of you starting a business. Stay tuned for much to come, including the best way to choose your professional product lines, tips and strategies to optimize your retail sales, staff motivation, customer service, utilizing social media marketing (an amazing resource for new businesses, since it is free!) and much more! If you are starting a business, please share information with us in the comments section and let us know what information and posts you will be looking for throughout 2011 and we will be sure to respond with blog posts catered to your questions and needs! A great resource guide to carry with you each step of the way, is my book Success at Your Fingertips: How to Succeed in the Skin Care Business.
In 2011, I urge you all to follow your dreams as I have done. It may not be easy every step of the way, but perseverance plus perspiration will truly lead your dreams to manifest into reality!  Wishing you and your families a happy, healthy and prosperous New Year!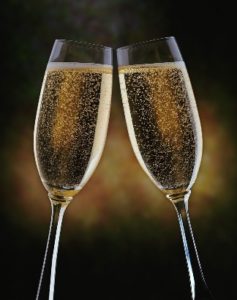 Photo Courtesy of Bar Harbor Times  Soup