Well Stocked: Tips on Managing Your Spa & Salon Inventory
One very important aspect of your salon and spa business, which is often overlooked, is managing your inventory. Being sold out of a retail item or not having a facial treatment for your booked appointments is a lost opportunity for your business to make money. If you aren't able to provide a client with what they are looking for, then they will find it somewhere else and perhaps write your business off for the future.
In order to keep your clients happy and your shelves well-stocked, conduct an inventory analysis twice a week. It is important to monitor and track products in order to know what is moving and what isn't  This will enable you to maintain proper stock levels and to create promotions.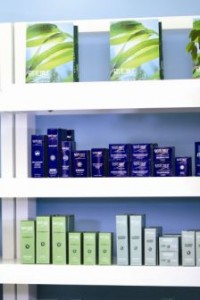 So when is it time to order new products? That all depends on your business. I always recommend that for your retail displays to be impressive and enticing you should have six or more of each product you carry. A good rule of thumb is that when you get down to four of that product, place an order for six more. Similarly, you should have an equation in place to keep your treatment rooms stocked at all times. Depending on your business that equation will vary. You manufacturer can be an asset in implementing merchandising and inventory strategies. If you are unsure as to when your business should re-order professional skin care treatments, just call your customer service representative and ask! I recommend that each facial room should have 2 uni-dose box treatments containing 4 treatments or more. When you get down to 1 box, order 2 more. For your more popular treatments, you may want to consider keeping 3 boxes in stock, and reordering 3 more when you get down to 2 boxes. As I mentioned, this formula will depend on how many treatments you do a week, so if you are unsure, contact your manufacturer for suggestions.
If you are overstocked on a certain item or it isn't moving as quickly as you like, plan promotions and gifts with purchases in advance in order to advertise and conduct PR efforts to maximize success. Also don't forget shelf talkers, "try me" testers and impulse buys near the cash register to keep your retail moving!
What is your best tip for keeping inventory moving? Tell us in the comments below!