Waxing: How to Practice Sanitation and Prevent Infection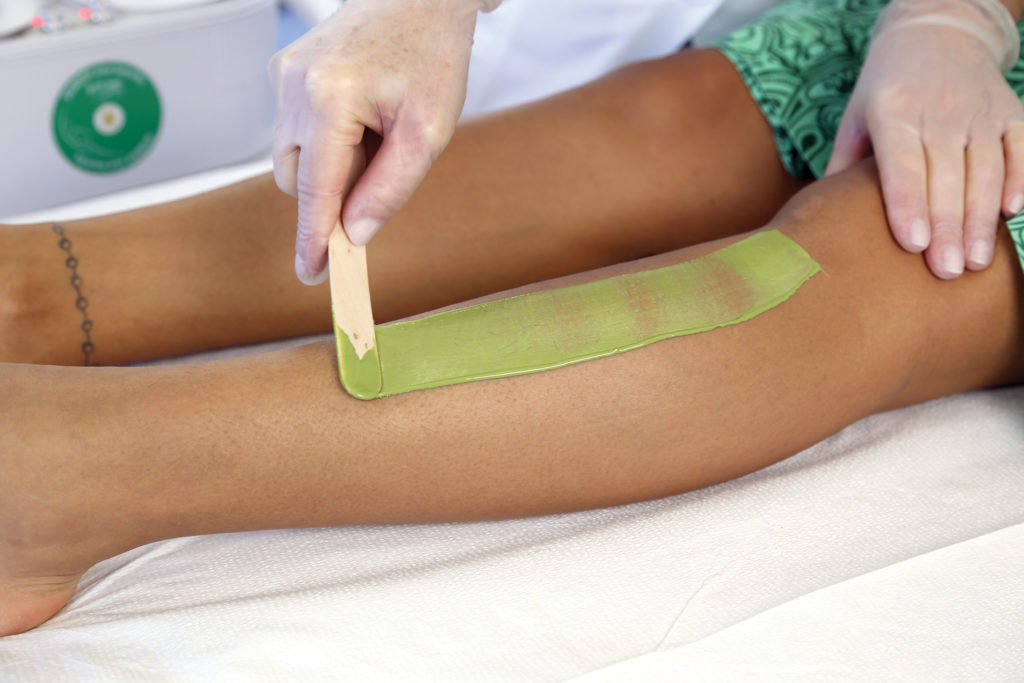 It's summer, so it's waxing season!  Women (and men!) are flocking to the spas and salons for regular waxing appointments, which can mean a good increase in business.  How to keep them coming back and not hopping around the city from spa to spa all summer?  The three S's–proper Sanitation, a Spa-like setting and utilizing Skincare ingredients in to the treatment.
Because of its low cost and efficiency in hair removal, waxing can be a significant business booster if the spa owner pays special attention to detail, such as creating innovative spa-like services, incorporation of important skin care ingredients and proper training and sanitation.
Believe it or not, sanitation can be THE most important factor to not only create an effective waxing program, but to build your business and increase profits.  Here, we'll review all the important aspects of proper sanitation for waxing.
Risk of Infection
Improper sanitation and cleanliness in the salon can lead to a serious compromise in health standards, putting yourself and your client at risk for infection.  It is for this reason that following precise guidelines for sanitation and cleanliness is an absolute mandate that cannot be overlooked.   The types of infection clients and staff are potentially exposed to when coming in contact with human skin and bodily fluids include Hepatitus B, MRSA staph infections, bacterial infections, herpes simplex and even HIV.  Certain procedures can cause bleeding, which can expose the salon professional to blood borne pathogens, or BBP's.  If improper sanitation and cleanliness is not enforced, these can be transmitted not only to the staff, but to subsequent clients.  Many skin care professionals erroneously believe that a wax pot is hot enough to kill germs.  It is imperative to remember that your wax pot is not killing bacteria. Proper temperature to kill all bacteria is 100 degrees Celsius, or 212 degrees Fahrenheit, for at least 30 minutes. Wax at this temperature would be scalding hot and extremely dangerous to clients if we were to proceed to wax.  In addition, the infection rate and susceptibility to disease at the time of waxing is much higher because the follicles are open.  Federal law states that "everyone should be considered as contaminated and that service providers who are occupationally exposed or have the potential to be are required to use preventive measure to prevent cross contamination." That means federal standards already state that aestheticians must wear gloves and perform one-time-use per applicator of hair removal products. See the Occupational Safety and Health Administration website at www.osha.gov for more details.  It is important to remember that for the client and esthetician's safety the following protocol should always be implemented.
A Clean, Sanitized Work Room or Station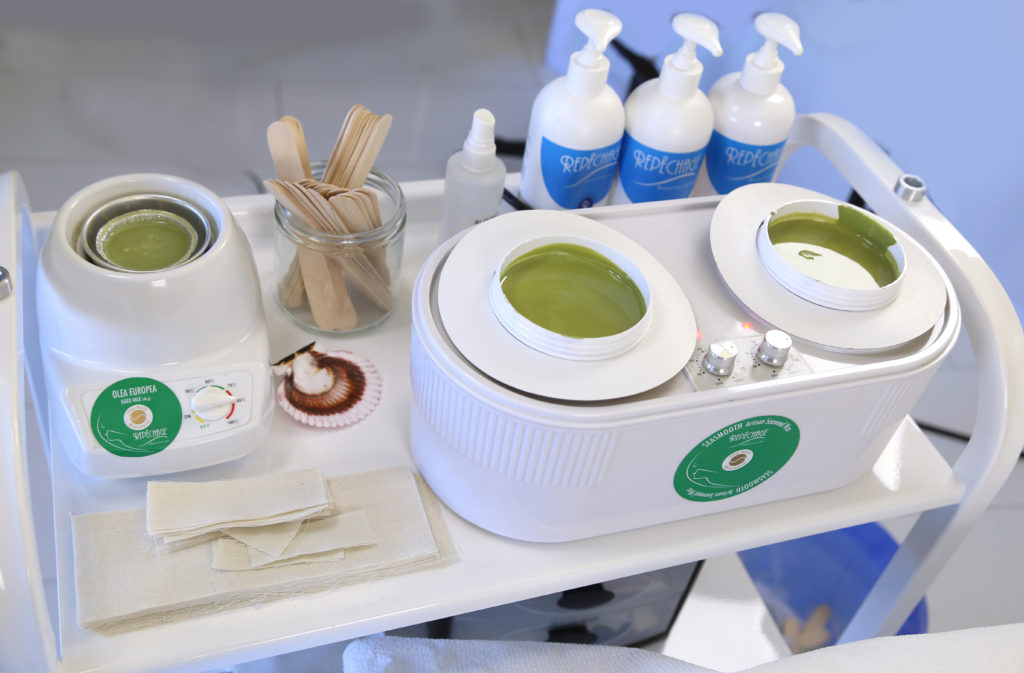 Having a clean, sanitized work environment is key to a business' success.  A client recognizes and processes an opinion about the salon or spa within seven seconds of perception.  If they see the following, they will immediately know that they are in an unsafe, unclean environment:
Tweezers or scissors are pulled from aestheticians pocket or drawer and not autoclaved and visibly removed after you have entered the room
Wax is left behind on trolley or table
The aesthetician does not clean hands and wear gloves
Tools are strewn across the trolley and not kept in sanitary quarters
The table is not sanitized or sheets are not changed upon your entrance into the treatment room
My advice to the client who sees this when entering a treatment room?  Run for the door!   A dirty environment isn't just an indication of a sloppy spa owner, it is a sign that there could be serious health consequences following this procedure.  While everyone needs to cut costs nowadays, the salon owner can't skimp when it comes to hygiene.  Build your client's confidence, and your business by following this protocol for a properly cleansed and sanitary treatment area:
Every treatment room or station must be thoroughly swept and cleaned after every client service.  Any excess wax must be removed from the waxing machine.
Surfaces must be washed with anti-viral and anti-bacterial cleansers and thoroughly dried.
Fresh linens and liners must be applied to the treatment beds
All non-disposable instruments must be sterilized in a sterilizer or autoclave before and after treatments.  This includes metal spatulas, tweezers and body brushes.  Disposable items must be kept in a closed environment near the waxing station.
Applicators must be stored in an air-tight container
All garbage bags must be sealed and disposed of in proper containers outside the service room.
If you are using tweezers, make sure that you are sterilizing them in an autoclave before and after each service.
Client Consultation Prior to Treatment
There are a number of conditions that preclude waxing service, many of which the clients may not be aware of.   Medications or some prior treatments may make their skin more fragile and susceptible to injury or infection. Or, there may be conditions present that are extremely transmittable through the waxing process, putting staff or other clients at risk.  If your client is surprised by the thoroughness of your pre-wax consult, they may not have had a properly trained service provider at their previous salon.  Don't be that service provider.  Prepare a thorough questionnaire for your clients to fill out and go over with you prior to the service.  Your expertise and understanding of contraindicatory conditions will enhance your client's loyalty.  Here is an overview of a pre-treatment consultation:
Prior to the waxing appointment, clients must be advised that their hair needs to be one-eighth of an inch long for safe and effective removal.  They should exfoliate the day before the appointment, not the day of the appointment to prevent skin irritation during the procedure.  Advise first-time waxing clients to arrive 15 minutes prior to the treatment to have them fill out a health and medical questionnaire.
Medications that are contra-indicative to waxing treatment include:
Accutane and Differin.  This can cause skin to become highly fragile and tear easily.
Retin A Skin can also become highly sensitized during a course of this medicine.
Coumadin and Warfarin can cause easy bruising of the skin.
Additional contraindications could include:
Recent use of AHA products, Glycolic Acid
Cancer treatments
Herpes, herpes simplex in active stage
Sunburned skin
Open lesions
Moles, skin tags, warts
Inflamed or irritated skin
Additional Considerations:
Warn clients not to expose newly waxed skin to direct sun for at least 24 hours before or after waxing.
Perfumes should not be applied for at least 12 hours after a waxing service.
Do not wax if a client is having any dermabrasion services.
Do not wax over a previously waxed area.
Do not wax over an area that has had a Botox injection for at least 72 hours.
Do not wax if the client has protruding varicose veins, diabetes, phlebitis, or any skin irritation.
Proper Hygiene During Waxing
While the costs of disposable, one-use items such as gloves, applicators, muslin strips and even wax itself can seem prohibitive to income growth, they must be factored into a spa or salon's budget when becoming a waxing service provider.  The health risk for reusing gloves and applicators is real:  there are case studies of incurable staph infections and viruses such as Herpes being transmitted from one client to another or the service provider because of microbial infestation on gloves, counter-tops or in the wax itself.   Remember, the wax is not heated sufficiently to kill germs and bacteria.  Even alcohol and bleach does not kill 100% of germs residing on a surface.  Follow this protocol for waxing service to assure the most sanitary procedure.
Keep box of disposable, non-latex gloves,  sealed jar or container of applicators and muslin strips on work trolley near the bed.
Move lidded garbage container to side of trolley for easy disposal of items.
Wash hands before and after each client with liquid anti-bacterial soap for at least 10 to 15 seconds.  Dry thoroughly and put on new pair of gloves.  Be sure these fit your hands properly, so that you can perform the treatment.
Sanitize skin and remove natural oils by spraying area to be waxed, such as legs or back with alcohol
Follow with dry brushing to gently lift hair and remove dead, flakey skin.
Sanitize brushes by washing with soap and water and put in sterilizer for 20 minutes following every procedure.
NO Double Dipping
Use one applicator to apply a stroke of wax, then immediately discard. NEVER DOUBLE DIP THE APPLICATOR BACK INTO THE WAX.  If you do this, any remaining microbes, virus or bacteria on the client's skin will immediately reside within the wax, making it able to transmit disease to other clients, especially since the next clients skin will be compromised by the hair removal process, making it more susceptible to infection.  It is far more economic to buy disposable applicators than an additional jar of wax.  Remember, clients are watching, and far more educated about double-dipping now.
Prepping for Waxing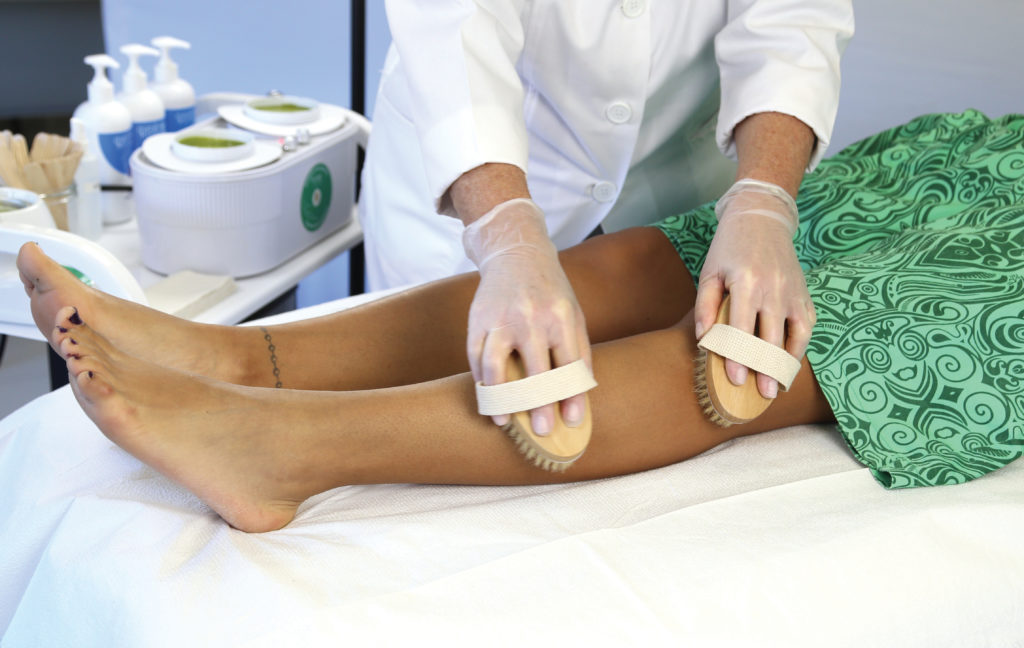 Preparing the skin for waxing is an important step in maintaining efficacy and preventing adverse reactions.  If the skin area has excess oils, sweat or bacteria, the opening of the hair follicle will lead to breakouts and infection.  It is for this reason that all skin must be first sanitized with alcohol spray  and patted dry with a disposable towel.  Body skin should be dry brushed, preferably with a goat hair brush, to lift any ingrown hairs from the surface.  For face waxing, saturate the area with a cotton swab moistened with alcohol and then pat dry with a medical grade tissue.
Wax Application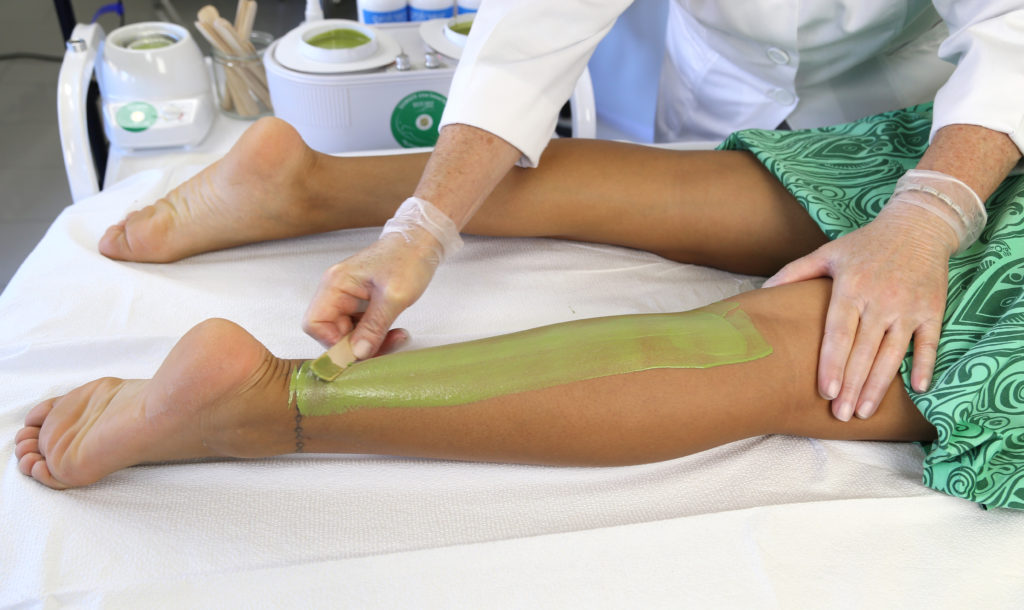 Wax should be applied in the direction of the hair growth, not exceeding coverage of a ten by three inch area, with a strip not exceeding eight inches in length and three inches wide, leaving enough room for grip.  Apply the wax in a thin layer and press down.  Remove in ONE swift, quick motion in the opposite direction of the hair growth.  Repeat this on all areas to be waxed, disposing of the strips in a clean garbage can placed nearby.  Repeat until all the desired hair has been removed.  With facial waxing, apply a cold gel rich in antioxidants immediately after waxing and follow with an alcohol-based astringent. For sensitive areas, such as the chest and back, complete the service with a calamine-based soothing mask and leave on for ten minutes.  Remove gently with lukewarm water then follow with soothing oil.
As a salon and spa professional, you can never go too far above and beyond when it concerns safety and cleanliness. Clients today have a choice as to where to go.  Spas and salons that are clean and sanitary will win the business.
"The White Glove Test: Tips on waxing consultations and sanitation" was reprinted from LNE & Spa Magazine, April 2016 issue.