Tips for Salon & Spa Gift Certificate Promotions – Give and Get This Holiday Season
At the Repêchage headquarters, the leaves on the trees are rapidly turning to a beautiful burnt orange as the temperature continues to cool. Before we know it, Thanksgiving will be upon us and then the mad rush for the holidays begins!
Gift Certificates are a wonderful business builder during the holiday season. They bring in a great deal of cash up front for services yet to be rendered. These are great for both existing clients, and they also have potential to bring in new clients who have never been in to your salon or spa before. Make sure that EVERYONE knows that you offer gift certificates and make it easy for customers to obtain them.
Make sure that your staff is aware that you carry gift certificates and that they are passing the word on to their clients. You could even offer a holiday bonus for your employees that sell "X" amount in gift certificates before January 1st. Word of mouth is a powerful tool and advertising is also a great way to bring attention to your salon or spa. Try advertising in the sports section of your local newspaper, for example, a few weeks before the holidays. This will grab the attention of hapless husbands or boyfriends, after all what better holiday gift than spa skin care products or services? Allow them to purchase a gift certificate for their loved-ones with as little effort as possible on your website or in the spa.
(photo credit: www.ehow.com)
Now that you have the clients at your spa, get their attention! Packaging is everything! Have custom-made certificates for the holiday season. Print the certificates on beautiful silver or red cardstock and place them on a shelf with a beautiful display behind the register where your clients can see them. You could also offer to wrap the certificate in a beautiful box, after all it is a gift and the receiver should be excited to open it!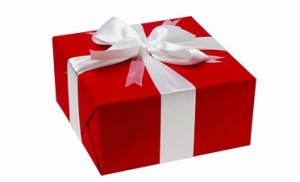 (photo credit: www.portfolio.com)
Another great way of marketing gift certificates is by offering a free gift with purchase. For example:
With the purchase of a $200 gift certificate receive a FREE Repêchage Relaxation Stay-cation gift set!
With the purchase of a $350 gift certificate receive a FREE Repêchage Holiday Bath Bliss gift set!
With the purchase of a $500 gift certificate receive a FREE Repêchage Head-to-Toe Luxuries gift set!
Promoting the gift certificates with a special gift allows your client to kill two birds with one stone! They can present the gift certificate with the gift set, give the gift set to another loved one, or keep the gift set for themselves for some holiday spa relaxation!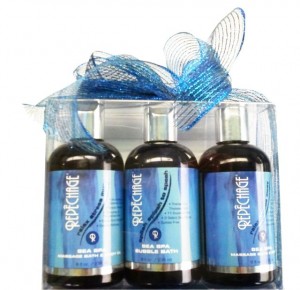 (Repêchage Holiday Bath Bliss gift set)
The FREE gift should be around 10% of what the client is spending. For example if you spent $50.00 on a gift set, the minimum balance of your client's gift certificate should be $500.00.
Lastly, utilize your community! Team with a local jewelry store, a limo company and an intimate restaurant or inn to include gift certificates to your spa as part of a beautiful holiday package. Have fun with it!
Follow these tips for gift certificate promotion for a successful holiday season and a jump-start into the New Year!
Repêchage gift sets can be purchased on www.repechage.com today!