The Repêchage Beauty Lounge at the Train New York—aka Post Fashion Week Skincare Rescue Mission!
This past weekend, Repêchage sponsored the Beauty Lounge at The Train New York immediately following Mercedes Benz Fashion Week with a purpose: Post Fashion Week Skincare Rescue Mission! From February 19th through the 21st, the Repêchage Beauty Lounge was surrounded by amazing up and coming designers. The visitors to the Repêchage Beauty Lounge were able to relax and enjoy professional skincare treatments like signature Repêchage Eye Contour Treatment, Seaweed Treatment Mask or a Hydrating Hand Treatment with  Laura, the resident esthetician at Rebellations Hair & Beauty Studio right in the middle of it all!
For three days, busy fashion designers, buyers, publicists and editors took the time to tune out the world for a signature treatment and left with glowing skin. In fact, by the end of each day, those who visited the lounge were able to point out others who had gotten treatments by the glow of their skin!
The fashion exhibition, which originally began in France, was held at the Terminal Building in Chelsea, where the "tunnel" was transformed into a preview of the next big names in designer couture. Repêchage was in a prime location, nearby fellow sponsors Votivo and Kusmi Teas—and yes, we enjoyed a cup or five of the amazing teas!
As always, Repêchage was front and center to provide the ultimate symbol of timeless style: great skin!
Check out some of the "looks" from the Repêchage Beauty Lounge: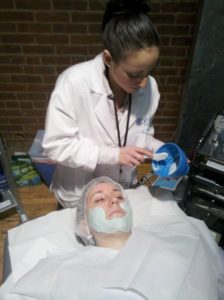 Fashion blogger Jennifer from WorkinChic.com mid-Seaweed mask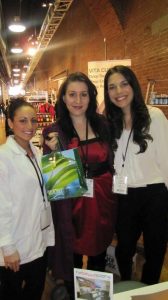 Jennifer leaves with glowing skin and a Repêchage goodie bag!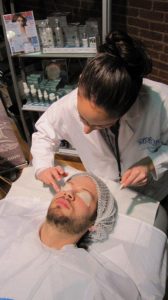 Fashion photog David battles his post-Fashion Week under eye bags with an Opti Firm Eye Contour Treatment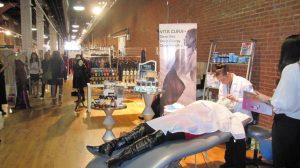 Relaxation right in the middle of the commotion, courtesy of Repêchage