How to Take Care of Skin After Summer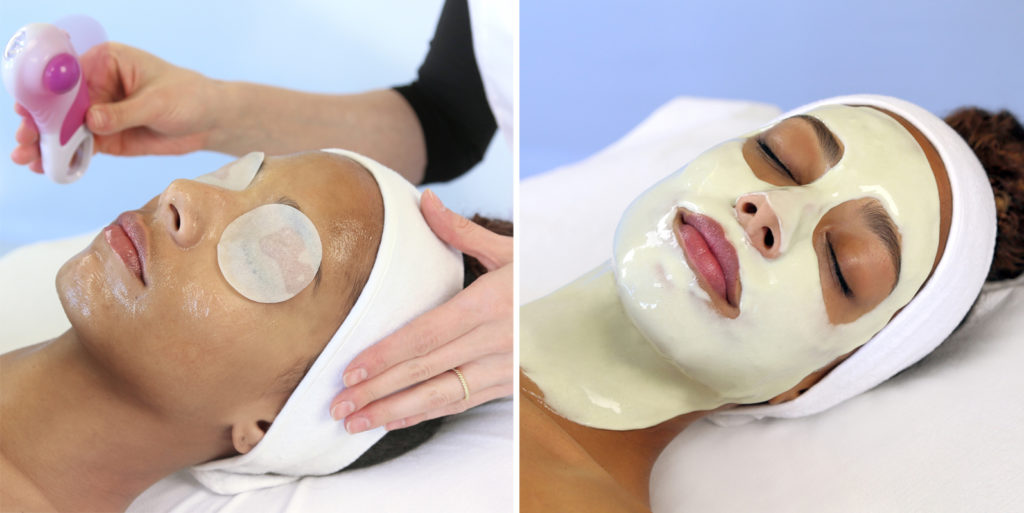 Summer is officially over and we know what this means for estheticians – many clients have sun damaged skin, particularly skin with signs of hyperpigmentation. As an esthetician, it is important for you to understand how hyperpigmentation occurs, what ingredients to avoid, and what skin care services are available to your clients to help minimize the appearance of sun damage.
Also called pigment, melanin is a substance that gives the skin and hair its natural color. Those with darker skin have higher amounts of melanin. By contrast, those with less pigment have more fair skin. Melanin pigments are formed as part of the process of metabolizing an amino acid called tyrosine. Tyrosine channels the production of melanin and other pigments by oxidation. In humans, melanogenesis is a darkening of the skin, or an increased production of melanin, also called hyperpigmentation. This is a condition in which patches of skin become darker in color than the normal surrounding skin. This darkening occurs when an excess of melanin, the brown pigment that produces normal skin color, forms deposits in the skin.
Hyperpigmentation occurs when UV rays from the sun attack the keratinocyte of the skin, the keratinocyte then signals the melanocyte which initiates the production of melanin. Once the melanocyte receptors are attacked, it triggers Tyrosinase, endothelium (ET-1) and alpha melanin stimulating hormone (α MSH) to produce melanin. Melanocytes travel through their dendritic cells containing melanosomes that carry the melanin pigment. Once they travel to the above keratinocyte where it is aggregated and deposited they produce the melanin pigment. This process called is called melanogenesis, which creates hyperpigmention.
In the past, ingredients such as Hydroquinone and Mercury Chloride have been used to treat melanogensis. These ingredients however, have been linked to a variety of health issues even when used in small percentages. Today, we have natural ingredients that can help to lessen the appearance of hyperpigmentation from the sun, acne scars, hormonal changes, and certain prescription medication without taking the risk of causing your client future health complications.  Innovative marine bio-technology can now help to reduce the appearance of uneven skin tone to reveal a more luminous complexion.  Such natural, safe, and effective ingredients are the concept behind our Biolight™ Miracle Facial.
These ingredients include:
Matrixyl 3000® – A combination of powerful peptides, Matrixyl 3000 help significantly reduce the appearance of fine lines and wrinkles.
Hexapeptide-2 – A fast-acting peptide that helps to brighten the appearance of the skin.
Glycolic Acid – Glycolic acid exfoliates the skin, helps improve the skin's appearance and may reduce the appearance of wrinkles.
Willow Bark Extract – Extracted from the white willow tree (Salix Alba). Helps with mild exfoliation of dead skin cells to reveal a more youthful complexion.
Licorice Extract – Ingredient known for brightening the appearance of the skin.
Bellis Daisy – A skin-brightening agent derived from Daisy Flowers.
Hyaluronic Acid (Sodium Hyaluronate) – Extremely moisturizing to the skin. Natural moisturizing polysaccharide present in the skin. Is known to hold 100x its weight in water.
Deep Sea Thermophilus – Contains proteins and enzymes that improve the appearance of the skin.
Laminaria digitata & spirulina – Laminaria digitata is brown seaweed, rich in polysaccharides and vitamins.  Spirulina is known as a unique source of omega-3 and gamma linolenic acid.
Gotu Kola – A natural plant known in Asia for its beneficial effects.
Watermelon Extract – Contains naturally occurring vitamins, carbohydrates and amino acids.
Chamomile Extract – Proprietary Extraction – Also known as Roman Chamomile. Extracts made from the daisy-like white and yellow heads of the Chamomile flowers.
Camellia Sinensis Leaf Extract – Extract of unfermented tea, high in catchins such as epigallocatichin gallate (EGCG), gallocatechin (GC), epigallocatechin (EGC), and epicatechin (EC).
Rooibos Leaf Extract – Also known as Red Bush in South Africa. Rich in aspalathin flavonoid, an antioxidant.
The Steps to Professional Skin Brightening Facial:
To help lessen the appearance of uneven tones, dark spots and hyper-pigmentation perform the Repêchage Biolight™ Miracle Facial monthly or as needed.  The Repêchage Biolight™ Miracle Facial kit contains everything you need in convenient and sanitary unidose applications for maximum effectiveness.
Preparation:
Secure clients hair with a hair band.
Disinfect hands using the enclosed Clean Hands Anti-Microbial Hand Wipes.
If appropriate, remove eye make-up by saturating cotton with gentle Repêchage Opti-Cleanse cleanser.  Have client close their eyes and using downward strokes, remove eye make-up. Rinse the eye area well with water and cotton.
Directions:
Cleanse skin using a Biolight™ Brightening Cleanser, comprised of seaweed, willow bark, gotu kola and licorice extracts. Using circular motions, gently remove with cotton saturated in lukewarm water. Repeat rinsing to thoroughly remove any residue. Pat skin dry with tissue.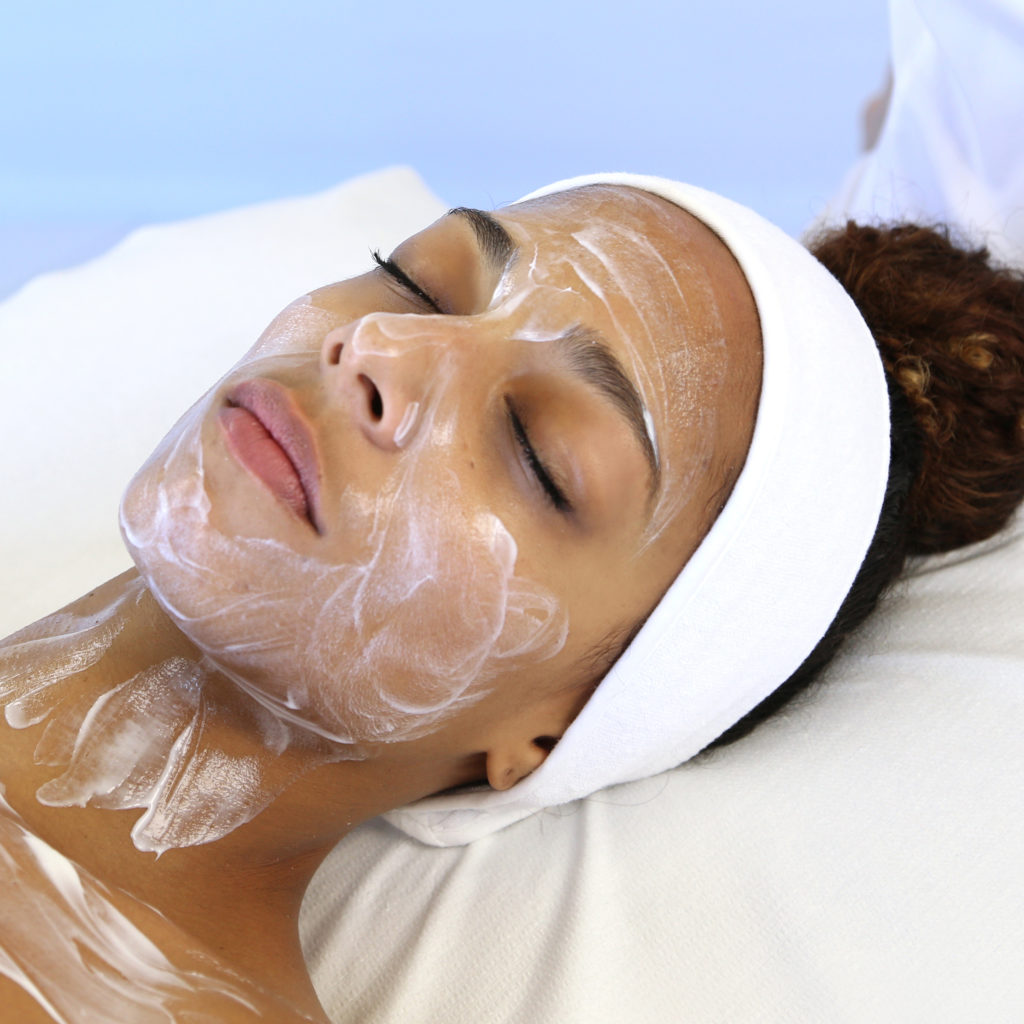 Protect eyelids by placing Repêchage Eye Rescue Pads eye over the eyes, and apply Biolight™ Glyco-Sea™ Glycolic Peel, a 35% glycolic peel.  Pour into a small glass bowl and utilize the enclosed facial brush to distribute product to face and neck area.   Leave this peel on for 5 – 7 minutes.   A slight stinging may occur. This is normal, and will subside. You may use a fan to cool down the skin.  Remove thoroughly with cool wet cotton. Spray entire face with the Biolight™ Brightening Toner to refresh and refine the skin. Note: The Glyco-Sea™ Glycolic Peel is available as an individual treatment.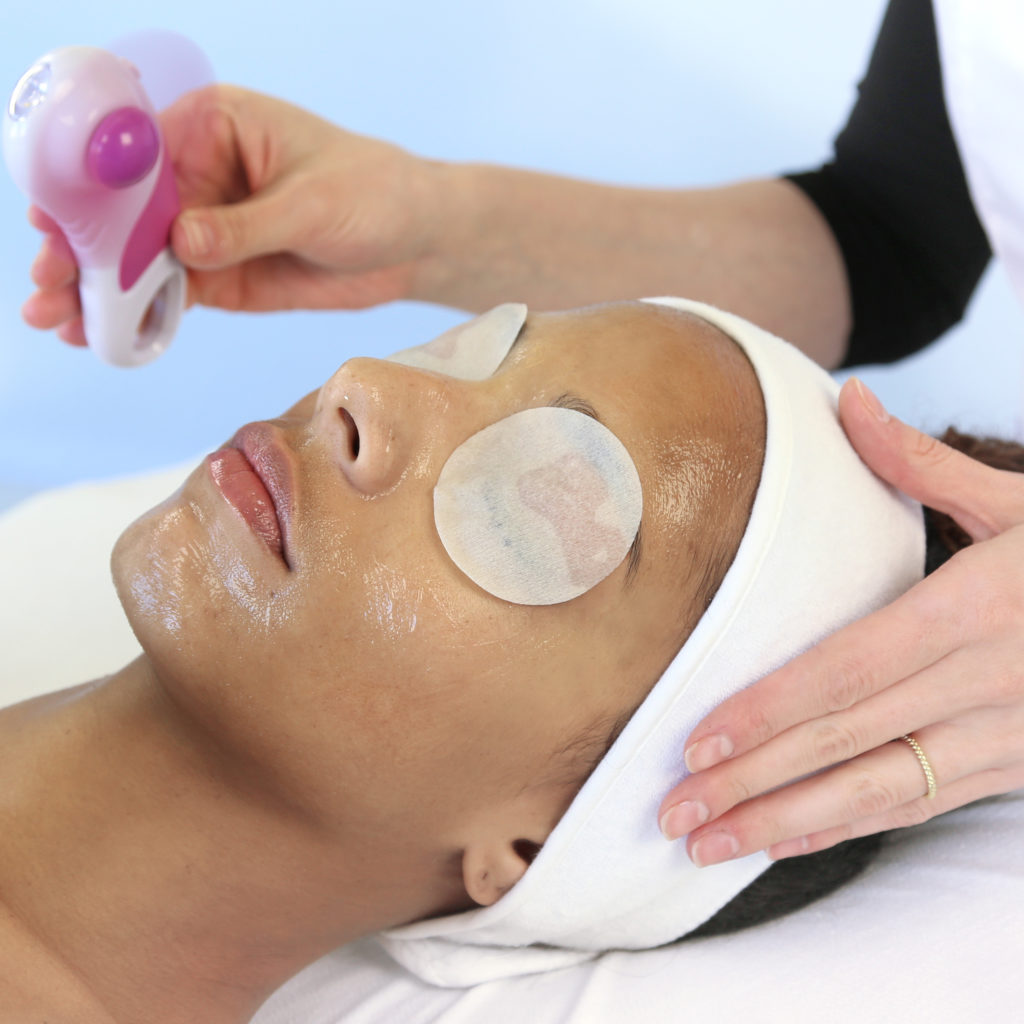 Apply Biolight™ Brightening Skin Correct Serum, a serum that contains seaweed extract, hexapeptide-2 and watermelon extracts, to the face and neck and administer a soothing facial massage. Massage should last for 3 – 5 minutes or until fully absorbed into skin.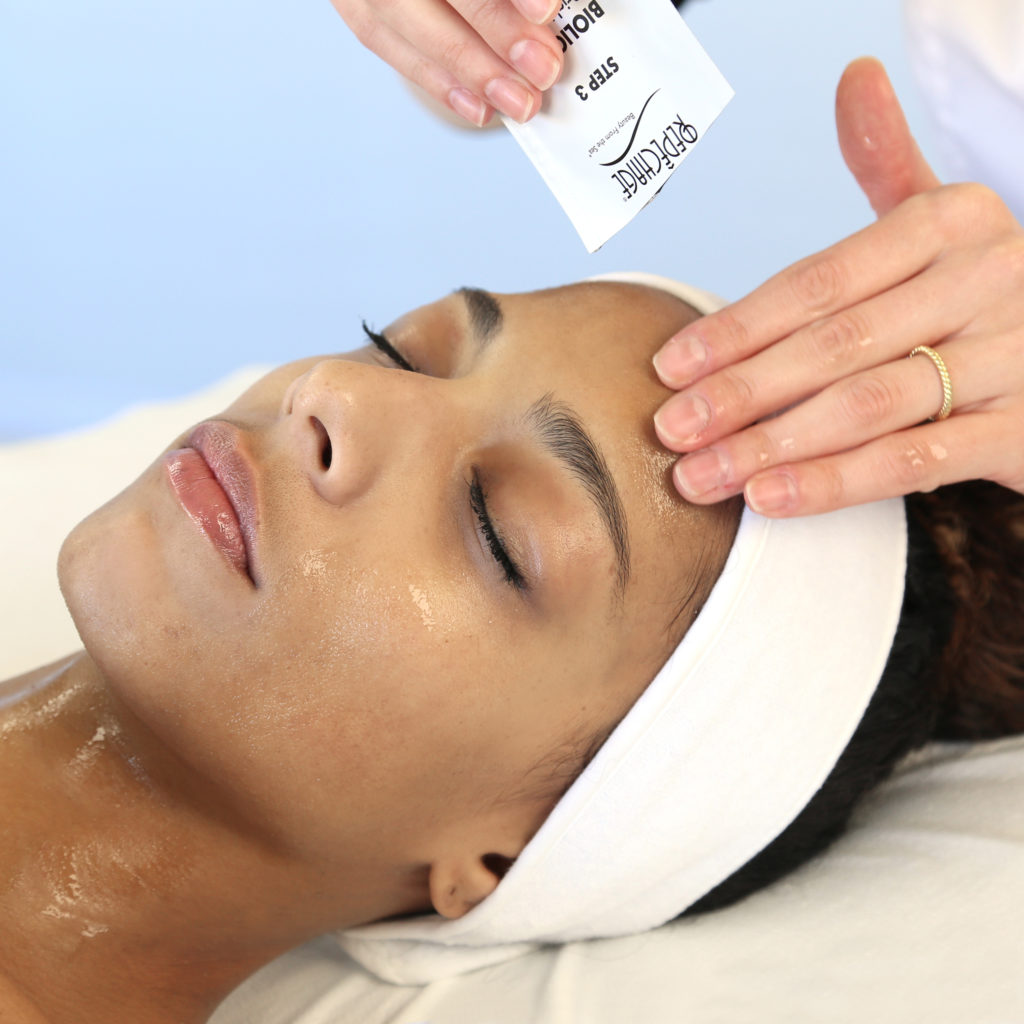 Apply Biolight™  Brightening Massage Cream, that includes Laminaria digitata extract, willow bark, gotu kola and licorice extracts to help skin appear brighter and more luminous. This massage should be ten to fifteen minutes in length, incorporating effleurage, tapotement and shiatsu pressure point movements.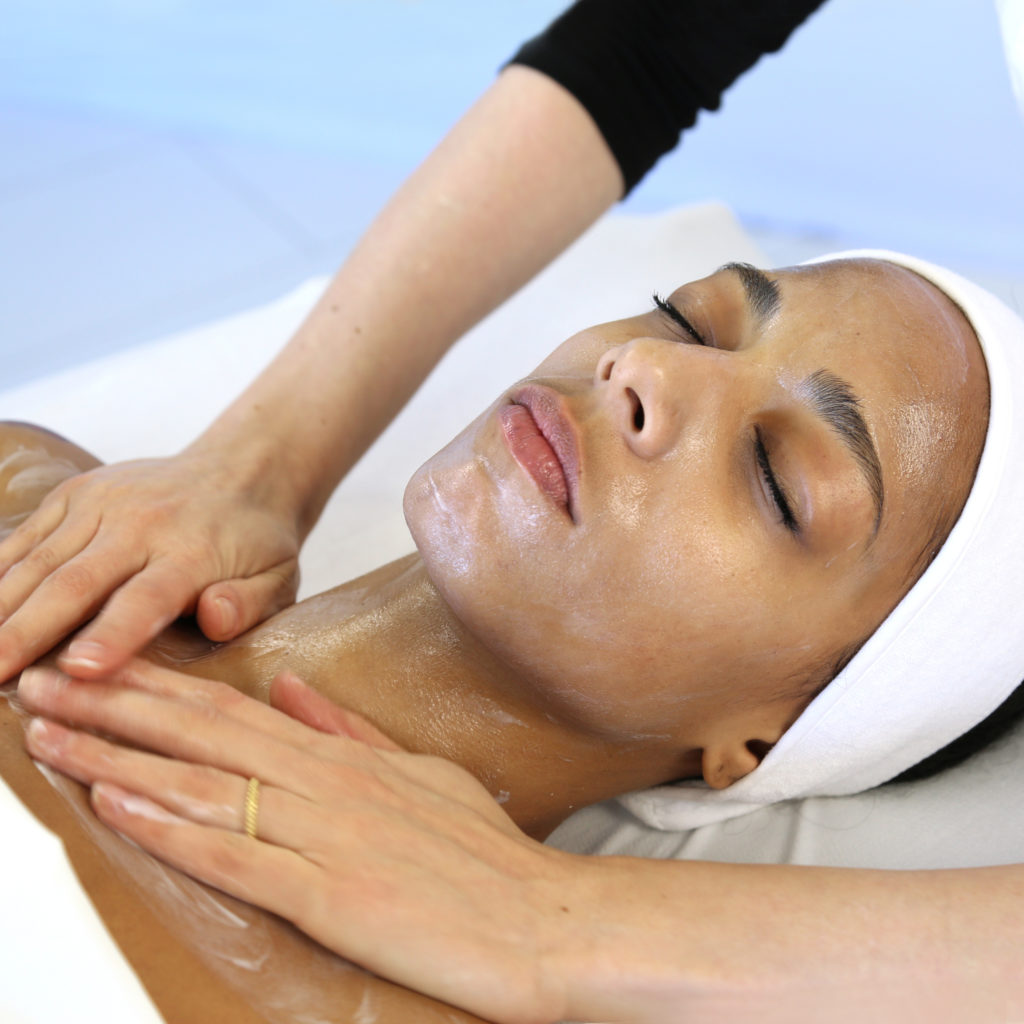 Apply a cooling mask with Ulva lactuca seaweed. It's best to mix ingredients into an alginate base to create a soft, peel-off mask.  Mix contents of the Biolight™ Brightening Mask Formula A and Biolight™ Brightening Gel Active B into a rubber mixing bowl and mix together with the enclosed spatula until a smooth paste is formed.  Apply evenly to the face and neck. Let client rest for 10 – 15 minutes.  This is a perfect time to administer a hand massage using Repêchage Sea Spa Hand Cream.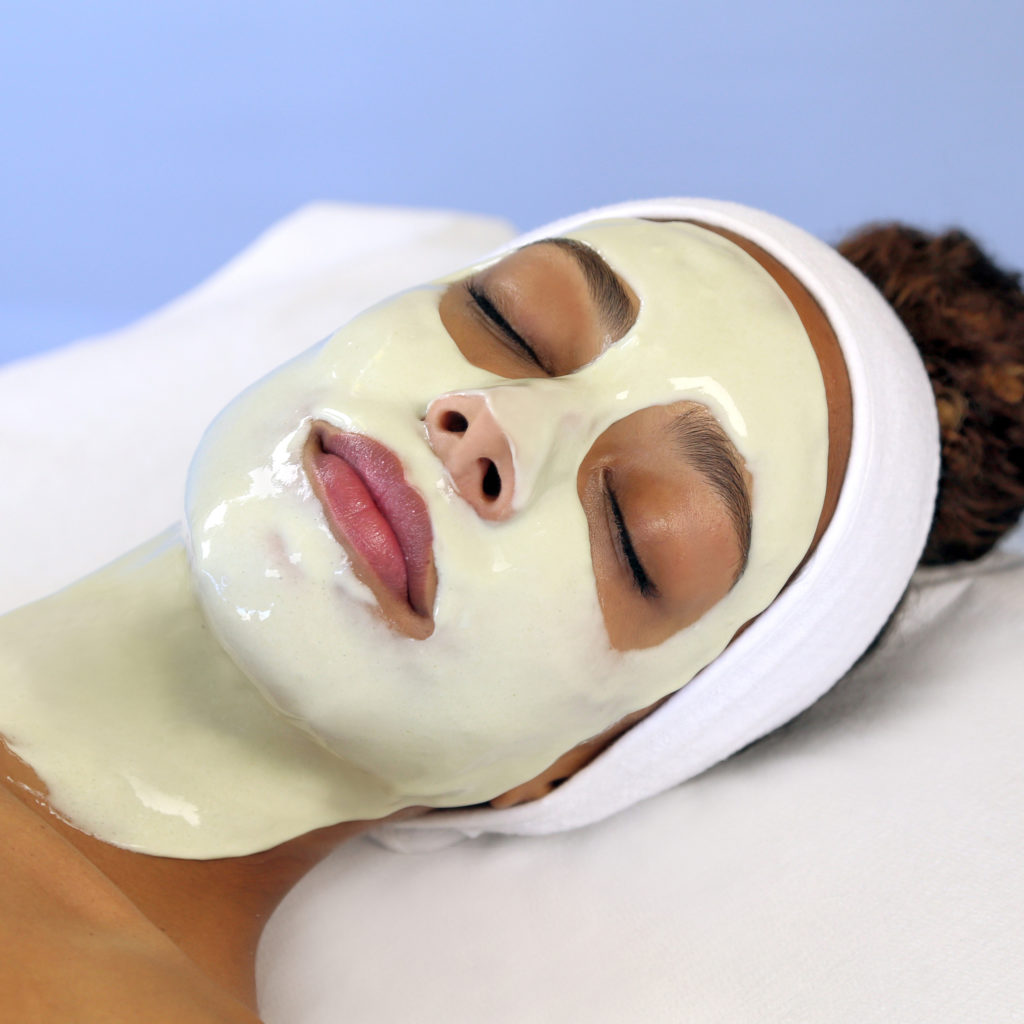 Remove mask by gently lifting it from the neck and folding it over. Remove any residue with cotton saturated in warm water.
Spray Biolight™ Brightening Toner evenly over the face and neck area and pat dry using a clean tissue.
After the facial, it is important that you apply a full spectrum protection cream thoroughly to the skin.  Chemical peels make skin more susceptible to sun damage, and more reactive.
Be sure to recommend at-home care products that will continue to improve the appearance of the skin and help hide sun damage:
Contraindications:
Although the Repêchage® Glyco-Sea Glycolic Peel has been developed to be one of the safest and most gentle Glycolic peels available, there are contraindications to glycolic acid use in general that must be considered.  If your client has any of the following, please refrain from administering the peel.*
Contraindications include:
Pregnancy or breast feeding*
Rosacea*
Allergy to salicylic acid or aspirin*
Excessive open lesions
Thin, highly sensitive skin*
Taking Accutane (must discontinue using for 6 months or with Dr. approval)
Herpes Simplex (HV1) in active stage
Atopic dermatitis
Chronic urticaria (hives)
Somatic diseases in an acute stage including SARS
Recently had depilatory waxing or laser hair removal
* Can be replaced with the Repêchage® Vita Cura Enzymatic Micropeel.
Advise your clients to always use an SPF, and remind them that it needs to be reapplied throughout the day!
Get more tips for taking care of skin after summer during my Live Facebook Chat on Monday 10/10!
**The Repêchage Biolight™ Miracle Facial is not intended to treat, diagnose, cure or prevent any disease.