Get skincare and spa/salon business tips!
A message From Lydia Sarfati
Events Calendar
February 2018
Mon
Tue
Wed
Thu
Fri
Sat
Sun

1

2

3

4

5

6

7

8

9

10

11

12

13

14

15

16

17

18

19

20

21

22

23

24

25

26

27

28
Success at Your Fingertips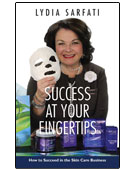 Success is within the grasp of every skin care professional - just follow Lydia's advice!

Learn the secrets of success from one of the most successful women in the spa and salon industry! Lydia Sarfati, founder and president of Sarkli-Repechage, Ltd., shares her philosophy on business and personal fulfillment. The recipient of numerous industry awards and an enthusiastic mentor, Sarfati wrote Success at Your Fingertips in response to the many requests for advice she has received: The number one question I have been asked for more than a decade now is how I did it.
This is my personal account, and I felt it was time to share it with the world.
Click below to purchase your very own copy today!
Get Your Own Copy Of Success At Your Fingertips
Twitter Updates