Success Story: Yolanda Amador and Wow! Facial Bar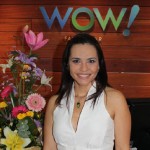 This success story features Yolanda "Mayola" Amador Origel. Yolanda has been a Repêchage  distributor since 2000, has more than 12 years experience in the spa industry, and is also the Spa Director of the exclusive Melange World Spa at Marival Residences in Nuevo Vallarta. A true spa veteran, Ms. Origel instantly saw the value in the Repêchage Facial Bar Concept, which shortens traditional facial treatments and brings them out in the open, and has now launched the innovative business concept at the new Wow! Facial Bar in Puerto Vallarta Jalisco, Mexico. Already a successful venture, she has plans to open a second location after only being in business for 3 months! See how this spa-savvy business woman has launched the Repêchage Facial Bar concept in Mexico!
LS: How were you introduced to the skin care industry, and how did it change your career?
Yolanda Amador: I went to a beauty show in Miami, Florida 13 years ago in order to help my mother and aunt find a skin care line that they could bring to Mexico. When I was introduced to Repêchage, I decided that skin care was the industry for me. My degree is in International Business and I was on my way for an MBA overseas when I decided that I wanted to bring the line to my country and also open my first day spa. After a couple of years I opened 4 more day spas and continued the brand distribution. Nine years ago, a Resort in Cabo San Lucas asked me to consult for them in order to open a Thalasso therapy Center. From there, I started another company called Spa Business & Solutions Mexico to do professional consulting for several resorts and spas in Mexico. I have also been Spa Director for spas in Puerto Vallarta for the last 5 years. I decided I wanted to open a skin care shop with express services available for all the tourist and locals at a more fun, casual and happening place that I named Wow! Facial Bar.
LS: You've been a Repêchage client for so long, what about the brand has made you stick with it?
Yolanda Amador: I genuinely like the benefits and results of the products. There is a large variety for all skin types and it addresses different kinds of clientele which is great! But above all, the wonderful relationship I have developed with the Sarfati Family. I admire your (Lydia) business and personal success story, David's tenacity to run the "show" and Shiri's fresh and innovative ideas! At the end of the day, we all make business with people and when you like the people you work or do business with, then you stick to what you like and makes you feel good!
LS: What products do you use daily?
Yolanda Amador: I am now into the entire Biolight regimen since I live in a very sunny town and I want to prevent any hyper pigmentation. I also love Hydra Medic for when I need a deep cleanse and of course the Cell Renewal Collection! They all work great in different seasons during the year.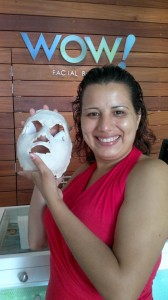 (Happy client post-Repêchage Four Layer Facial at Wow! Facial Bar)
LS: How have your past experiences in the beauty industry influenced you to open Wow! Facial Bar?
Yolanda Amador: Certainly all of my beauty industry experience has influenced me to create this new concept. I have been involved in every aspect of the business, from performing facials and teaching skin care, to creating spa concepts and managing the financial side, as well as marketing and sales. I have been in touch with all different types of clients from day spa, gym spa, resort and hotel spa, so I was able to identify the specific target clientele I wanted to focus on for the Wow! Facial Bar Concept.
I have been running my own spas since 2000, all those years have certainly given me experience and knowledge to improve and not make the same mistakes!
LS: We love how clean and simple your spa menu looks, how did you narrow your treatments down to 7?
Yolanda Amador: Well "7" is a kabbalistic number that I like, and also it makes it easier to choose and doesn't confuse my clients. The two first facials: "I want it" and "I want more" are personalized and we utilize the products for the skin care type of our client, only the protocol changes in terms of quantity of steps and duration. It is simple, but still allows for a personalized experience.
LS: How do you plan on keeping your staff focused for this high-energy environment?
Yolanda Amador: Continued empowerment trainings and setting goals for their own professional and personal growth. I want to develop a family environment at work in order to have the best ambiance within my staff.
LS: What do you see for the Future of Wow! Facial Bar?
We opened 3 months ago in Puerto Vallarta and we are opening Wow! Facial Bar Los Cabos in 2 months!!!  I want to open this concept in all Mexico…and why not in other countries as well?
Learn how to get the  Facial Bar Concept going in your business with the New! Repêchage Facial Bar Instructional DVD! Call 1.800.248.SKIN (7546) or visit www.repechage.com and log onto our "Pros Only" website!