Success Story: Southern Belle & Business Woman, Day Spa Owner Michelle Lamb Shares Her Repeat Success On Opening A Spa In Any Economy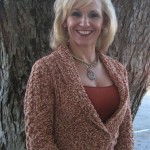 In this Success Story, we explore a grassroots approach to beauty with Michelle Lamb, owner of Lemongrass Day Spa in Summit Pointe, Georgia – a Repechage Spa de Beaute Concept Spa. In the midst of an economic downturn, Michelle has not only been able to keep her head above water- she's doing the backstroke. Michelle has just re-opened Lemongrass in a brand new location custom-built to her and her staff's needs. Find out what it takes to stay in the public eye, how to make your community work for you, and what we can expect to see from Lemongrass next.
Repêchage: When did you decide that you wanted to own your own spa?
Michelle Lamb: It was 6 years ago, I started off working at a hair salon and there were 20 hair dressers there, it was very hectic. I didn't feel like the spa was actually a spa. I just wanted something that when people come in here they say 'Ooo….Ahhh' I didn't want my customers hearing blow dryers and smelling perms, I wanted them to feel like they are at day spa.
Repêchage: How do you keep yourself motivated and energized every day?
Michelle Lamb: I love what I do. If you love what you do, you don't mind getting up every day. It is very rewarding give your clients a beautiful facial or massage and have them leave happy. I also workout here in Summit Pointe with a trainer. Working out and staying in shape keeps you healthy, active, and motivated.
Repêchage: You just opened at your new location. In this economy, how did you get the courage to build a new spa?
Michelle Lamb: I haven't really felt the recession.  It gets slow but at the same time we have our regulars, and we take our time with our clients. As far as advertising goes, I don't pay for newspaper ads or radio time. We're at auctions and fundraisers so we keep in front of everyone. We donate services and products to local events, and I make sure I am there and that my staff is there. I think that being a part of the community is the best way to get your clients and keep your clients. You also have to be available; if you aren't available they are going to go somewhere else. It is 102 degrees here right now. People aren't going to be going out in this heat, so mornings are slow. In this weather I have a morning and night shift, this way I can stay open later so that clients can come in after work or when it cools down a little. By providing a great service, keeping involved in my community, and being available I was able to do well enough to build a completely new spa.
Repêchage: What is the best tip you can give to someone looking to open their own salon right now?
Michelle Lamb: It's funny you should ask that! One of my friends in Panama City, wants to come to Lemongrass, so that I can consult her, she wants to open her own Day Spa. She is coming from a medical background and I told her, "You have to know the business". That is the key thing. You need to know how to do the services and you need to be licensed in them. The other day one of my nail technicians had an emergency and couldn't come in. I was able to pull up my selves and do the foot massages and pedicures so we that we didn't have to cancel appointments our appointments. If you don't know the business, you're just not going to be able to make it.
Repêchage: Last year your old location was voted "Best Day Spa" for the Repêchage "Spa De Beaute Awards". First of all, congratulations and good luck this year! How does the new location compare to the old one?
Michelle Lamb: We are in a great little plaza where I was able to build from the ground up. Every room is different and unique. The pedicure station was all custom built, from the copper bowls to the seats to the cushions.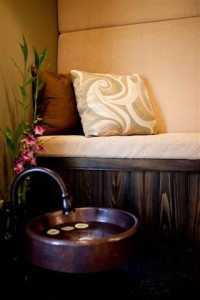 I decided to move to this plaza because there is a lot of stuff going on. It is this big round circle with all these cute little spaces. Right now we are working with the other stores in the plaza to create a Bridal Package where brides-to-be can get everything they need right in this plaza. There is a hair salon, restaurants, a boutique, a travel agency, and even a car rental! They can literally get anything they need here. We are also working on possibly doing a wine tasting and chair massages night with one of the restaurants. It's just such a great location, plus when you're in Summit Point, it's like you are in a little committee, they are not going to let another Day Spa in this plaza. We all work together to help each other.
Repêchage: Where do you see Lemongrass going in the future?
Michelle Lamb: My next step, building growing, and expanding. I would really like to turn Lemongrass into a franchise. I have people that ask me, "Do you have one in California? Do you have one here? Do you have one there?"  I always tell them, "No but someday!" I am actually thinking about selling my name and my logo to my friend in Panama City that I mentioned before. It took me a long time to build my brand and if I can help other people of course I will, but it will still be my brand.
Repêchage: What is the Lemongrass treatment that you can't live without?
Michelle Lamb: The Repechage 4-Layer Facial… I have to say and then the VC5 as well!  I'm actually getting a facial tonight! If I am going to be in NYC next month I've got to look good! People always ask me, "How do you look so young" and I say "seaweed."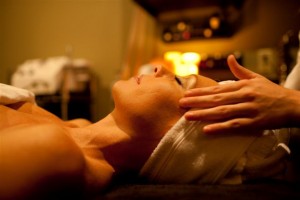 Repêchage: When you aren't at the Spa, what is your favorite thing to do on your day off?
Michelle Lamb: I like to travel. I don't usually take one day off; I'll take off several days at a time. I went to Costa Rica last year, I like trying different places. If I get a few days off I want to go somewhere new, somewhere I've never been before!
Repêchage: How do you maintain your work/life balance?
Michelle Lamb: I'm married no kids, 4 dogs, and 15 employees. My day off is Sunday so I usually go to church, have lunch, take a nap, and turn my phone off. That is mine and my husband's day; my mom even knows not to call me. We just make that time for each other. If I want to lay in bed all day and watch movies, which is what I did last Sunday, then I will do that. You have to put yourself away from everything and just take the time to yourself.
Repêchage: I heard you loved your trip NYC last year for the 2010 Congress, what is your favorite thing about NYC?
Michelle Lamb: Everything. I told my friend, who is making the trip with me this year, that we are going to Tiffany and Co, and going to every floor! The foods, the shops, the energy is amazing! When you live in the south it's not that happening at 2am in the morning. It really is the city that never sleeps.
Repêchage: Is there anything you want to do this year that you didn't get to do last time you were in NYC?
Michelle Lamb: I want to see a Broadway show or comedy. I love comedies, I just haven't decided on which one to see yet!
Upcoming Events at Lemongrass Day Spa- This weekend (June 18-19) send your Dad to Lemongrass Day Spa for a Sports Massage or Regular Massage.  Snacks and cold beverages will be supplied.  Call (229) 244-4111 to book an appointment today or check out their website www.lemongrassdayspaonline.com !