Success Story: Philip Douglas, Owner of Philip Douglas Salon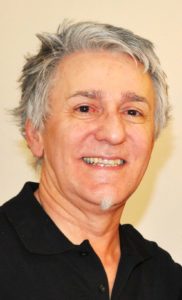 Get personal with Philip Douglas, owner of Philip Douglas Salon, the latest edition to the Repêchage Spa de Beauté network. A renowned makeup artist and a successful salon and spa owner in the heart of Naples, Florida, Douglas has made appearances in the Bloomingdales flagship NYC store as a cosmetic national beauty expert and has had numerous guest film appearances on Designing Spaces, Beauty Spaces, airing on the Style and Home & Garden channels. Read on to find out how loving what you do can catapult your career!
How did you get started?
I have 5 sisters. My older sister was going to her prom, I was 17 at the time, and she wanted her hair to look like Ginger's from Gilligan's Island.  She came home from the hair salon looking like Mimi Eisenhower. So my mother said, "Well your brother is creative, maybe he can do something."  I grabbed the hairspray and bobby pins and got to work. The next day, her friends were all calling me to do their hair.
I know you have been very busy lately with your launch of Repêchage products. Why did you decide to incorporate a spa in your salon and how did you choose Repêchage?
We were always interested in doing The 4 Layer Facial, and we also really liked that the natural skin care line is marine based. I saw Lydia in Orlando last June and I loved her skin care philosophy.  A lot of brands get too aggressive with skincare and they try to peel away the problems instead of solving them.
Some of the profits from your Repêchage launch went to the Bosom Buddies Breast Cancer Foundation. Do you always donate proceeds from events or was this a special occasion?
We also try and do a lot with charities. We also do the Afternoon Tea De Capris and Fashion Show at the Naples Yacht Club in Naples, Florida. The Humane Society in Naples is probably the number one charity that we support as well as the Immokalee Child Care Foundation. We generally support things that support animals and children.
Why Naples?
I am originally from Boston.  I moved here 19 years ago to live in paradise. My parents lived here and I got to Florida 21 years ago when Elizabeth Arden transferred me here for some out of town experience. I thought out of town would be Connecticut but I was sent to Florida. I ended up making Florida my adopted home.
I know you have a lot of celebrity clients; do you have any tips for up and coming professionals on how to break into this clientele?
Educate yourself, take advantage of every opportunity, read all of the fashion magazines and stay current. Stay extremely professional. High profile celebrities can afford the best, but you should be giving your clients your best no matter who they are. You should always be doing your best work.  My first celebrity client was Stephanie Zimbulus and then Nancy Reagan.
What are you doing right now?
We are on tour right now in Beverly Hills; we even have the chihuahua with us! I am doing Katherine Heigl's makeup later this afternoon.
How do you keep yourself motivated and energized every day?
I love what I do.  I get up every morning and I can say I love this profession. I love doing hair and I love helping people feel good about themselves. I LOVE the beauty business. I just can't picture myself doing anything else. We have been going around here in Beverly Hills going to the salons on my "days off" and I am looking around for the best and newest. I am always looking to see what I bring back for my clients.
When you get a real day off, what is your favorite thing to do?
I would work in my garden. Mostly orchids. Just getting my hands in dirt and being in nature and all the beauty that's there. There is nothing more rewarding than when an orchid starts to bloom.
Have you found that balancing a personal and professional life has been difficult? How do you cope?
Everyday is a new day. Just be open to whatever happens and you just learn from what happened yesterday. There are days where it is all work, others its play.  I don't want to call myself a "work-a-holic", but my work is play for me a lot of the time.  I have down time every night, I read in my spare time.  I am reading "The Loves of Louis the XIV" he created a beautiful world to live in and surrounded himself with beautiful people. It is a great book.
What skincare regime do you use to keep your skin looking and feeling its best?
I love the Repêchage Vita Cura Triple Firming Cream.  I was in Saks Fifth Avenue and two girls came up to me and said, "You have the most beautiful skin what do you use". First I put on the Biolight Brightening Skin Correct Serum and then I top it off with the Vita Cura Triple Firming Cream.
The holidays are right around the corner, what do you think will be the hottest trend in makeup for Holiday Parties this year?
I think it is going to be going back to Hollywood glam. Shimmer and red lipsticks are going to be big. Very sexy, very glam.
Do you have any upcoming events that you would like to shamelessly plug?
Who:              Janet Evanovich (I will be doing her hair and make-up)
What:             Book signing for "Explosive Eighteen"
When:            Sat., Dec. 3, 2011
Where:          Orlando Barnes and Noble, Colonial Plaza, 24183 Colonial Drive, Orlando, FL
Time:              1pm
 RSVP:           239-643-0233
For more information on Philip Douglas Salon visit www.philipdouglas.com or call 239-643-0233 to make an appointment!
For more information on Repêchage visit www.repechage.com or call 1-800-248-SKIN(7546).