Success Story: Lester & Leslie Crowell, Three-13 Salon, Spa & Boutique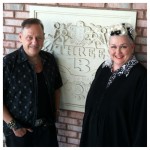 Lester and Leslie Crowell are not only brother and sister, but they are the force behind Three-13 Salon, Spa & Boutique in Marietta, Georgia. A true success story, Lester started as a shampoo boy in the salon and eventually bought out the owners, now managing the location while his sister Leslie focuses on providing world class skincare services to their guests. Both of these beauty gurus work hard to bring their guests the latest and greatest products, treatments, and trends which has made Three-13 a beauty mecca. Read on to find out more about this brother and sister duo and their secrets to being voted the #1 Facial in Atlanta!
LS: You have the interesting dynamic of working together as brother and sister, what is that like?
Leslie: When you work as family you work harder and longer, and you're more devoted to your mission. We've been together as family forever and I treat Lester as both my mentor and employer.
Lester: We really do spend all our time together. We're in the salon/spa all the time and then we even still have breakfast together every Sunday. We just love being together and working together.
LS: How were you both introduced to the beauty industry and where did you get your start?
Lester: Well I actually started working as a shampoo boy at Three-13 in 1974 and after working in the salon for 10 years I bought out the owners. Leslie had already been in the industry so I of course had her come in and she started doing makeup.
LS: You have been in business since 1974, what are some of the key reasons you have been so successful and your clients have stayed loyal to your salon/spa?
Leslie: Our guests are incredibly loyal and we are the same to them in return. Loyalty to our guests is our number one priority and we always give them a 120%; we put our guests first! They appreciate how far we go to please them and we treat them like they are family. People are always saying that they feel like they're at home in our salon/spa. It is also very important for us to provide our guests with the most current technology so they receive the best possible care that the beauty industry has to offer. We stay on top of the current trends and services and introduce them to our guests and of course we create our own trends too! We are very determined, hard working, and we never settle for anything less than our best which has really pushed us forward.
LS: Why did you choose to exclusively provide Repêchage skincare treatments and products, and how did your customers respond?
Leslie: The major corporation we carried before was heading away from the professional aspect of skincare and the new direction they were taking motivated me to have a discussion with you, and as we were speaking I realized that this new perspective from our product line would not be fair to our guests. At this point we switched to solely Repêchage products and treatments. Not only does Repêchage provide the finest quality products, but they are also always available to us with great support and service. With Repêchage we truly believe in the quality of products and we believe in the always expanding lines and treatments that we offer to our guests. Also, we of course love the association with you!
LS: You have both really embraced The Facial Bar Concept and your hard work shows as you have put additional chairs in your salon/spa, what made you decide to incorporate this model into your salon/spa?
Lester: When we first started associating with Repêchage, our employees along with Repêchage skin care experts, worked hand and hand to do certain treatments in our makeup chairs and the idea was born. We call our service "Facial on the Go," rather than Facial Bar. So I guess it all happened at the same time!
LS: Three-13 has been voted the "#1 Facial in Atlanta" multiple times, what sets your salon/spa apart from the rest?
Lester: I believe that the main reason is Leslie! She has been in the industry for 31 years and she creates a luxury magic carpet ride for every guest every time they come in. She remembers each guest and their names, gives a 120% and uses the utmost care during every service. She is constantly keeping up with the latest education so she always has something new to offer guests. Once a guest comes to Leslie, she makes them a friend and not just a customer. She is also passionate about all aspects of our salon/spa, the guests, our team, and giving the same feeling every time the guest walks through our door. With her as this driving force, she has taught our employees to be the same way as she is and the team shows just as much passion as Leslie does.
LS: You were the "founders" of departmentalization, what inspired you to organize your salon/spa in this way?
Lester: We went to a hair show a long time ago, around 1985, and heard a speaker talking about structuring salons into different departments and we kind of took the idea and ran with it. We started with the technical department, where the stylists do ombre hair coloring, keratin treatments, and various other expert treatments. This structure makes it easier to provide our employees with great education in their chosen field and it also lets us provide our guests with a true expert in the service they are receiving.
LS: Three-13 is known for hiring graduates right out of school, training them, and really giving them careers which has given you incredibly loyal employees. What steps do you take to educate and help your employees grow within their profession?
Lester: In Georgia they allow us to have an apprenticeship program and we have been utilizing this for over 30 years. I was actually the first apprentice at Three-13. Every Wednesday we always have some form of education for our apprentices. We strive to have our employees be as educated as possible, so to add to the education we offer the apprentices, we also hold a monthly pep rally for the whole staff where we go over new products and techniques and have guest speakers.
Leslie: Education is powerful and we want our employees to learn as much as possible and to pass their knowledge onto their guests. For this reason, we are very particular about education and hiring. We never just put someone on the salon/spa floor as soon as they join our team; they have to go through training first. They need to get into our methods and culture before being introduced to our guests. Etiquette is the first training employees must go through because they must understand business etiquette in addition to their craft.
LS: Your salon/spa has been very involved with numerous charities; could you tell me a little bit about some of the charities you have worked with and how you incorporate them into your salon/spa?
Lester: We get requests from many charities and we go through them each month and always issue gift cards. We are always willing to help any charity that comes to us and we also have a few bigger charities that we consistently work with. With 80% of our clients being women, we are very involved with Breast Cancer Awareness. We also work with the Georgia Transplant Foundation; I have personally had two heart transplants, and this organization does great things, helping those with transplants who can't pay their bills or are just in need of some money as they recover. The Foundation can really help with added expenses and is able to assist in training certain individuals to get back to work after surgery if they need to switch to a different job industry. We've donated $65,000 to this group overall and each year we hold an annual event to benefit the foundation. Our third annual event will be this October 13; we do a silent auction, serve food and drinks, have a fashion show, and we even have transplant recipients tell their amazing stories. It really is a phenomenal organization and we are so proud and happy to help support them along with all of the charities we work with.
LS: Leslie, what is your best skincare secret?
Leslie: My skincare secrets are education, inspiration, reinvention, and delivery! Also, Repêchage C-Serum, get them in the chair and put it on them! Everybody in the world should use this stuff, it solves all problems! Everyone needs nourishment and this product gives it! And I have a great company, Repêchage, that supports me!
LS: Leslie, you are also a CIDESCO Diplomat. How has your experience with the organization been?
Leslie: I happen to think that the CIDESCO organization is needed. Many states do not have enough regulations in place for esthetics and this organization creates a standard and regulation for those who are devoted to their craft. CIDESCO gives estheticians hope that their line of business will be seen as a clinically inclined profession rather than something people can get at their drug store. This organization strives to promote education and be better and this is very important to me. I hold my position with honor and CIDESCO is making the skincare industry more important and showing the clients that they need it. The organization gives me and other estheticians a place to belong and I feel privileged to be a part of it.
LS: This was not your original career, why did you make the switch to the beauty industry?
Lester: Well, having three sisters I was introduced to the beauty world while I was growing up and I was absolutely fascinated by it. Then when my wife went to cosmetology school I found out about apprenticeships and I knew I had to get into the beauty business. I actually haven't done hair since 1991, but I got into the management side of the industry and I absolutely love it.
As you can see, Leslie and Lester foster a truly welcoming environment where both the employees and guests are happy to be! Each day they show their passion for best-in-class service and continually work with various charities. To continue with their charitable work, Three-13 Salon, Spa & Boutique will be holding a Migraine Awareness Month Event on June 15th, offering the new "Repêchage Sweet Relief" treatment, which includes lymphatic massage and will donate a percentage of the profits to the Migraine Research Foundation.