Success Story: Izabella Abramowicz, Director of Repêchage Polska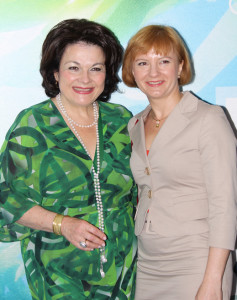 Director of Repêchage Polska, Izabella Abramowicz, sat down with me to chat about her visit to New York for the Repêchage 16th Annual International Congress and to tell me about the latest success and happenings with Repêchage in Poland!
This was your first time to New York, what was your impression?
I like the different kind of people that are here and I appreciate that they are all so nice and helpful. They all have a beautiful mentality on life!
When did you first decide to get into the beauty business and when did you decide to be a Repêchage distributor?
I actually made the decision to commit to it a year ago, but I really had been dreaming about it for four years. It was four years ago that we began to do our research and scope out the beauty business. That is also when I was first introduced to Repêchage. Once I met you (Lydia), I knew I wanted to commit!
Since you have launched Repêchage, what is your experience with the Polish market? Are the estheticians in Poland open to new ideas or did you find that they are more difficult or challenging?
The Polish market for salons and spas is big, but these businesses are very small. One person runs his/her own business and is also the cosmetician. Sometimes there are only 1-2 employees. There are so many beauty companies from Germany, Italy, Spain, Turkey, Greece, France who have many different ideas and want to launch in Poland.  One the one side it is hard because there is so much competition, but on the other hand, there are many opportunities to propose good, quality products. We need to open 10 Polish salons to equal 1 American salon, which makes it different. However, we have been very successful because of the quality of the products. Many are familiar with the brand, which helps, and they are very happy that Repêchage has returned to the Polish market.
What has been the most popular treatment in Poland?
The Repêchage Vita Cura 5 Phase Firming Facial! It is definitely our best seller.
How many people do you have working with you?
We have a sales office with employees who stay centralized there, as well as a sales team that scopes out the field and travels all over Poland! We also have a training center, the Repêchage Institute, where we train the estheticians in the Repêchage methods and protocols.
What is your best elevator pitch?
Repêchage delivers both natural and quality product, and really delivers that WOW! effect!
Tell me more about the Repêchage Institute…
At the Repêchage Institute we hold 1-day classes once a month. For new clients, we will do customized 2-day classes every three months.
What's next for Repêchage Polska?
We will be launching in Warsaw in October.  I would love to do the fair of services with the new products, like seen at this year's Repêchage Congress event. Body treatments, facials and good presentations will be presented also.  We will be the partner of the cosmetology school,  Dietl, in Warsaw and in Krakov as well. We actually attend a lot of different conferences at cosmetology schools throughout Poland, and recently have had amazing success as a result of the LNE tradeshow in Krakov. After this show, we opened 50 new salons, which means we have 160 salons since January! And now after the Repêchage Conference, we will be launching the newest products from Repêchage! We have a lot of things in the works!
You are a very busy person! What is your personal beauty secret?
My personal beauty secret is the Repêchage Biolight Daytime Protection Cream!
What should our readers know about you?
I am so happy to be in the beauty business and have a true passion for beauty.