Success Story: Anthony Fiore, Capri Cosmetology Learning Centers New York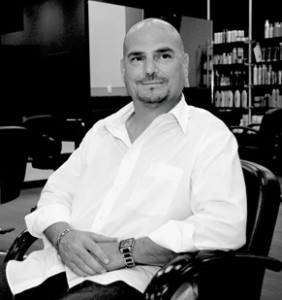 During his 25 years as a stylist, platform artist and educator, Mr. Fiore has worked with many of the top beauty professionals in the world. Recognized as an innovator in the industry, he has elevated Capri Cosmetology Learning Centers – New York into the elite, " the ivy league of cosmetology schools." Mr. Fiore is also a member of the prestigious Intercoiffure and is the former president of the Westchester chapter of the New York Hair and Beauty Association.
How did you get your start in the cosmetology school business?
During a period of my life, I was living down in Virginia working for an international artistic team, and had the role of educational director. I didn't see growth there, and luckily for me, in 1990, my uncle presented the opportunity to come to N.Y and be his partner at our original Spring Valley, N.Y. location that had been open since 1963. I knew this was the right opportunity, and immediately flew up to N.Y. We eventually moved from the Spring Valley location to Nanuet, N.Y. in 2001, and opened up an additional location in Newburgh, N.Y. in 2007.
How do you think Capri differentiates from other cosmetology schools?
At Capri, I can honestly say we care about our students. That's the reality. We are in it to make the beauty industry better. My uncle told me off the bat you can run two types of schools. You can run a school that is only in it to make money, or one that does right by the industry and students. I chose the latter. It's all about giving back, doing right by your students, and teaching from the heart.
What skills and expertise do you expect students to have upon graduating from Capri?
Our top priority is to make sure all students obtain the skills and knowledge necessary to be successful in a salon or spa. In the limited amount of time we have with them, as we only have them for about 7.5 months, through both classroom and clinic, we try to introduce students with basic, necessary, and up to date skills and techniques for them to be successful in a salon or spa. We want them to be prepared for a real salon atmosphere.
Can you tell which students will have the most success – how?
I always say there are two types of students. There are students with natural talent, and students who possess the attitude and drive to succeed. If students waste their natural talent, as a result of a poor attitude, they will not succeed. If students don't have natural talent, and maybe struggle, but are determined to succeed, they will. It's all about a student's attitude, drive and determination.
What do you attribute to your success as owner of Capri Cosmetology Learning Center?
I attribute majority of my success to my uncle. He was my mentor, and helped me develop the skills, attitude, and knowledge to get me where I am today. I also have a naturally hard work ethic, and genuinely love this business and love what I do. I love teaching students, and I love watching them succeed. Their success is my success.
What challenges have you faced?
With today's technology, and student's access to many things I didn't have in my day, sometimes there can be a challenge as to how the student's think, and trying to understand them. That is one barrier we try to overcome, as we really want to help our students. Additionally, how regulated this industry has become by the government is a challenge. As a business owner, I must always be in the know of these regulations, and adhere to these standards.
We know you have recently introduced the Repêchage Facial Bar concept into the curriculum, how have students taken to this concept?
Our esthetic students who currently run the Facial Bar are ecstatic about it! They love working it, and actually when they are not busy, will give clients add on services, such as a hand massage. We've actually surpassed our initial investment, and are increasing sales in our spa as a result of the Facial Bar. Last week alone, we booked 8 spa appointments as a result of the Facial Bar.
What advice do you have for those who want a career in cosmetology?
You truly have to love what you do in this business and be compassionate. If you love what you do, you will do it well, and "work" will not be work to you. As my uncle always said, "If you love sweeping floors, you'll be the best floor sleeper in the world."
If you had to describe yourself in three words, what would it be?
Passionate – I am extremely passionate about what I do.
Caring – I truly care for others, and for the success of my students.
Selfless – I am a giver. I want to give students everything I know, and provide them with an opportunity to succeed.
Where do you hope to see Capri in the future, and how do you plan to grow?
We definitely want to expand and open another school. We would also like to open up places for graduates to work for us. We know there can be a challenge for students in figuring out what to do post-graduation. We want to have a company that gives students goals that are both achievable, and have a time frame, and provide proper training for students when it comes to aspects like how to market themselves, and build a clientele. We know this can help them in their career.
For more information on Capri Cosmetology Learning Centers New York, please visit: www.caprinow.com