Spa Future Now: Customized Treatments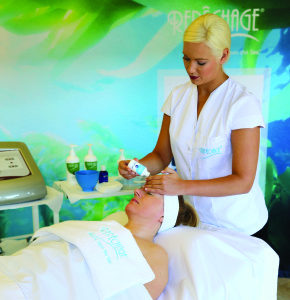 Let me begin by saying that when it comes to skin care one size does NOT fit all! As skin care professionals, this is something that we must engrave into our minds. As you experience every day, clients are walking into your business with multiple skin concerns. To see your business grow for 2015, as a beauty professional, you must be able to customize treatments to cater to multiple needs.
At Repêchage, I can attest that our treatments have always had this philosophy in mind. We can vary protocols for each of our treatments, when considering different skin types and concerns. In fact, this is why I've always had a strong emphasis on the importance of proper skin analysis – in order to give client's the best results possible, you must discover their skin's needs and customize their programs!
This is true of body treatments as well. Why is this so important? Different parts of the body have different concerns. For example, the hands are an area that receives sun exposure regularly, which leads to dehydration, hyperpigmentation and pre-mature aging and have naturally thinner skin and less fat than your face and neck. Offer an Anti-Aging Hand Treatment on your spa menu that can even be provided before a manicure service or with a facial treatment. Clients are also experiencing multiple concerns with their legs. Legs are dehydrated due to depilation, have varicose veins, spider veins, cellulite, and stretch marks. Feature a cellulite treatment on your menu utilizing massage and a body contour cream.
Another way to customize treatments – combos! Provide a client who complains of dark circles around the eyes and sun spots on their face with a lifting eye treatment like our Opti-Firm Eye Contour Treatment and a facial that targets hyperpigmentation, like our Biolight Miracle Facial.  You can also capitalize on people who are pressed for time as well. For example, a client may walk in the door in need of an underarm wax and complaining that his/her skin is dehydrated, but has an appointment in 40 minutes and doesn't have time for a full facial. You can couple a wax treatment with an express sheet mask like our Lamina Lift Mask – you've just customized the treatment experience for his/her concerns!
Do you focus on customizing treatments at your business? Tell me in the comments below!