Save the Date! December 5, 2016 Repêchage Power Lunch Champagne Brunch!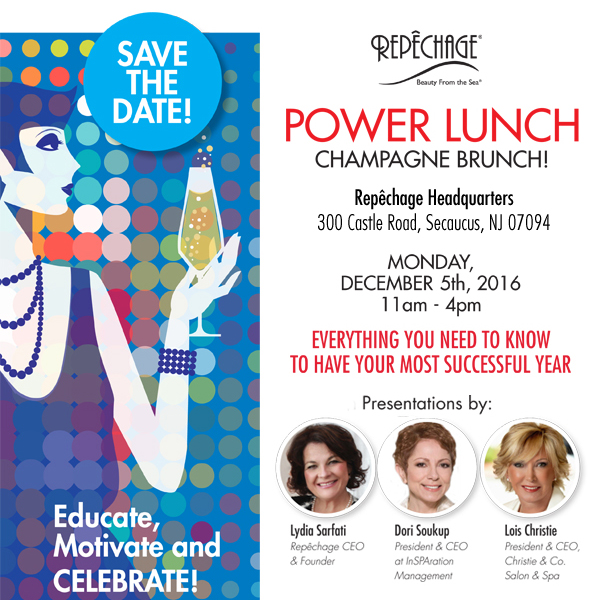 The annual Repêchage Champagne Power Lunch will be held this year at the Repêchage Headquarters in Secaucus, NJ on Monday, December 5, 2016.
Catered to spa business owners, staff, and industry members, this year's event will be a day of education and motivation, focusing on how to be the best in your business! This year's event will feature a wonderful line up of keynote speakers from the spa industry:
 "Retail – The Other Half of Your Business"
You can give the best facials or massages, but a truly successful skin care business knows how to sell retail. Learn the art of recommendation, and how to encourage clients to buy their beauty products from your spa/salon business. PLUS, Lydia Sarfati will be launching the NEW! FUSION retail masks – 4 delicious flavors to tantalize the senses and hydrate, moisturize, and rejuvenate the skin!
 "Differentiate Yourself from the Competition – Video Marketing"
Are you using video marketing to generate more clients and position yourself as the expert?
If not, you are missing the boat!  YouTube is the number two site in the world, and if you are not on it, you are not a serious player. Learn:
The different types of videos you can create • Tools to create videos • How to create effective videos
Formula for creating successful videos (Videos people will watch and share) • Repurposing your videos
This session will show you how to use videos to help you practice authority marketing and become the go-to salon in your community!
"Staff Motivations – Why They Leave and What Makes Them Stay"
Is your business a revolving door of employees? Why do they come to you, and why do they leave? Find out what factors create a revolving door in your business, and what you can do to keep valuable employees. Flex hours? Commissions? Incentives? Find out what works and what doesn't.
To register call 1-800-248-7546 or visit here
For press attendance, please contact Josie Cosentino Josie@repechage.comFor more information on Repêchage, please visit www.repechage.com
For a high resolution image, please contact Josie@repechage.com