Success Story: Vivian Vandivier Celebrates her 25th Anniversary as Salon and Spa Business Owner of Transformations : She shares with us her story…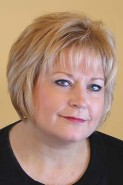 This interview is with Vivian Vandivier owner of Transformations Salon and Spa . Transformations Salon and Spa of Indianapolis, is a Repêchage Spa de Beauté and is celebrating their 25th Anniversary this year! Owner Vivian Vandivier shares her beginnings, her motivation and what keeps her clients coming back for more!
Repêchage: What inspired you to go into the salon and spa business?
Vivian Vandivier: I grew up in this business. My mother owned a salon. My dad came home one day in 1964 and told my mom he had bought her a salon. It seemed a natural progression for me.
Repêchage: What keeps you going?
Vivian Vandivier: My faith in God and my faith in people. Honestly and truly, I work with the best people in the world. I love my clients, our staff, my sales people; it's everything about our industry that keeps me going. My faith in the fact that they are all good people. It's true the cream rises to the top and they are all the best people to be around!
Repêchage: How is business now different from when you started out?
Vivian Vandivier: As a business owner, 25 years ago I think I was ignorant—there were so many things I didn't know that I thought I knew. Business was easier then because you didn't have to be as savvy. You really have to educate yourself today to be in business! In today's market you, have to have a strategy.
If you're not on top, you're on bottom, so you just have to work harder to be better. There is no "getting by" you have to know everything. It's harder in a lot of ways but it's much more rewarding.
Repêchage: Do you have any clients that have been with you the full 25 years?
Vivian Vandivier: I have clients for the past 35 years. People were here when we first opened the salon. When we first opened we only had one treatment room and there wasn't even running water!
Repêchage: How did you keep people coming back for 35 years?
Vivian Vandivier: People sense our genuine sincerity. There is a lot of competition, but I think that what makes us so unique is that we are so personable. We have a relationship. A warmth, caring, when they walk in the doors I hear people say they feel like they're in their safe place. We are still professional, but I hear a lot from people who view us as so personable.
Repêchage: What is your secret to being successful in the salon and spa industry?
Vivian Vandivier: My key to success has been stamina and not giving up. There are highs and lows in life and business and our industry and the important thing is to stay the course, keep your vision in front of you. I think it's important to pace yourself. People want to run, or sit and let it happen, but you have to stay the course.
Repêchage: How have you evolved over the years?
Vivian Vandivier: We opened in 1985, with one treatment room. We moved to a new location in 1995 with more square footage, still only one treatment room, but we added running water. Then in 2006, we opened the day spa. Now we have a spa with over 2000 square feet, four treatment rooms all with running water! We have showers, a community room and a nail area. It's so relaxing and peaceful. I go sit there sometimes when I need a minute to relax.
I have to say adding the day spa brought in a whole new client. Our whole demographics changed when we added the day spa and we got a whole new demographic. It really changed and enabled us to change the whole image of our salon.
Repêchage: What is your top selling Repêchage treatment? Product?
Vivian Vandivier: 4-Layer Facial!
Repêchage: What is the Repêchage product that you can't live without?
Vivian Vandivier: The c-serum! Its liquid gold I love it!
Repêchage: How do you attract and retain clients?
Vivian Vandivier: It's the relationship that we build with them. It's our talent and skill, but there is a lot of talent out there and not everyone uses their talent to their best ability, but we try to be excellent in our work. And we are cleanliness sanitation and clients can tell! I think the relationship we have keeps them coming back. There are so many coupons and pulls out there, but if you have a relationship with your clients, there is just loyalty there!
—
Join Vivian Vandivier and the Transformations Salon and Spa staff plus Repêchage skin care expert, Lauren Streeter for the event kick off!
When:  October 2, 2010
Time: 9:00am- 4:00pm
Where: Transformations Salon and Spa
8083 A. Madison Ave.
Indianapolis, IN
RSVP: 317-882-1773
For more information on Transformations Salon and Spa visit www.transformationssalonandspa.com or call 317-882-1773 to reserve your appointment!
For more information on Repêchage professional skin care products visit  www.repechage.com or call 1-800-248-SKIN(7546).