Success Story: Lois Christie Celebrates her 40th Anniversary as Salon and Spa Business Owner of Christie & Co Salon: She shares with us her story…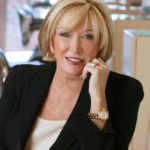 In this interview we get up close and personal with Lois Christie, President of Intercoiffure America/Canada, owner of Christie & Co. Salon Spa, a Repêchage Spa de Beauté, celebrating 40 years since opening in Bayside, NY. Lois shares her determination to be the best, her firm belief in education and her commitment to having a great time doing what you love—plus a sneak peek at her 40th Anniversary Celebration bash coming up at the Edison Ballroom.
Repechage: How did you get started?
Lois Christie: It was simple, I always wanted to be a hairdresser from when I was a little kid. I was always laser focused. When I told my parents I wanted to be a hairdresser they were like "Oh no no go to college," but shortly after that they were convinced I was in the right path. I bought my first salon when I was 20 years old, I should start to say I was 10! So, it's been a great path for me, it's passionate, great, the beauty industry is a fabulous industry!
Repechage: What have you learned over the years? How do you see your business? Where do you see your future going?
Lois Christie: We call it 40 fabulous years, we're making over 40 fabulous women to celebrate our 40th fabulous year. I think the beauty industry now is probably better than ever, because I think salon owners, hair dressers, colorists, estheticians, the whole skincare business, people are looking for more professionals and not a department store person who isn't trained licensed and educated to take care of their needs.
I think the salons, like Intercoiffure salons, who are worldwide, the level of training and education for our staff and keeping on top of the fashions. Clients expect that today so the level of service we provide, business has been better than ever for Intercoiffure salons, for Christie & Co., thank god we're up in the year of 2010!
Repechage: You are President of Intercoiffure. How did you get involved? How do you do it all?
Lois Christie: A little crazy, but I have always believed in more education. Where do you go to learn more—you can't just say I'm successful, I know it all now and sit back. Every day is a learning experience. A friend of mine, Leland Hirsch from ARTec, said you should join Intercoiffure and I did in 1990. I never thought I'd be president of America/Canada; I'm also world Vice President! I've met the best friends, the best business people, people like Lydia—you need a fraternity of other salon owners and like minded people to share your knowledge with.
Repechage: Since you've been in the business for 40 years, I think right here, in Bayside, have your clients grown with you and do you see the next generation coming in?
Lois Christie: We do! We're actually on third generations. We have an excellent community reputation. We are very involved in the community. It is one large location, we've grown of course in Bayside. I do really believe in connecting in community organizations, religious groups, whatever it takes, but really do it out of your heart and not for something back. We have a large staff, we educate our staff, constantly motivate so I think it's a pretty good connection right now.
Repechage: You were named top 10 business women in NY; Congratulations!
Lois Christie: Yes, thank you very much I was named top 10 business women by Mayor Bloomberg. He's really recognized a lot of the small business people. We're very proud of our salon and its reputation, we continue to grow it. I do see the future of the beauty business in large salons or a small salon as long as you keep educating, keep changing as long as you don't sit back on your laurels, you just can't take your reputation for granted. Keep working at it, we work at it every day.
How do you keep yourself motivated and energized every day?
Lois Christie: Well, I have to pay all the bills, so it's a big motivation! I love what I do. I love the staff and the people I work with and the industry partners we have. I think working with other companies like Repêchage, being a Spa de Beauté has really energized my whole spa thinking! We work with P&G Professional as well as L'oreal. They also help you and are your partners. I think you have to reach out to the people, especially in this economy and work together.
Repechage: What is your personal beauty regimen for staying fabulous at any decade?
Lois Christie: Well of course after meeting Lydia, I do I use Repêchage. I'm a big fan of Opti Firm and I love the C-serum! I also think eating healthy, exercising, it all works together. I think when you're happy and content at what you're doing, people are beautiful from the inside.
Repechage: I know you're very fashion forward, so what is your favorite piece in your closet right now?
Lois Christie: Well right now, we're into bling bling! Colorists Wear Diamonds is the theme of our 40th anniversary party! I think sometimes when the economy is bad, it's great to dress up. I do wear a lot of Armani, this year I'm a little trendier, I wear Alice + Olivia. I think we want to have a little more fun this year.
Repechage: And colorists always wear diamonds? You're wearing diamonds today!
Lois Christie: I like diamonds every day! They never go out of style! Right now, hair color and retail sales are really driving our business forward. I think all of the clients any age, their hair looks better with color. We have 16 colorists here, we train our colorists. It makes hair better, and really makes the clients more loyal to the salon. As you know, a hair color client also is a nail client also is a cosmetics client and a skincare client.
Repechage: Can you share a bit about your upcoming event in November: where it's at, what's going to be exciting, maybe any surprises?
Lois Christie: I don't want to give away any surprises! But I think somebody by the name of Gaga something might show up! We decided even though it's a bad economy, we decided to celebrate our 40 years, we're going to have a very glitzy bling bling party at the Edison Ballroom in Manhattan. We have about 200 industry friends, family and of course the staff. Some awards will be given out. We really want to celebrate that the industry is a great industry to be in!
—
Join Lois Christie and the Christie & Co. Salon ۰ Spa Staff, with Lydia Sarfati and Repêchage for an Up Close & Personal Event!
When:              Thursday, December 2, 2010
Time:               2:00pm- 7:00pm
Where:             Christie & Co. Salon ۰ Spa
23-64 Bell Blvd.
Bayside, NY
RSVP: 718-225-7766
For more information on Christie & Co. Salon ۰ Spa visit www.christiesalon.com or call 718-225-7766 to reserve your appointment! For more anniversary information visit www.fabulousfortyyears.com.
For more information on Repêchage professional skin care products visit  www.repechage.com or call 1-800-248-SKIN(7546).