Repêchage Red-Out™ – My Inspiration for this New Treatment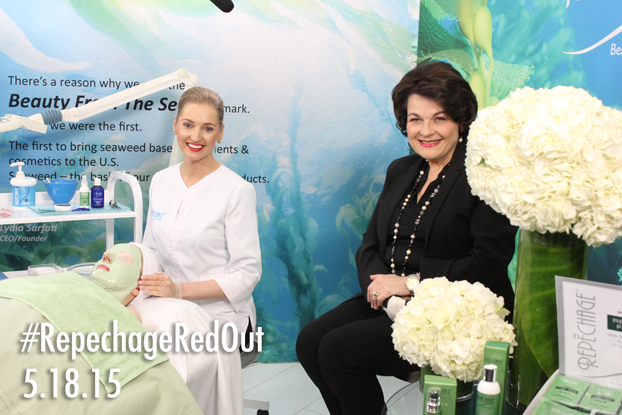 (Behind the scenes from this month's professional video shoot for Red-Out™)
As you may have heard by now, on May 18th at our NYC Conference, Repêchage will officially be launching the brand new Red-Out™ Facial and complimentary at-home products.
Over the past few years one of the biggest skin concerns I have heard time and time again from clients has been the same: "I have very sensitive skin." This same concern is affecting a large portion of the population as well. In a recent poll, over 44% of people identified themselves as having sensitive to hypersensitive skin.
Hearing these words directly from you, and seeing how this concern affects others, is what inspired me to work with R&D to create a revolutionary treatment backed by quality, results-driven ingredients, including a ground-breaking new ingredient exclusive to Repêchage in the US! Several years later, with many hours spent in the lab working on creating the perfect formula, I am excited the Red-Out™ Facial is finally here! I am confident this will be your ideal treatment solution for clients with hypersensitive skin and conditions such as rosacea, which according to the Rosacea Society, affects 16 million people in the U.S. and 45 million people worldwide.
I would love for you to be part of this breakthrough treatment and exciting time for Repêchage! I invite you to join us for our 17th annual International Conference in New York City where we will introduce Red-Out™ for the first time and delve into the science behind this new treatment and products. A hands-on workshop will follow the next day, where Repêchage educators will instruct further on how to give your clients the best spa experience with this treatment and benefit from this brand new solution for hypersensitive skin and rosacea.
I hope to see you all there and can't wait for you all to experience Red-Out™ very soon! (P.S. Keep checking my blog the next coming weeks to hear more about Red-Out™!)
Sincerely,
Lydia