Repêchage Professional Skincare Launches Anti-Aging Facials for The Hands to Salon & Spa Professionals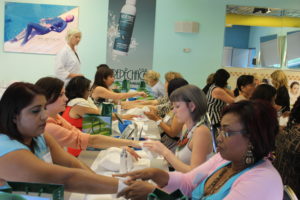 July 30th, 2013 – Secaucus, NJ – Repêchage President and Founder Lydia Sarfati launched three new anti-aging hand treatments to skincare and spa professionals from across the country as well as from The Dominican Republic, The Grand Cayman Islands, Trinidad and The British West Indies at a hands-on training at the LydiaSarfatiPost-GraduateSkinCareAcademy in Secaucus, NJ.
With a growing demand for anti-aging solutions below the neck, Sarfati saw an opportunity for salon and spa professionals to up sell their manicure clients, "We have mastered anti-aging for the face and neck and with manicure services still on the rise, it made sense to marry the two services," said Sarfati, "Hands are always out in the open and they can often be a window into our true age. Spa clients want beautiful skin on their face and they want their hands to match.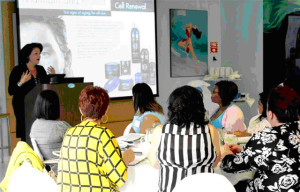 (Repêchage® CEO and Founder presenting Repêchage company history)
Sarfati kicked off the day with an overview of the Repêchage company history and vast product offerings.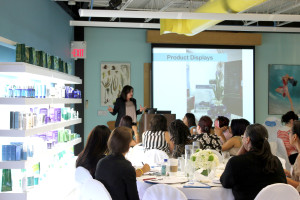 (Repêchage Vice President National Business Development Susan Vindics presenting Repêchage Sales Initiatives)
Then, Repêchage Vice President National Business Development Susan Vindics took the stage to present sales initiates and promotions that salon and spa owners can implement into their business. From gifts with purchase, to product & window displays, Vindics discussed the marketing tools that small business owners can implement to help increase their sales.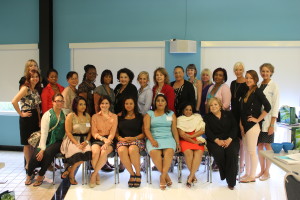 (Repêchage Hands-On Training graduates with Repêchage CEO and Founder Lydia Sarfati and Repêchage Educators Lauren Streeter and Natalie Otto) 
Strapped with the business tools to succeed, class attendees moved on to the technical portion of the day. Repêchage® Corporate Educator Lauren Streeter showed attendees step-by-step the full length Repêchage® Anti-Aging Facial for the Hands including the proper massage, chemical peel application and mask application techniques. Classmates then paired up two by two and administered the treatment on each other. Featuring the Repechage Biolight Brightening Glyco-Sea Glycolic Peel, dead skin cells are gently removed to reveal healthy, glowing skin. Then a fresh, cooling European seaweed mask is applied to the hands to help rejuvenate, tone and firm the skin dramatically. Treatment includes a massage with the New! Repêchage® Biolight Brightening Body Corrector to help reduce the appearance of sun & age spots for brighter, more youthful looking hands.
Upon completion of the course, Hands-On Workshop attendees were awarded the Diplôme D' Honneur, the most prestigious diploma offered at Repêchage. Salon owners will be implementing the new anti-aging and anti-hyper pigmentation services just in time for fall skin care repair.