Repêchage Professional Skin Care Shines at IECSC Florida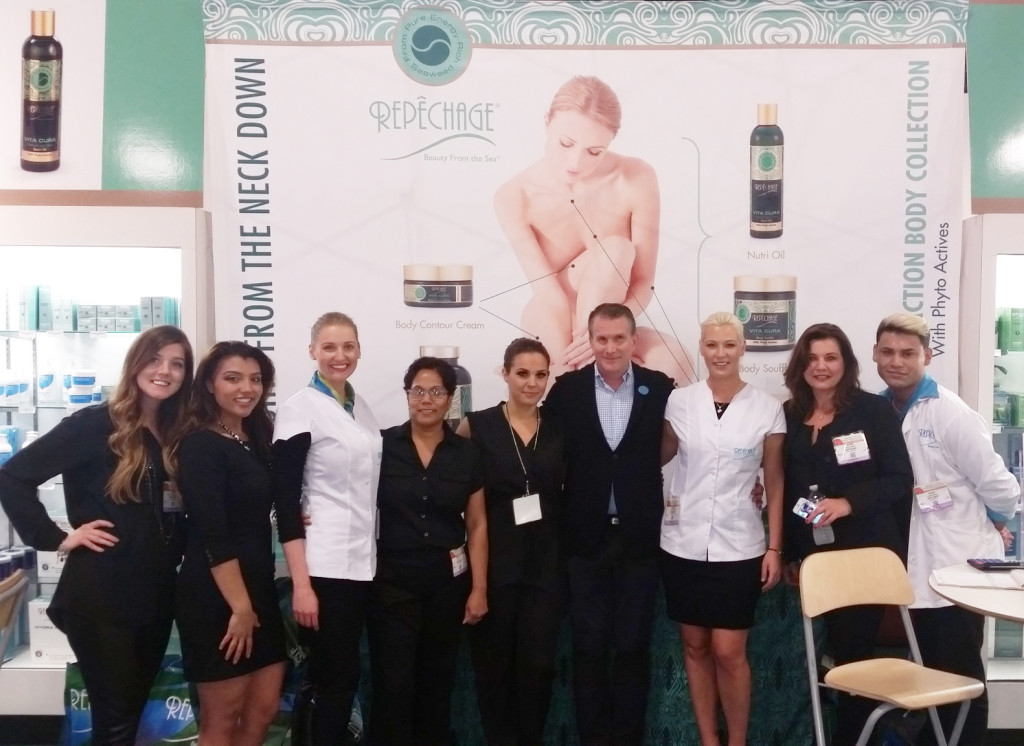 (The Repêchage team in front of the new Repêchage Vita Cura® Triple Action Body Collection banner displayed for the first time this year)
November 10-11 – Fort Lauderdale, Florida – Big, bright and right in front, Repêchage Professional Skin Care attracted the interest of spa professionals at this year's International Esthetics, Cosmetics & Spa Conference (IECSC) in Fort Lauderdale. Lydia Sarfati, Repêchage CEO and Founder, and the Repêchage team presented the newest from Repêchage to the Florida market – the Repêchage Vita Cura® Triple Action Body Collection.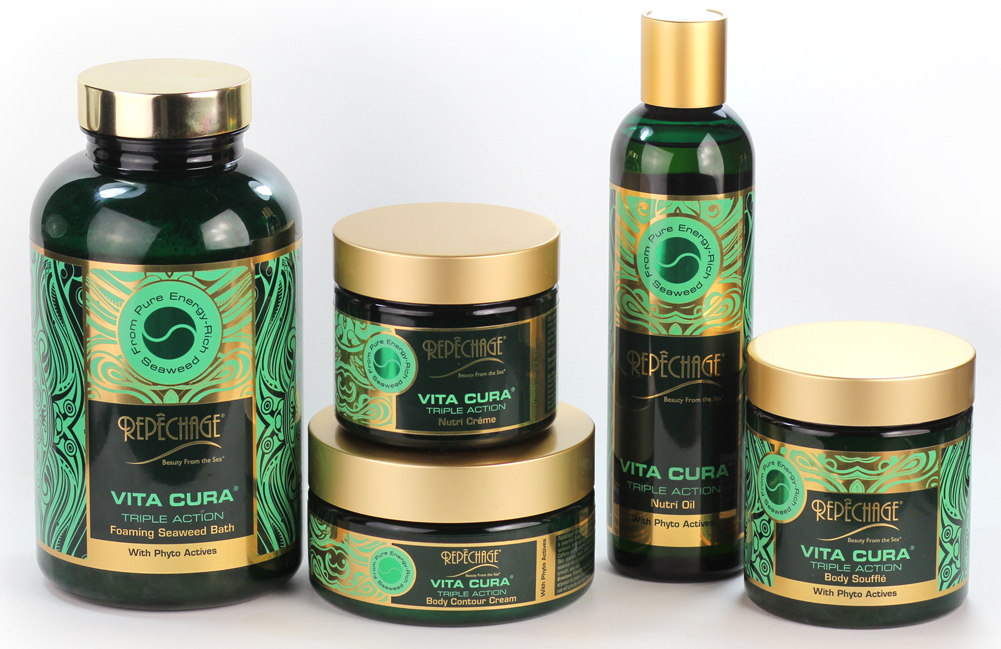 (Repêchage Vita Cura® Triple Action Body Collection)
This brand new collection from Repêchage focuses on anti-aging from the neck down. Within this collection are products each designed for different areas of the body that have different concerns. The Repêchage Vita Cura® Triple Action Nutrí Créme, for example, is made of a rich, 'butter-like' consistency formulated with Laminaria Digitata Seaweed, Mafura Oil, Glycolic Acid, Aloe Vera, Coconut Oil and Shea Butter, amongst other moisturizing ingredients, and is designed to treat extra dry areas of the body, including the décolleté, elbows, knees, and feet – Perfect for Floridians who are in need of extra-nourishment from exposure to the sun!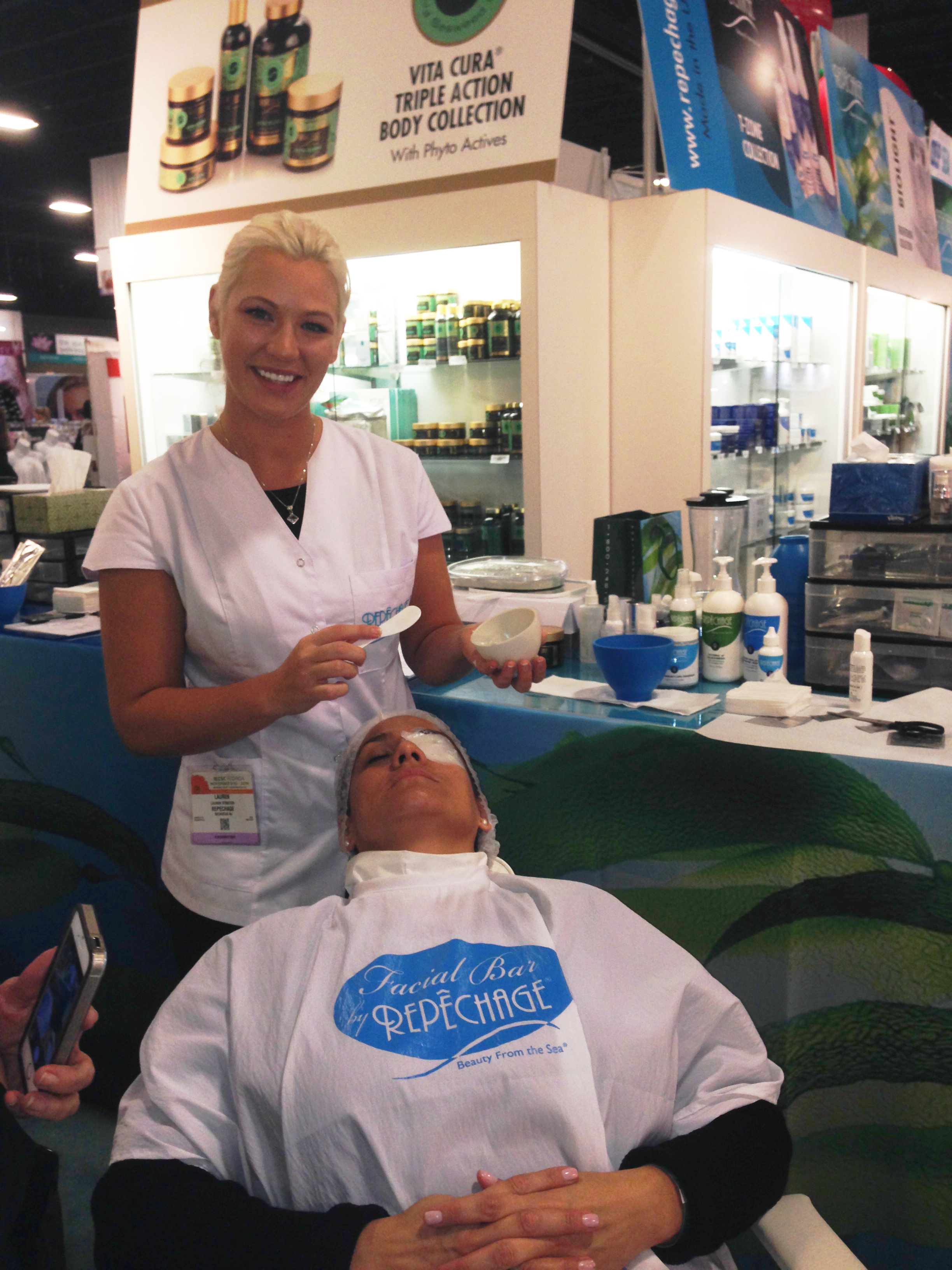 (Repêchage Global Education Leader Lauren Streeter performing a Repêchage Opti-Firm® Eye Contour Treatment at the Repêchage Facial Bar)
Show goers watched as Repêchage Corporate Educators Natalie Otto and Lauren Streeter demonstrated body massages utilizing this brand new, anti-aging body collection, along with Repêchage signature facial treatments at the Repêchage Facial Bar.
Valuing skin care education, Repêchage also headlined several classes at this year's IECSC Florida. On behalf of CIDESCO, Sarfati hosted two classes. In European Facial Massage: The Gold Standard, Sarfati touched on the art and science of classic facial massage movements including Effleurage , Petrissage , Tapotement, Friction, Vibration and Eastern movements, such as Shiatsu. Sarfati provided attendees with an overview of the function of the muscles, lymph and circulatory systems, and how to work with such to provide maximum benefits for clients. In Sarfati's second class, An Estheticians Guide to Anti-Aging Facts and Solutions, Sarfati discussed the environmental exposure, genetics, hormonal and chronological factors that influence aging of the skin, including top ingredients to treat aging skin. Sarfati also provided demonstrations of anti-aging facial treatment solutions for the class.
To see where Lydia Sarfati and the Repêchage team will be next, visit www.repechage.com or call 1-800-248-SKIN!
For high resolution images, please contact Josie@repechage.com
For more information about CIDESCO please visit: www.cidesco.com