Repêchage Professional Skin Care Now Available at Red Square Spa – A Modern Bathhouse in the Center of Chicago

(The historic location of Red Square Spa in Chicago, Illinois) 
Chicago, Illinois – Red Square Spa has created a unique experience by combining elements of a traditional Russian-style bathhouse with modern amenities, including the recent addition of Repêchage signature treatments and products!
Previously owned by infamous mobster Al Capone – the bath house on 914 W. Division Street in the Wicker Park neighborhood of Chicago, Illinois, has operated since 1906. In 2011, Margarita Vizcarra purchased the facility and began the over-haul process. With the beautifully restored location now open to the public, Red Square Spa has begun offering Repêchage treatments to clients this year.
Red Square Spa is one of the few traditional bathhouses that remain in the United States and Vizcarra stayed true to the building's roots by keeping the traditional Russian Banya or hot room, but brought the spa into modern times by creating a tanning salon, manicure and pedicure stations, and most interestingly a lounge and restaurant. Guests in the spa are even able to grab a bite in their robes in between receiving spa services. To take the unique modernization of the spa to the next level, when guests arrive at the spa they are given a microchip bracelet that acts as a credit card so they will not have to worry about toting around their wallet while relaxing.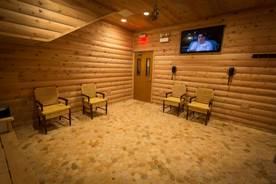 (The newly renovated sauna area)
With such an innovative vision being born out of Red Square Spa, Repêchage products were the ideal fit to bring the latest trends in skincare to the spa's clients. "Clients want to leave the spa noticing a difference in their skin and the Repêchage products deliver! The treatments have the perfect formulations! And not only is the skincare line fantastic, but Lydia Sarfati is a pleasure to work with as she provides knowledge and support, making it easy for us to be successful" said Vizcarra of choosing to work with the line.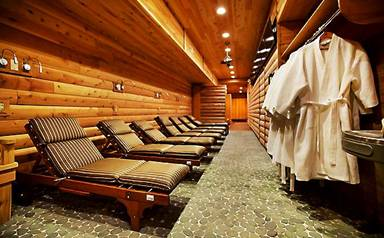 (Red Square Spa employees testing out the Repêchage Vita Cura® facial treatment)
Guests at Red Square Spa are already enjoying luxurious Repêchage treatments and have been experiencing the power and benefits of the seaweed based skincare line.
Repêchage® will be offered exclusively at Red Square Spa. For additional information or to book an appointment call 773.227.2284.
For more information about Repêchage, please visit www.repechage.com
For high resolution images, please contact Catherine@repechage.com